"Clarity and protection is all I want from you."
"I'm going to have to get back to you on that," I say. "Look, I've got to go. It is getting late and I have to be up really early in the morning." She can always tell when I lie by the sudden drop of tone in the last word of my sentence, but tonight I really am not in the mood to discuss what her needs are.
"Okay. I'll see you, tomorrow?"
"Ya. um. Sure." I hang up the phone. I get up out of my bed and head straight for my computer game. It is the only thing that has been holding my interest lately.
I'm struggling. There seems to be nothing coming to mind or maybe I deny what comes up. I feel so icky. Where is the inspiration for life that I once had? Where is that fire?
I sit at my desk and open up the game.
Just before starting second grade, Tom moved across the country. He hated it. A place filled with drugs and booze was not his ideal place to live. His parents made the move after they had lost almost all they owned in the stock market.
"Tom," I say into the microphone, "Mary is looking for more clarity and protection from me. Frankly, I don't think I want to date the girl any longer."
"You can clearly say that to her, can't you."
"Every time I want to bring it up, I feel guilty. I mean, she doesn't have anyone else to lean on when times are rough."
"Oh! Nice shot," John says after getting picked off by a distant sniper. "You may want to introduce her to other people to get her out of your hair."
"That sounds like a good idea, but I don't want her hanging out in my circles."
"Take her to a mall."
"You're making this way to complicated."
"I'm not the one who can't break it off with her."
---
---
Dear Journal,
Just pretend it is not there ... You know what?!? This is a wonderful idea. I need to go to bed and there is nothing coming to mind for this story.
I can sit here all night trying to come up with something, but I need to go to bed. Maybe I just need to write until the words start flowing out on the paper.
I've been researching for a piece I'm attempting to write. I find myself wanting to complain about it. Like I have to do a little bit of work.
This is a tough day for writing. I wish a had something better to give you. Nothing is coming to mind.
I wish the names of things came to mind so much easier for me. I can sit for hours and days attempting to remember the name of something without success if I don't have access to the internet.
I feel like my thoughts have been really choppy. I have got a little lazy in my thinking. It is difficult to lay out what I am thinking. I'd rather not take the time to learn how to speak clearly. Though this is not true. I do want to learn how to speak more clearly but I've been distracting myself with other things.
This work has no steam.
===
If you would like to find out what freewriting is all about, go here.
---
---
# Badges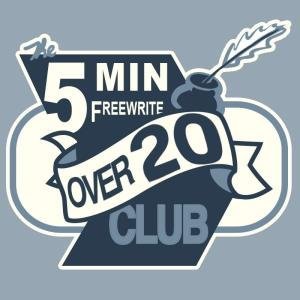 If you are enjoying my work -
---
---
Tools:
---
---
Ongoing Contests
---
---
My Completed Freewriting prompts:
---
---
---
---
---
---
===
How can you make this table or create something even better?