The aroma of coffee wafting through the window woke her. She smiled. Suddenly, she sat up. She had no idea where she was. Her clothes, a brightly colored pink with blue strips, cover her from head to toe. The hat on her head was a Russian kokoshnik, embroidery patterns of animals against a red backdrop with an eagle emblem in the middle.
A boy enters the room holding a plug attached to a wire. "Your tee is ready."
"Excuse me."
"Oh. You can't see."
"Can't see? How did I get here?"
The boy, crinkling his nose, turned on his heels and ran out of the room.
Getting out of the bed, the scent of freshly baked pancakes with maple syrup and eggs filled her nostrils. Her stomach growled.
On the nightstand she saw a flashlight shining down on a yellow post-it note, which read. "Most importantly: Feel free to change if you don't like the clothing we picked for you. Come down when you are ready."
She tried to think of where she was last night. The game? No that wasn't until next week. What day was it? She spotted a calendar on the wall. It's page on the top showed a picture of rain and the big block letter April right below it. April ... April what? Her mouth twisted right to left.
She went to the door where the child had come in at.
click clack - click clack is the sound of her shoes hitting the floor. "What is this mess I've found myself in," she mutters. She walks down the spiral staircase down into the kitchen where she sees the man who is cooking.
"You sure know how to sleep in."
"How did I get here? And, where is here?"
Flipping the contents in the frying pan, he says, "You got here on your own two feet and you are at my house in the county of Punktianvil."
"I ... walked ..." Her face scrunches up.
A cat enters through a screen door and jumps up onto the counter. The man pets the cat. When the cat has had enough, it bats his hand away with its paw. "This might be a good time to talk about what your plans are for the day. You are going to go out and dance if you keep that outfit on."
"Dance? What makes you think I can dance? ... I don't think I'm going to stay here. I have things to do."
"You're not understanding your situation."
===
If you would like to find out what freewriting is all about, go here.
---
---
# Badges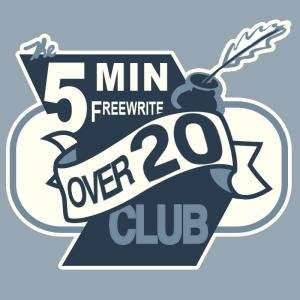 If you are enjoying my work -
---
---
Tools:
---
---
Ongoing Contests
---
---
My Completed Freewriting prompts:
---
---
---
---
---
---
===
How can you make this table or create something even better?