In the last post containing the top 3 crushers under $10, we were able to identify how and why smoking weed should be done in style, the spec of crushers to use and the various styles in which they are made available. The next topic of discussion is Top 5 lighters under $10 that every regular weed smoker should own.
It doesn't matter what you smoke, as long as you're not a fire breathing dragon or a mutant and cannot naturally conjure fire, a lighter is of high importance to you. Nearly every single smoker has experienced the frustration of lighting up a stick on a windy day. Sometimes, just a slight breeze can even snuff out your lighter.
Sometimes, lighting up your blunt should be done with some style. And how can one achieve that without a sexy lighter? I've seen a lot of lighters, as much as most have style, not all are reliable and as durable as we might wish them to be. There are some lighters with torch lights, lighters that are Flash drives, lighters that are MP3 music players, but in terms of longevity, durability, simplicity and style, here are the top 3 lighters every savvy smoker should own.
Top 5 Lighters Under $10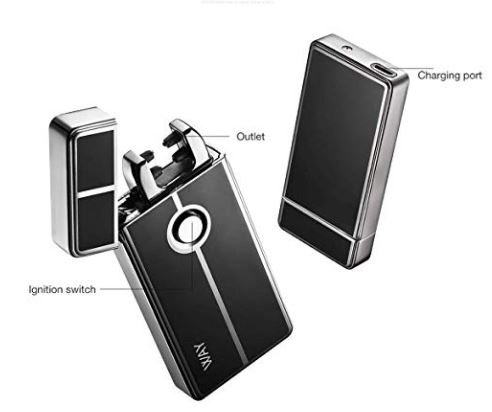 This is a flameless lighter, it is windproof, it doesn't use gas, and it is rechargeable. It is environmental friendly and it's got some style. It can last for 200 ignitions. When that middle button is pressed, electric current flows through the outlet and burns up what ever touches it. It is efficient as you don't have to bother about refilling the gas when it runs out. Just charge it, and use it. The real beauty comes out when that button is pressed and the electricity is buzzing through the outlet like zzzzzzzzz zzzzzzzzz....crazy! Available on Amazon
---
-. Butane Torch Lighter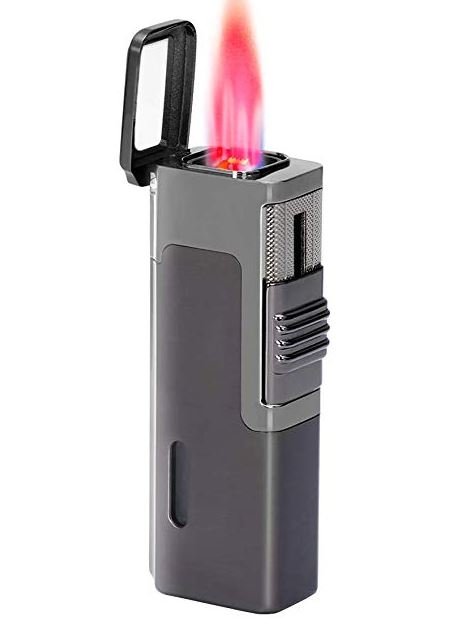 Some lighters give off blue flames, this one gives red, I don't really care about the colour of the flames though, they both burn! As we can see this is a flame lighter, it uses butane, and yes the butane can run out, but it's refillable. It is durable and environmental friendly. It can be gifted and used personally, it's in my top 3 because it is quite handy and the flames are air resistant. Air resistance is a big deal for flamed lighters, you don't want to keep clicking the ignition only for the wind to be blowing out the flames. The flame length is also adjustable.It is available for purchase on Amazon.
---
-Electric Plasma Arc Lighter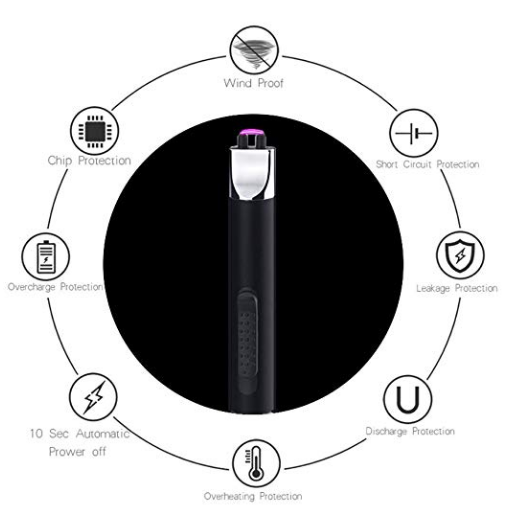 Some lighters look like they are used to detonate a bomb, you want your style to get people curious not scare them. The size of this flameless lighter is very small and slim. It is suitable for daily indoor and and outdoor use. Especially perfect for travel camping, hiking, BBQs, candles, cooking, fireplaces, fireworks and so on. It is windproof and rechargeable with a USB. It is so handy it looks like a pen. .It is available for purchase on Amazon.
---
-Electric Arc Lighter With Corkscrew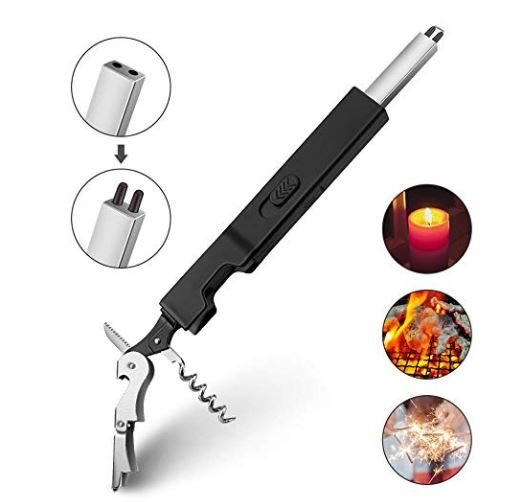 This electric lighter is more of a handy tool, its packed with corkscrew and highly recommended for outdoor usage. It is
windproof, moisture-proof, more convenient and portable than traditional lighters. It is chargeable and gives up to 1000 ignition times when fully charged. It is available for purchase on Amazon.
---
SUPRUS Electric Lighter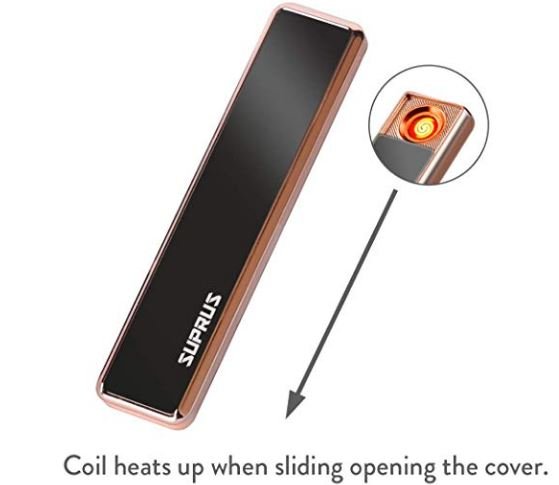 This has got to be my favorite, it is super tiny, and super handy. It has no flames nor electric currents. It is powered when the cover is slid down, the coils begin to generate heat just as depicted in the picture. It is suitable for outdoor usage, it is rechargeable with USB, and it is super cute. I could have a dozen of this. It is available for purchase on Amazon.
---
I'm not a fan of doing anything anyhow, I like to add some style and a little bit of art, in the next post , we will see different rolling papers. Do you know that the outcome of your rolled blunt is highly dependent on how you crushed it and the kind of rolling paper used? Stay blazing till we find out.
;)