NORTHERN LIGHTS pure indica Blunt Rolled with Zig Zag Cigar Wraps - Well Cushioned with Laid Back Euphoria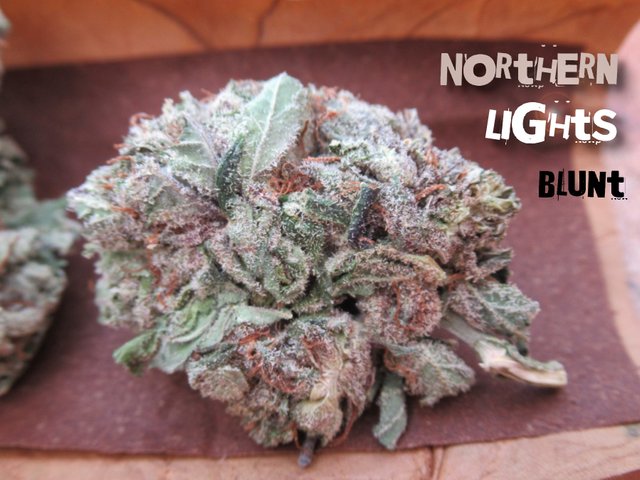 Rolled up a Northern Lights Blunt for evening tokes with Zig Zag's Straight Up Naturel - Slo Burn cigar wraps - solid relaxation and cushion with smooth euphoria. Easy tokes with a little tobacco kick, laid back extended smoke session.
NORTHERN LIGHTS pure indica
The well known Northern Lights pure indica strain is an inbred descendant of regional Afghani indica strains (Source). These Northern Lights buds have a decent 23% THC, along with 0.33% Humulene, 0.31% Caryophyllene, 0.29% Myrcene, and less than 0.01% of the Linalool, Caryophyllene oxide, beta-Pinene, Limonene, Terpinolene, and alpha-Pinene terpenes (Source).
Northern Lights Look
The Northern Lights buds have dark greens, light greens, purple highlights, spindly bright burnt orange pistils, and a thick coating of amber trichomes.
Northern Lights Scent
There's a sweet, light pine, earthy, and citrus light pine and scent to the Northern Lights buds.
Northern Lights Effects (Source)
Effects - Euphoria, Happy, Relaxing, Sleepy. May Relieve - Anxiety, Bipolar Disorder, Depression, Headaches, Insomnia, Loss of Appetite, Migraines, PTSD, Stress.
Zig Zag Straight Up Naturel, Slow Burn cigar wraps
A Zig Zag Straight Up Naturel, Slow Burn cigar pack contains a cigar with 2 extra wraps wrapped around it, so after splitting the cigar and emptying the tobacco there are 3 blunt wraps total. The Zig Zag cigar wraps are available in multiple flavors, these are the All Naturel.
Northern Lights buds split
Blunt Rolled
Blunt Sparked
Northern Lights Blunt flavor
Northern Lights buds have a sweet citrus pine and light bubble gum with light spice tail end flavor - the tobacco blunt wrap darkens the flavors and gives that extra tobacco kick to the buzz. The ample bud content makes for effortless tokes and a long smoke session.
Northern Lights Blunt effects
Relaxed and well cushioned mind and body with a smooth and gentle, laid back euphoric energy flow - the tobacco in the blunt wrap give an extra little hype and stone to the buzz for a few minutes after each toke.
The Northern Lights strain is well know for it's pain and stress relief, also for aiding with sleep and appetite - smooth and laid back, well cushioned effects.
Northern Lights Relief (Source)
A couple hits is all it takes for most patient's seeking this strain's powerful body effects, an upbeat mix of euphoria and physical relaxation. ... Northern Lights is a highly useful medical strain, effective at treating anxiety, pain, and insomnia, as well as lack of appetite.
Smooth effects with that extra kick from the Northern Lights Blunt - dark and mouth tingling sweet citrus pine and light bubble gum with light spice tail end flavor. One of my favorite strains for evening relaxation tokes.
Have a great day!