New WeedCash Feature - Promote Posts With WEED!
You can now promote posts with WEED!
Big thank you to the Steem-Engine team for the rapid pace of development, especially @holger80 and @eonwarped!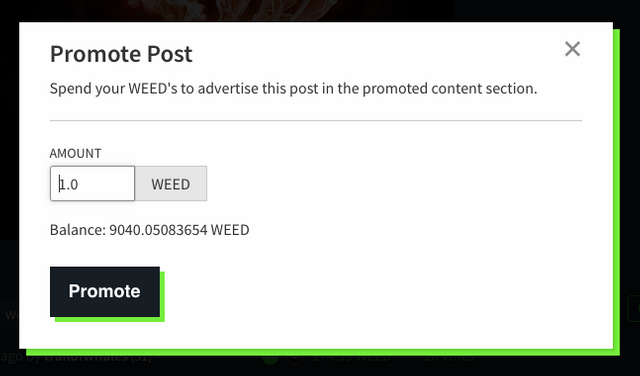 Promote A Post With WEED!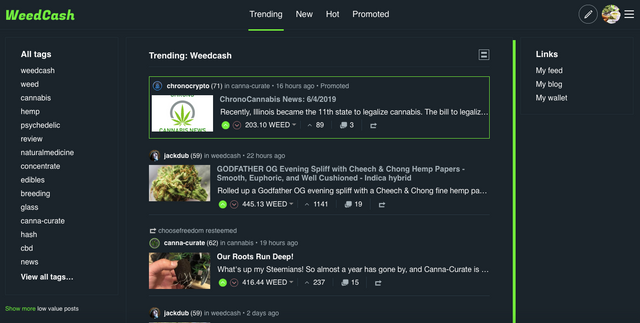 When you click the little green button on the bottom right of a post, you can now enter WEED bids that will promote the post to the trending page.
The top bid gets the top spot and lower bids are interleaved through the trending and hot pages every five posts.
WEED used for promotion is sent to @weedcash which is the distribution account for the WeedCash Network.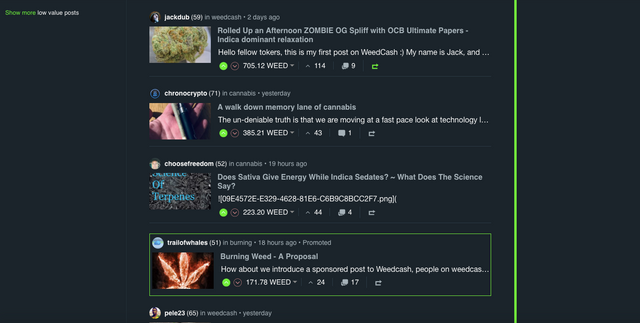 Posts that are promoted have a green border around them to mark them as promoted.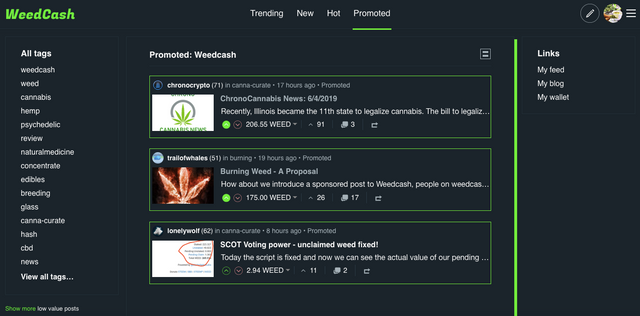 Promoted posts will show up in the "Promoted" tab as well.
Organic Content
I want the culture here to continue to be about real interaction and engagement with interesting and helpful information and entertainment. The source of value for ad revenue is the attention on the content that is upvoted organically from many stake holders.
Advertising vs Vote Buying
Using the new promotion feature is more like traditional advertising which makes it different from the bidbots on Steemit. There is a real cost for promoting your content - you don't bid for an upvote to reach the spot, you just bid directly for the spot.
If your content is not well received it won't be profitable and you can even get downvotes, but if your content can convert, it is an opportunity to get it in front of the eyes of cannabis enthusiasts all over the world.
For the WeedCash Network, this is a great sink to help balance out our faucets. I hope to have many more sinks and upgraded features soon!
What other features would you like to see for WeedCash?