7 Main Rules Of Engagement Party Etiquette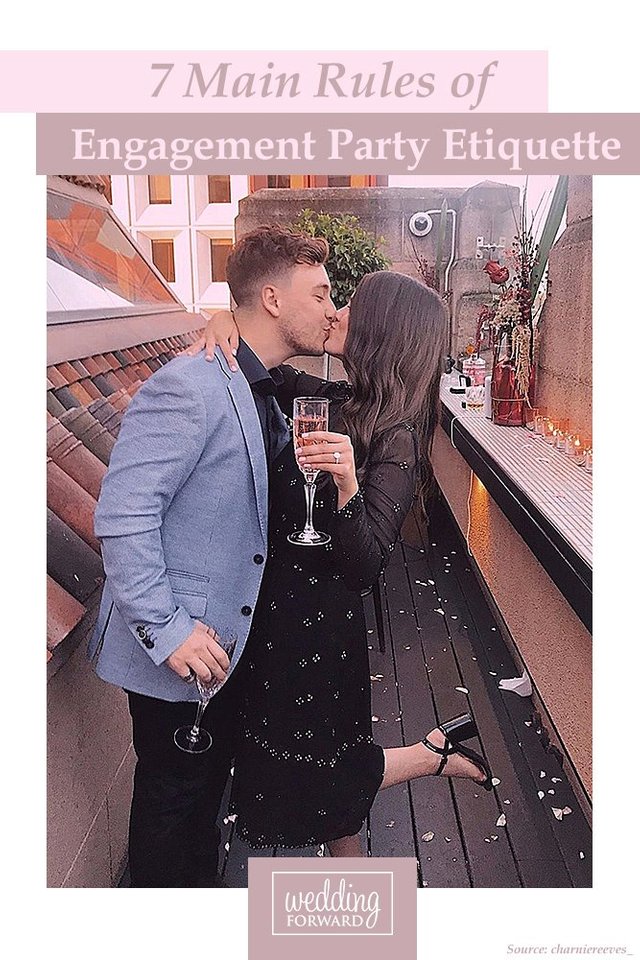 Post originally was found on Wedding Forward
https://www.weddingforward.com/engagement-party-etiquette/
So, you just said yes to his proposal and you're thinking of throwing the best party ever to celebrate your engagement. If you suddenly discover that you're inexperienced in engagement party etiquette, just follow these tips that will help you avoid every faux pas imaginable. Even though most engagement parties are formal affairs, they still have certain requirements or traditions that most people follow when planning one.
Who hosts the engagement party?
For anyone wondering who gives the engagement party, it is traditionally hosted by the parents of the bride. This is sometimes flexible depending on the couple and family. And sometimes an engagement party might be hosted by friends of the groom, bride or even other relatives. The general rule of thumb is for the parents of the bride to be the first to celebrate the engagement. However, couples can have other engagement party ideas and arrange for separate parties. One for their friends, and another for family and other relatives.

When should you have an engagement party?
It is better to have the party while the news is still fresh and there is still some excitement in the air about it. Sometimes couples even choose to wait and announce the engagement at the party. This would, of course, take some extra planning and secrecy. But this could be totally worth the surprise. So, in general, the best time to host this party would be within the first few months of the engagement.

Do you need to bring a gift to an engagement party?
In engagement party etiquette for guests, gifts are not usually necessary. There can be occasional tokens like flowers and wine from guests to any festivity. However, gift-giving is not customary at an engagement party. So, guests are free to bring or not bring gifts. Also, if a wedding registry has already been created, guests could use that for gift giving towards the couple's union.

Who to invite to an engagement party
Traditionally, an engagement party is attended by close friends and family of the bride and groom. The same list of guests who will be attending the wedding, but shorter. However, depending on the type of wedding the couple will be having, whether a large or small one, at home or destination wedding. A couple might decide to hold an engagement party with a longer guest list than the wedding. This type of engagement party will include the people who you would not invite to the wedding.

Engagement party invitation etiquette
Part of engagement party invitation etiquette would be to send out invitations on time. The date for the party would help you decide the best time and method for sending out the invites. If the date for the party would be around or beyond the three-month mark, then you can mail invitations.
However, if it would be much sooner, then e-invites would have to be considered so that guests can be notified quicker and be able to attend.
Asides date and location, the invitations can include dress codes if any.

How to welcome guests at the engagement party
Considering that most engagements are intimate settings that host the couple's nearest and dearest. It is expected that all the guests would want to have a word or two with a couple of the day. And so, it is necessary to create a space at the venue where the bride and groom to be, as well as their parents, can greet and speak to guests as they arrive.

Engagement party toasts etiquette
There are certain things an engagement party would be incomplete without. While elements such as engagement party songs are vital to this event. It is also necessary to think about toasts. Proper engagement dinner etiquette requires a toast first and foremost from the father of the bride to the happy couple. After this, others can follow. If the party is an informal one, then anyone can make a toast when they choose to. Either way, the couple would also give a toast or make a short speech at the close of the party.
Whatever questions you have about throwing the perfect engagement party can be answered after a look through engagement party etiquette. And even though there are some very important factors in the proper etiquette for an engagement party. Do not forget that this is ultimately your event and you decide how you want to celebrate. Your event should be personalized with your own style. Your budget and comfort level, but this can act as a guide on certain important aspects.
So, remain at ease and enjoy this new journey you are embarking on with a great party.