Firstly, I'd start by stating what oceanlab is and describing a bit of their plan.
Oceanlab is a group of utterly passionate individuals who have seen the real-world possibilities blockchain have to offer and they have decided to create the first research and development lab for the blockchain in Europe but it's use would encompass the whole globe.
Oceanlab would be the first project on wavesplatform of this kind ensuring ease to understanding of blockchain transaction to everyone out there especially with the ubiquitous nature of blockchain infiltration into every sector in life. Very soon blockchain would be a household name and oceanlab.eu would be in the middle to ensure ease in understanding the transaction process.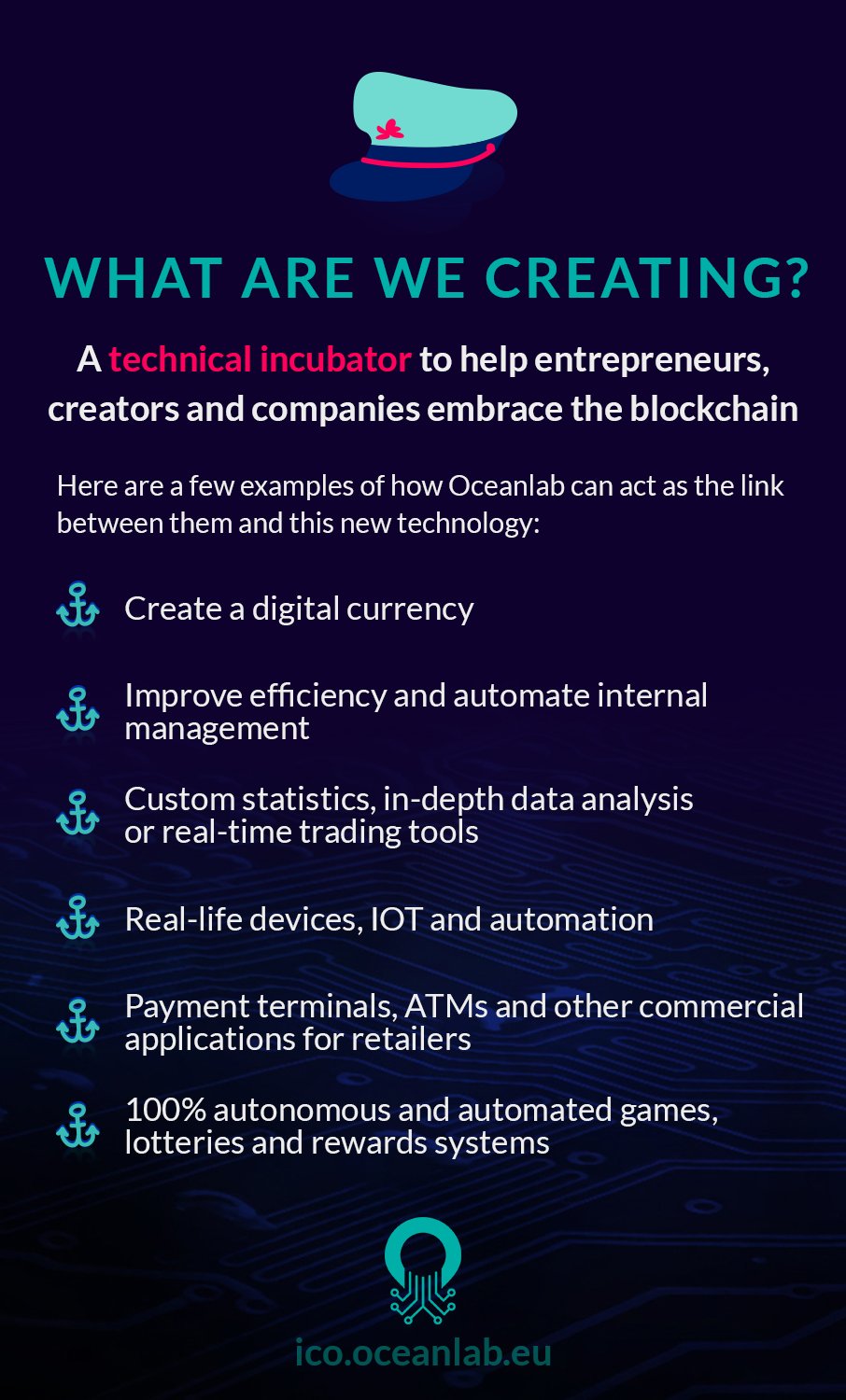 The image above would elucidatw further.
So what makes this project exceptional and different from others so far?
The honesty of the developers and the passion they have for blockchain, minced with the ingenuity of every member of the team. I can guarantee this by the conversations I have had with the team and their response.
https://wavesplatform.slack.com/archives/C4TJCDTHA/p1503047923000123
They have put devption and sacrifice to ensure nothing goes wrong, derail their plans or disrupt their plans.
ICO is ongoing but they already have products that are functional and have blessed the lives of many especially new members to the waves platform by their faucets giveaway.
These products includes;
https://gravit.ws/projectico.aspx The prototype version of oceanlab's first commercial product which will become the first blockchain powered information/social and trading website linking blockchain data, realtime trading data and external informations (news, projects, …)
https://wavesdrop.com The world's first faucet engine for the Waves platform (Waves and assets).
https://tokendb.oceanlab.eu Asset database for the Waves platform, legacy tool now integrated in Gravit, automatically updated, in realtime.
https://pm.oceanlab.eu Multi wallet viewer, legacy tool which will soon be a part of the Gravit website with advanced features like asset folders management (Spam, …) and budget management.
https://nodeui.oceanlab.eu Tools for miners(block generators/full nodes), legacy tools which will be integrated into Gravit with a few more useful tools: Block notifier, leasing UI, passive and active node performance monitoring, fee asset infos, statistics, …
If you have been into crypto in a while, tjese products alone would be mouth-watering and enticing because it depicts alot on the success of the project and the gain the project has for investors. Its one of the best i have actually seen on the wavesplatform and it hopes to provide more it it's community of investors.
Unlike most ICOs, they have a plan of what the funds held back by the team would be used for, this makes them accountable to investors and gives investors the hope of available funds for the future projects based on the tiers of upcoming events in the well schemed plan.
THE ICO:
The ICO is currently ongoing and I like doing some resaerch before delving into a project considering how much i have lost in my ventures, and all i have gotten so far makes me give this ICO a go ahead.
The ICO would run till 31st August, 2017.
46,500,000 tokens would be sold in the course of the ICO.
It's easy to participate and payments for purchase of OCL tokens are specific verified tokens in wavesplatform, making it accessible for everyone to invest.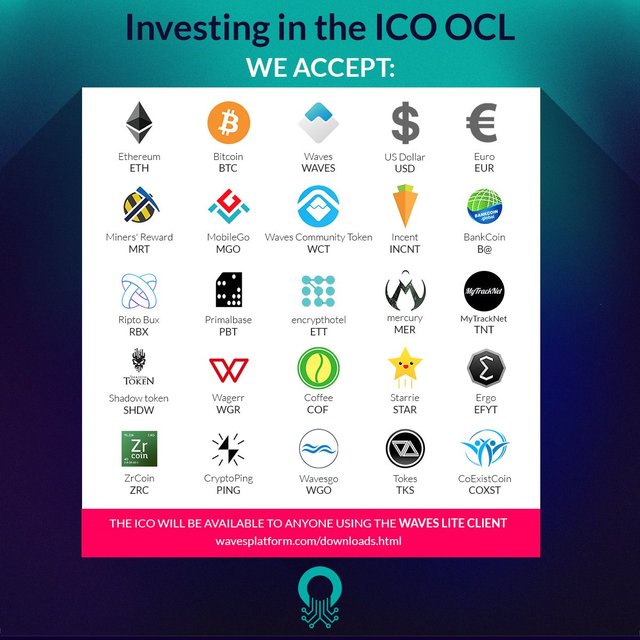 7 tokens were added to the initial tokens accepted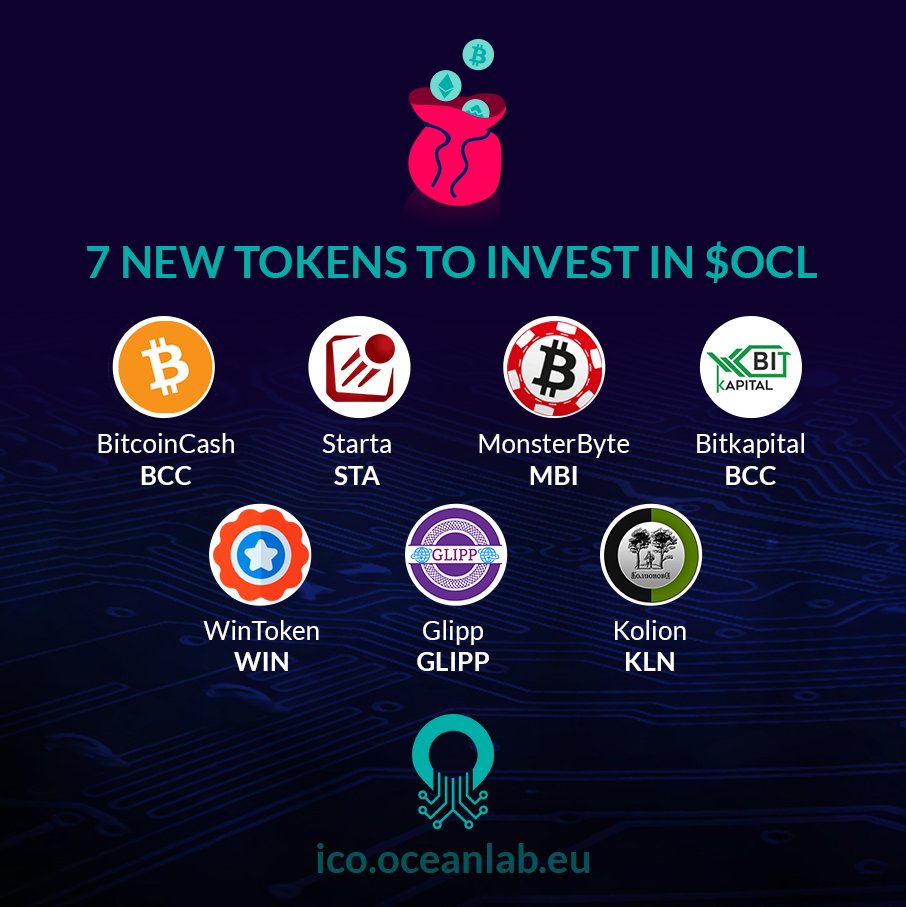 Read the white paper for further understanding.
But I bet it's a project you won't regret...