Smart watches Where it go and revolve !
It is true that the main goal of the hours was manifested by knowledge of time only, but today it is able to perform many very useful functions, such as caring for your health by following your fitness level and monitoring your heart rate, or to help you search online using your voice, or guide you to Your destination with GPS technology, all of which you can do directly from your wrist, and smart watches are expected to occupy an important position in the technology market for 2019.
If you were looking for the right watch for you, you can now choose between many excellent watches that have amazing capabilities, and if you think that the smart watch is just a useless accessory or that you will not find what suits you, whether material or formal, then you may give the topic a second chance and reconsider in it. Some modern watches are really able to improve your fitness in innovative ways, and the prices of some modern watches are considered relatively cheap except for being elegant and amazing.
So we decided to offer a quick overview of some of these watches that ranked first as the best smart watch of the year:
Apple Watch Series 4
Smart watch, Apple Watch 4
It can be said that the fourth series of Apple watches is close to being perfect in the world of smart watches. At a price of $ 399, this watch can provide very useful services in terms of fitness and health, as it has a GPS system that helps with exercise outside the home, and it is of course water resistant and equipped with several indicators as an indicator to calculate the calories burned.
The main new feature of this watch that makes it truly surprising is the monitoring of the ECG electrocardiogram, and it was licensed by the American Food and Drug Administration (FDA), which makes this watch able to detect any disturbance of the heart rhythm.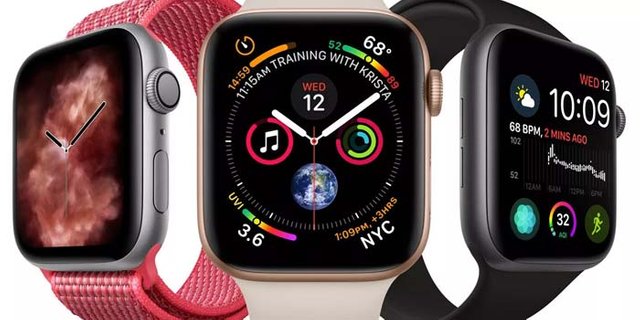 Image Source