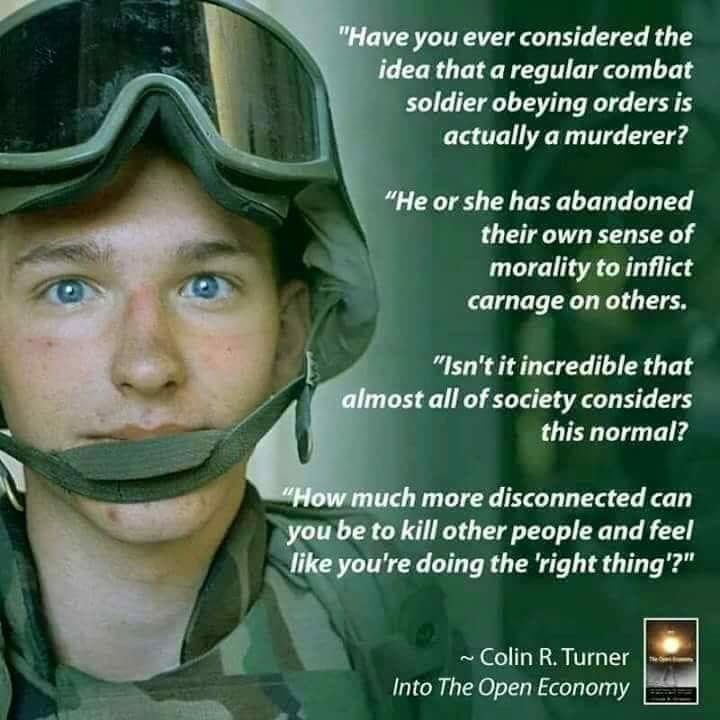 ---
This is why many of those that return from war end up committing suicide. They have been fed lies about the "honor" of mass murder. When their senses return, the shame and guilt destroy them. If that is you out there, it is not too late to get help. Your life has value, and there is so much you can do to wake people up to stop this madness. Don't throw that chance away.
The truth needs to be put out there, though. In order for the mass, legalized slaughter of men, women, infants and children to end, soldiers must say "no." Young people must not enlist. No fingers on the triggers, means no guns can be fired.
Individuals should also, insofar as they are able, refuse to pay for these wars via taxation (legalized robbery). Cryptocurrencies are a great means by which to chip away at the system. Tax refusal (for those who know the risks and are ready), and alternative markets are also ethical means by which to say "Fuck you. No."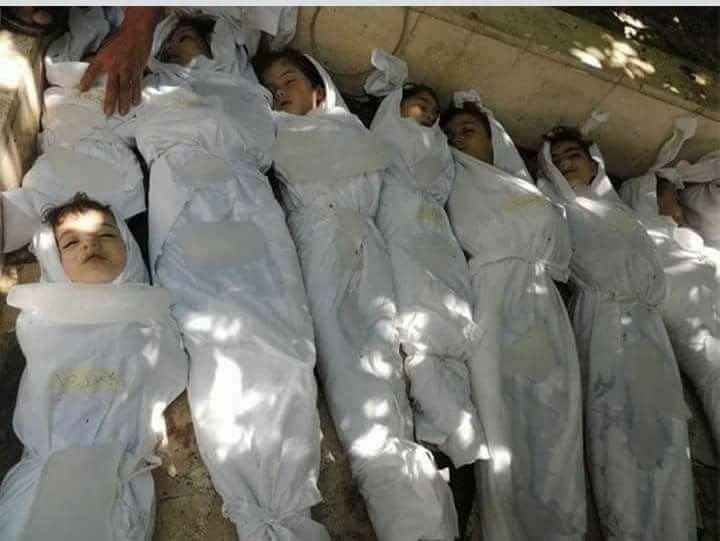 This is war. Innocent victims of military conflict in Syria.
Is war glorious? No. It is not glorious. Not even according to those who have been there and emerged "victorious." As Smedley D. Butler, one of the most decorated marines in US history points out, "war is a racket," and businesses stand to make large profits from these unnecessary, INTENTIONALLY FOMENTED conflicts where the young and poor go to murder and die for the useless and parasitic in government.
What is war? Black Sabbath wrote this song to expose it for the hoax it is:
---
---
All wars are bankers' wars. They are not fought to "help" anyone but the parasitic class.
---
I implore you to please watch the following short documentary showing how all wars are made possible by unsound economics. This is why Voluntaryists are so obsessed with economics. Everything comes back to property and individual self-ownership. Wars are fought because the masses believe in a non-ISO-based system of magical thinking which holds that a few individuals have what is more or less a "divine right," to rule others. Please do watch the documentary:
---
---
---
FUCK WAR. Don't enlist.
~*~
~KafkA
!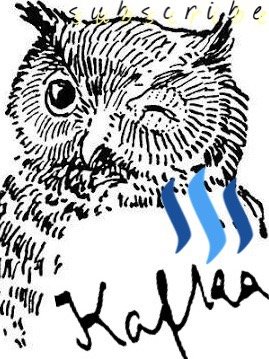 ---
Graham Smith is a Voluntaryist activist, creator, and peaceful parent residing in Niigata City, Japan. Graham runs the "Voluntary Japan" online initiative with a presence here on Steem, as well as DTube and Twitter. (Hit me up so I can stop talking about myself in the third person!)