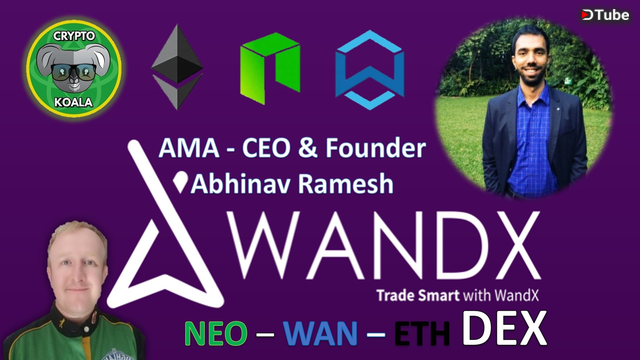 ---
Celebration of the upcoming trading pairs on the WandX DEX!! 🍾
I'm doing a Giveaway of 2000 WandNEO tokens 👍
3 Prizes 💰
1st - 1000
2nd - 600
3rd - 400
Will run for a week guys 😀
Please like, comment and share....winners picked at random!
Hello Neo, Ethereum, Wanchain and WandX community. Today I talk with Founder & CEO Abhinav Ramesh we discuss the WandX project.
In a nutshell Wandx is a decentralized exchange on the Ethereum blockchain utilizing smart contracts with their unique trading basket protocol feature.
Abhinav announces Wanchain trading option will be added next, trade alongside NEO and Ethereum.
With the Wandx team currently testing interoperability wanchain protocol.
With trading pairs being added at the end of this month October 2018!
With a up and running application looks to be a strong contender to Kyber, Ox and EtherDelta.
The Decentralized exchange (DEX) allow you to trade with NEP-5, ER-20 tokens and NEO GAS.
The use case of both Wand token and Wandneo and how it greatly reduces fees when using the DEX and how staking the wandneo gives you a percentage of the fees generated every 45 - 75 days.
🔗Links to WandX
👥WandX Website: https://www.wandx.co/
👫 WandX on Twitter: https://twitter.com/WandXDapp
🎤 WandX on Facebook: https://www.facebook.com/wandx.co/
🗞️ WandX Telegram:
https://t.me/wandxapp
---
🗞️ Join us on telegram! Andy (ICO review) & I two Aussie youtubers. Have created a channel 👍
Crypto Nebula Community - Crypto Knowledge Sharing
https://t.me/cryptonebulacommunity
---
👫👭👬Social- Me on other platforms-
Crypto koala - Twitter https://twitter.com/Cryptokoala_Aus
- Steemit https://steemit.com/@jamiebu
- Facebook https://www.facebook.com/Cryptokoala.io
-Investfeed-
-LBRY Cryptokoala
🦁 VERIFIED PUBLISHER ON BRAVE
Fast & Secure browser- https://www.brave.com/
---
📚 ICO's are considered as High risk investment, but can be high reward, make sure your carry out your research before investing.
📚 I enjoys making YouTube videos on cryptocurrency and I'm not professional advisor giving advice on investing and trading. I'm not saying buy these coins. You got research yourself guys. What I say is what I believe and my personnel opinion, apart from that I hope to see you on the moon or building on minecraft if you are trading cryptocurrency's.
💻 If you you want to mail or telegram me the koala lives at : [email protected]
https://t.me/cryptokoalaau
💰 CoinSpot- To trade and buy cryptos a Australian exchange
https://www.coinspot.com.au?affiliate...
💱 Software Wallet: for Cryptocurrencies
Windows/Mac/linux: http://exodus.io
🔐 Securing your Cryptos? Hardware wallet- Nano Ledger S
https://www.ledgerwallet.com/r/7f2e
---
▶️ DTube
▶️ IPFS