Zeltingen-Rachtig and its charms
I enjoy exploring small authentic places in Europe, especially in Germany. If you drive on the highway you don't see much of the country. If you want to understand the culture, take you time, exit the highway and go through those charming villages. Book a room in a cozy family hotel and walk around the place. I am sure that you will enjoy what you will experience there. Random people will greet you and very often engage you in a conversation. It's those little things that normally don't happen in big cities that will make you feel good.
We explored many villages and towns like this already. Zeltingen-Rachtig is one of those places that we keep visiting as we like its holiday feeling and many hiking trails among the vineyards. It's far away from where we live (about 5 hours drive) and therefore we usually visit it on the way back from my in-laws. It's a perfect place for a short stopover!
Let me take you for a walk in the town!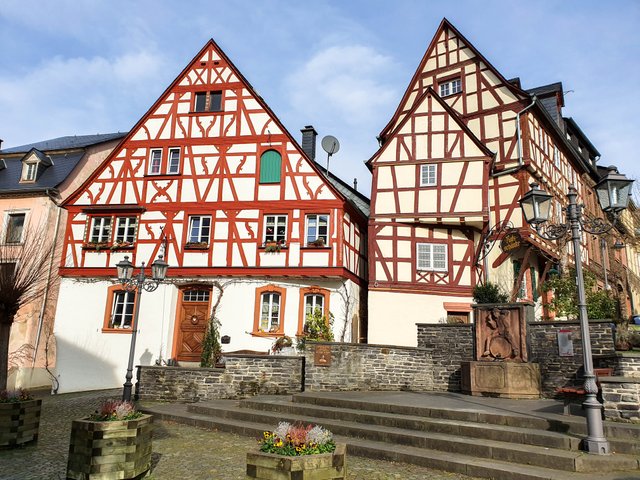 Zeltingen-Rachtig is situated in the Mosel area, about 30 minutes drive from Trier and 1 hour drive from Koblenz. It's so small that you can walk from one side to another in about 30 minutes.
It's built in the middle of nowhere and when I came here for the first time, I was surprised to see all those historical buildings. It made me wonder how come that it's so old. Later, I understood that it belongs to the most important wine region of Germany.
We will start our tour at the beginning of the town, walk around the center and then go back to the river.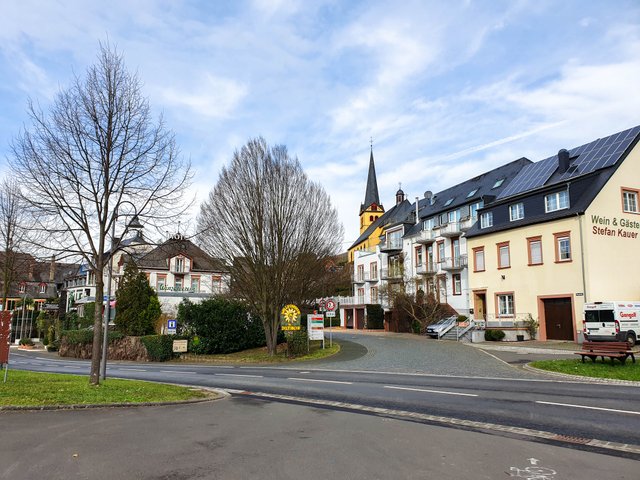 The Parish Church of St. Stephanus dominates the town. It is situated on a hill and you can see it from afar.
The church dates back to the 7th century. Today, the oldest part of the church is the choir which was reconstructed in the 17th century. Many works present in the church come from the 17th century too. There were some additions to the construction in 1720 and the church acquired its current appearance in 1739 when the western tower was added.
Last year before Christmas we attended the service in this church, and it was a nice experience. All people knew each other, they greeted and talked to each other before the service and a lot of them looked at us in a way that we knew that they were asking themselves who we were.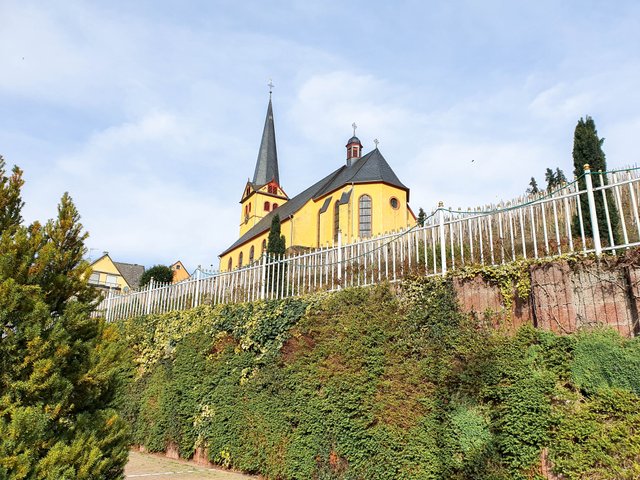 Now, we are coming to the market square. This square is the heart of the town. People used to meet here after the high office meetings to exchange the latest news on the community life.
The town hall was located here until 1971. The building which was used as a town hall was built in the 18th century. After the administration office was moved to another city, the fire brigade started to use it as a homeless asylum and later it was turned into a prison.
There was also a place for a small market which was held here.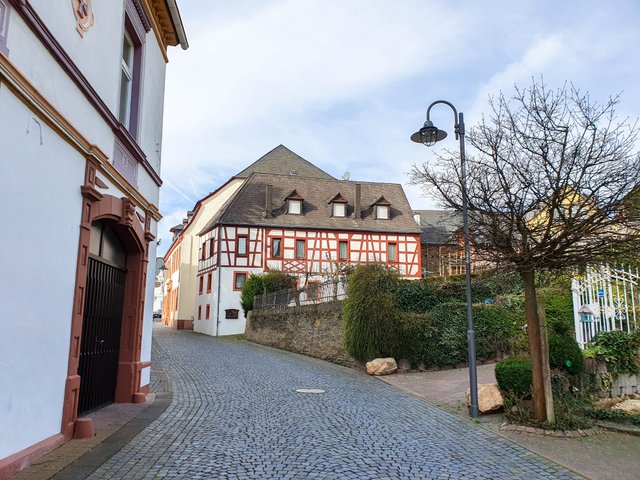 This small fountain is dedicated to Werner Stamm. He was a composer and lyricist who created Moselle Operetta called Zeltinger Himmelsreich.
Every two year the Zeltinger Himmelsreich is performed here. There are around 100 people who take part in the organization each time and help to bring the atmosphere of the past back to the market square.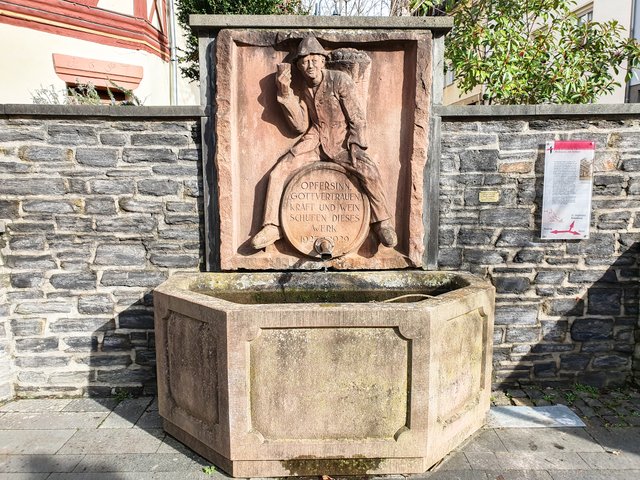 It was a quiet Sunday morning and most villagers were in the church at that time. We slept over and weren't ready on time. But it didn't matter as it was nice to have the old town just for us.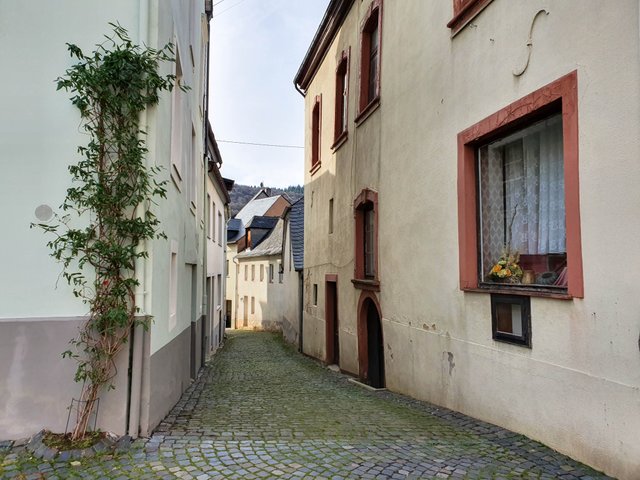 We are coming back to the river and you can see the surroundings of the town as well. If I think about it then I realize that Zeltingen-Rachtig is more less just two long streets along the river Mosel. You can either walk at the river or one level up in the town.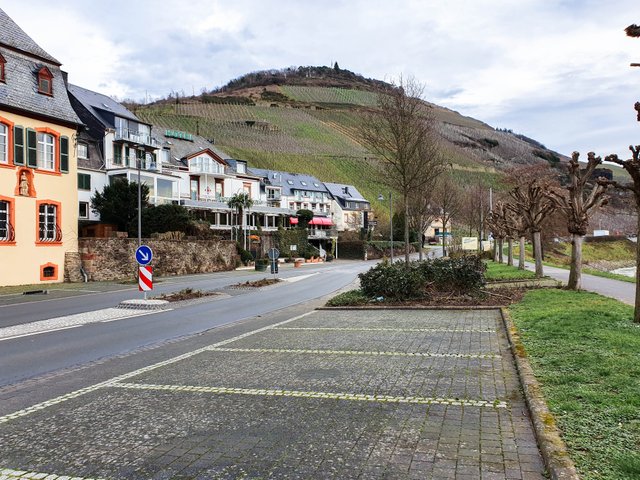 This is the start of the path that I showed you yesterday. It is so long that you can walk on it all day in one direction. We didn't know about it before and we actually found out on the second day of our stay. The first day we thought that the path ended behind the transport dam.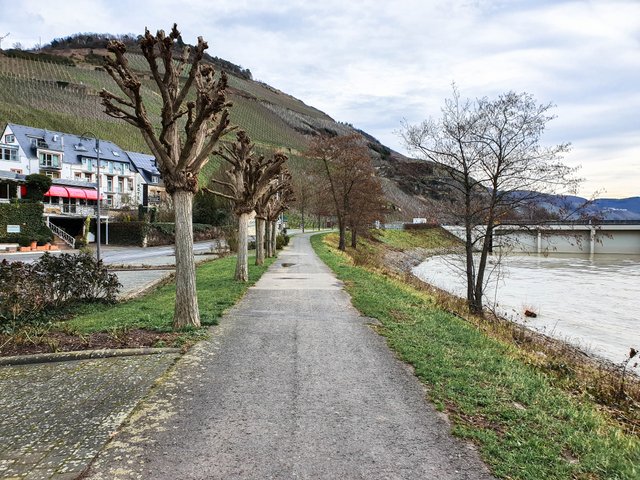 The river is divided in this place. On the right side you can see boats all day. There is a system installed that makes them cross to the other side. I'm not a technical type, so I don't know the details behind it.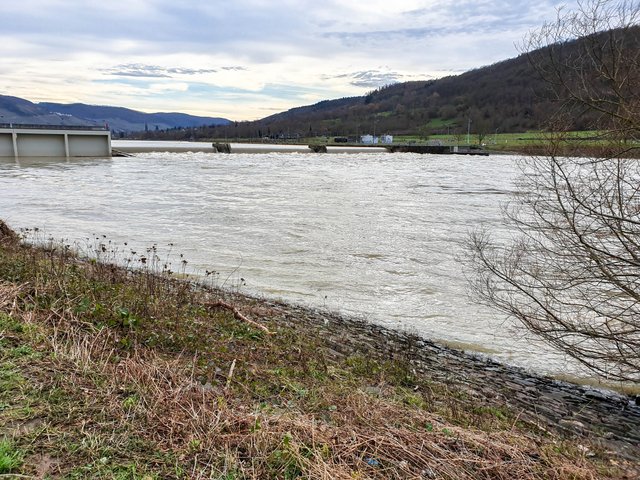 Even though the flood is not threatening the village anymore, we could still see that the water was too high. Those trees are usually not in the river 😊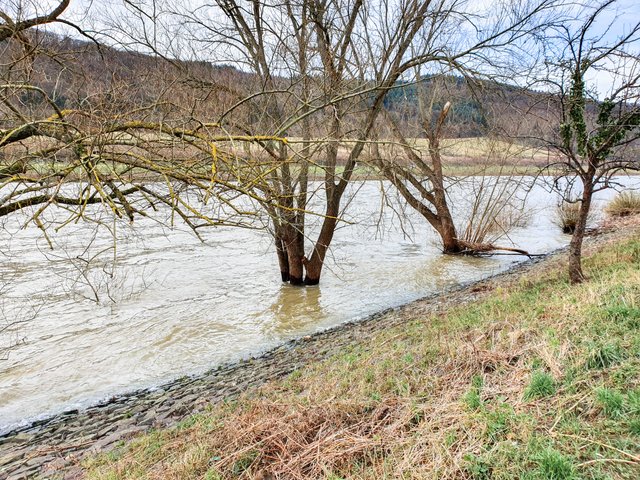 I walked a few hundred meters away to show you that the church is towering above the town and that it is visible from afar.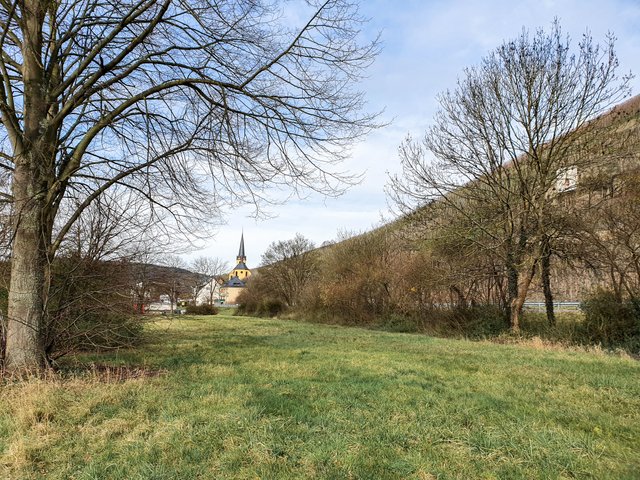 The climate here is warmer as they have many sunny days and they are also on the sunny side of the Mosel, but I was still surprised to see these flower in the middle of February. Isn't it too early?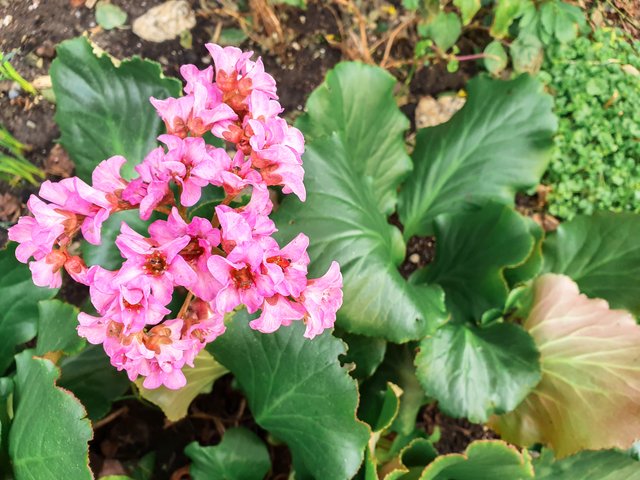 After our walk we returned to the hotel and had some lunch. As usually, we were staying at a vegan hotel. It's the first vegan hotel in Germany and one of our favorites. We come here often, and we even got to know the family who owns it since 1881 (at that time it was of course not a vegan hotel). They hug us when we come and always give us a special table for lunch and dinner.
We started our lunch with soup. I had tomato consomne and my husband had a trio of green soups called grün, grün, grün or green, green, green in English.
My soup was exactly what I needed. It wasn't a typical tomato soup though. It was thin and not creamy. There was some kind of a dumpling inside as well. It was light and I enjoyed it.
My husband liked his soups as well but wasn't as happy as I was. They looked great but they were too creamy for him. I must say that the idea was good as those soup were made from herbs, so they were tasty but it was too heavy with all that cream.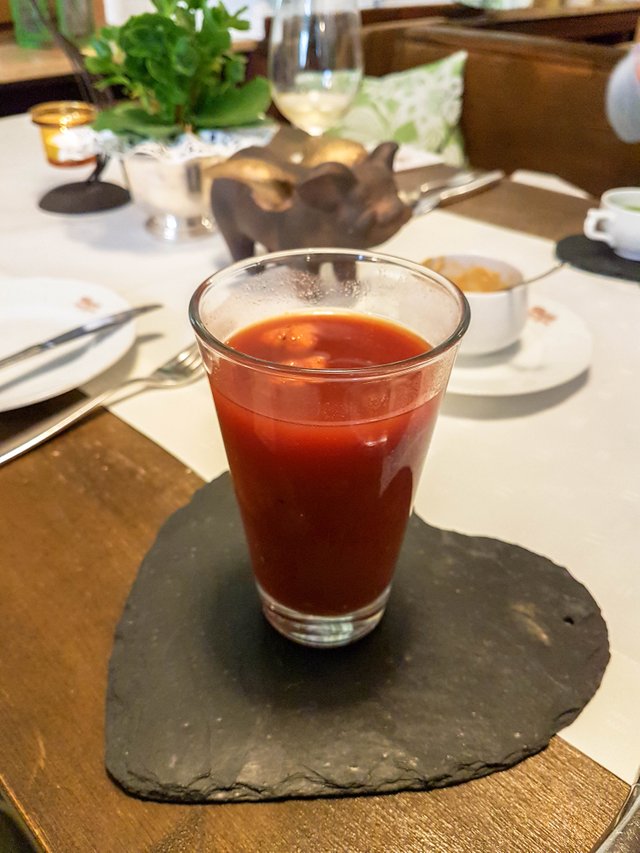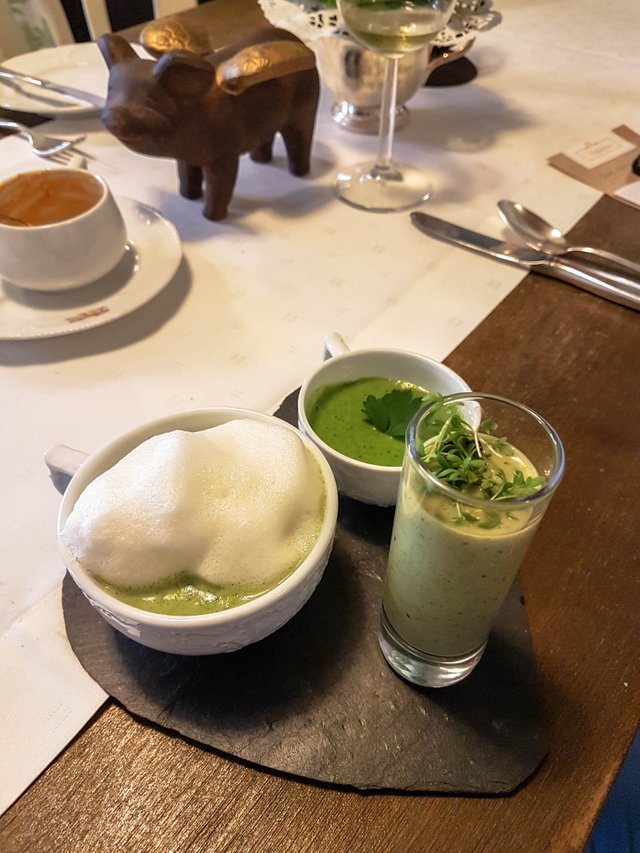 ---
The second course was this lupines roll with herby crust and mango, bell pepper ratatouille with baked potatoes and brown jus. It was a bizarre combination, but it tasted good. I would have liked if those ratatouille pieces were smaller as that pepper was overpowering the rest of the dish.
My husband had this strange looking smoked avocado with chia seeds stuffing, covered in tomato sauce and served with pasta. It wasn't my favorite but my husband liked it. I think it's because I'm not such a fan of avocado in general.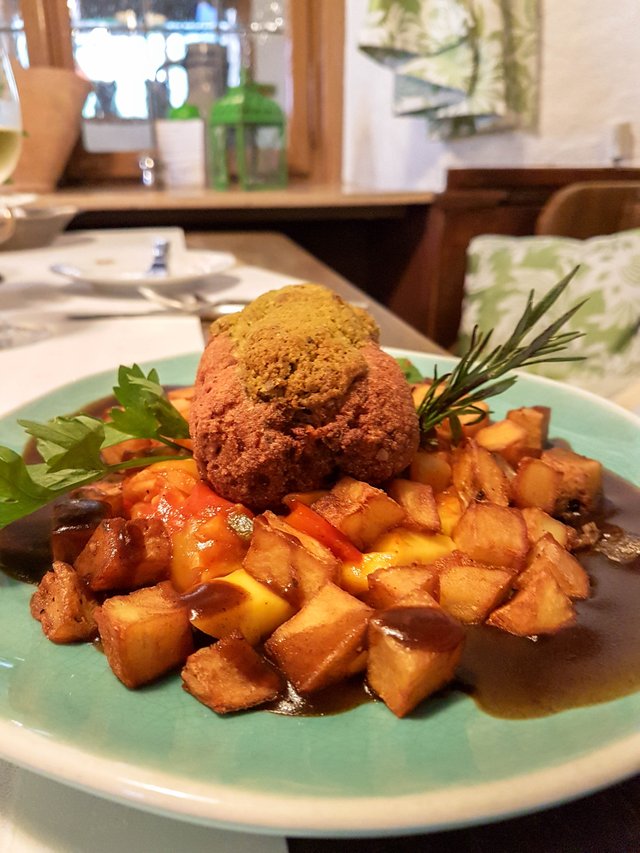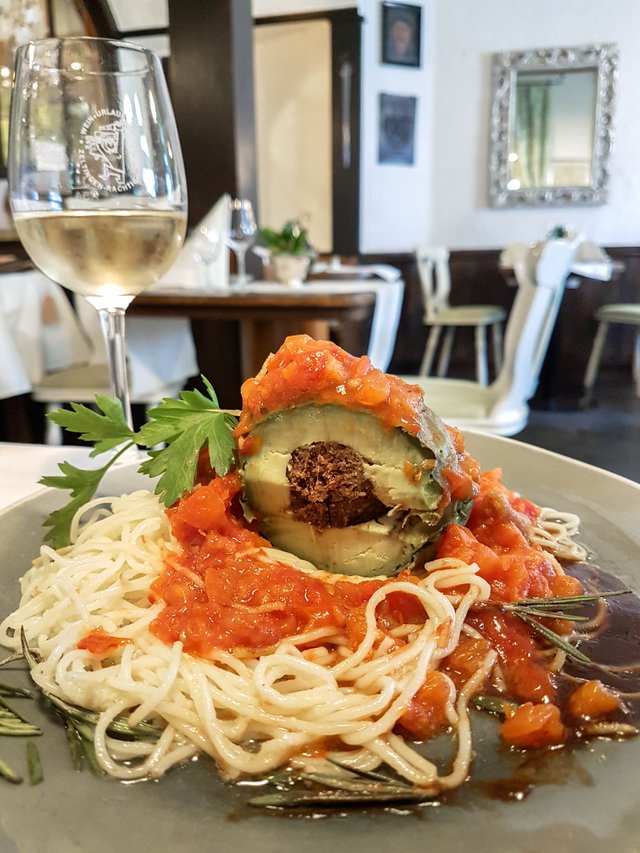 We didn't go for a dessert as we were quite full. If you see those portions, you probably understand what I mean.
This was our trip to Zeltingen-Rachtig. I hope that I inspired you to visit this place when you get a chance. The best time to go would be in summer as there are events, such as wine tasting or various markets held at that time.
Thank you for visiting!
Cheers!
Martina