Lichtensteig - a charming medieval town
I don't know about you but when we drive somewhere and see an interesting place we almost always stop for a few hours and explore it. This is how we learned so much about Switzerland - the country that we currently call our home.
A couple of weeks ago, on the way back home from our weekend away, we drove by Lichtensteig. It caught our attention as it's situated on top of a hill and it looks like it was surrounded by a row of medieval houses. Later I learned that these houses date back to the first half of the 15th century!
Lichtensteig (not to be confused with Lichtenstein) is a small town in Toggenburg in the canton of St. Gallen and the first mention about this place comes from 1228. When I hear that a town is 800 years old, I get excited as I know that it's worth a visit. The historic Lichtensteiger Old Town was awarded in 1975 by the Council of Europe for exemplary village care and I am not surprised as it is so very well preserved.
Count Donat granted Lichtensteig its city rights in 1400 and it started to become more and more of a cultural center in the region of St. Gallen. It became famous for its markets which are still held here several times each year however they are not as important as they were in medieval times. In addition to the traditional markets there are some special national markets held as well. The most popular one is the Swiss photo market.
Let's explore the city!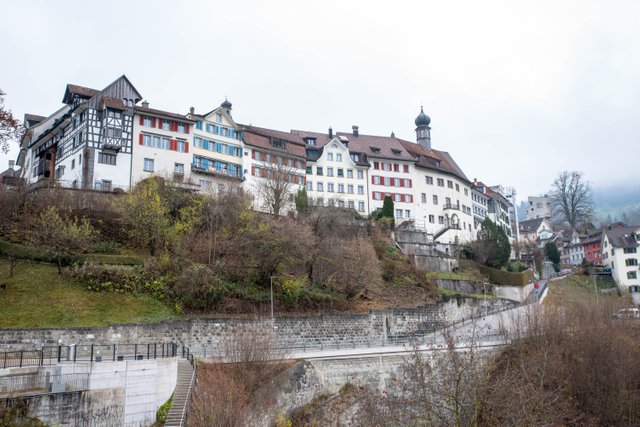 It took us a while to park the car as we kept driving in circles around the old town. It was not very clear where was the parking garage, but we found it at the end. It was a very cold day and we didn't plan to stay long. We thought we would quickly walk around and go back to the car, but we spent there much more time than we originally planned.
Close to the parking garage was this Christmas tree. The decoration was very nice, and I wanted to take a picture from the other side of the tree as well. I was very surprised to find out that only half of the tree was decorated 😊 Like they thought that nobody would consider walking around the tree. Well, there are people like me!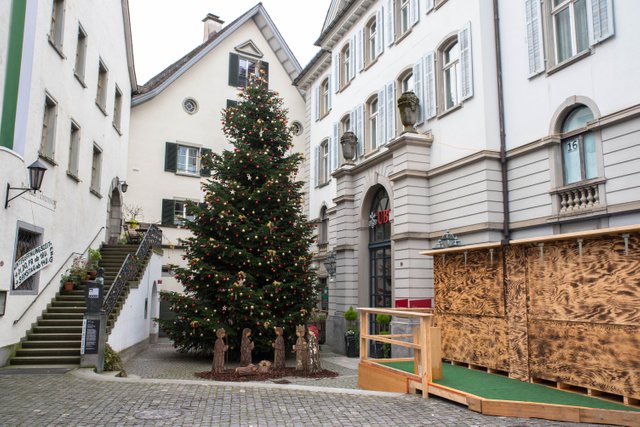 I liked this simple traditional Bethlehem decoration.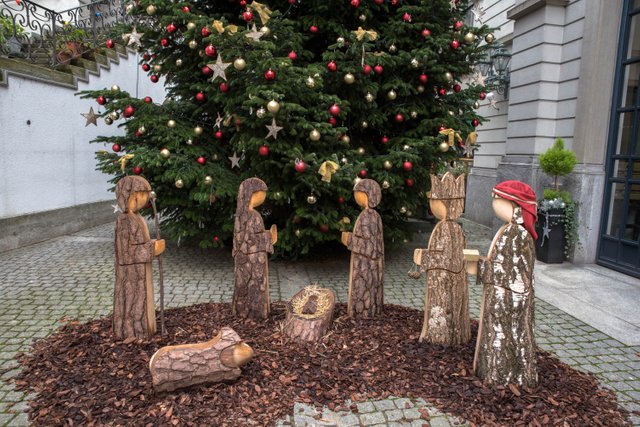 Further down the street we found this carriage which belonged to the shop selling decorations. Outside of the shop there were many branches, berries, and other materials for Christmas decoration that you could buy. There was a small box for money and each item had a clearly marked price. I got some branches, cones, walnuts, chestnuts and berries, and spent the evening decorating our home.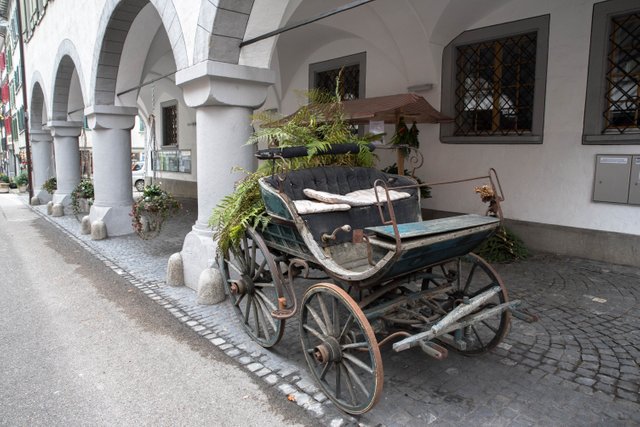 There was not one restaurant that would be open in the entire town. We kept walking across the narrow streets but couldn't find anything. It was however a nice walk.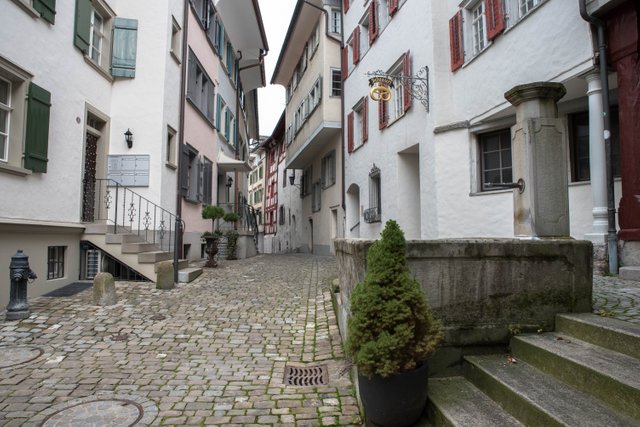 Look at that lion! I have never seen such an ugly lion before!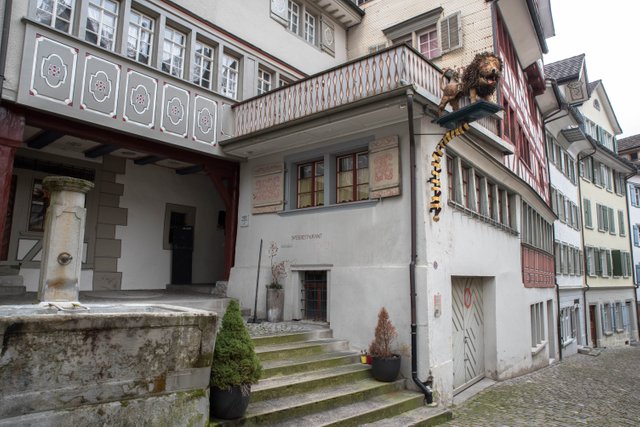 I like that Swiss towns pay so much attention to festive decorations. It's not only for Christmas but you can see decorations for Easter and other holidays as well.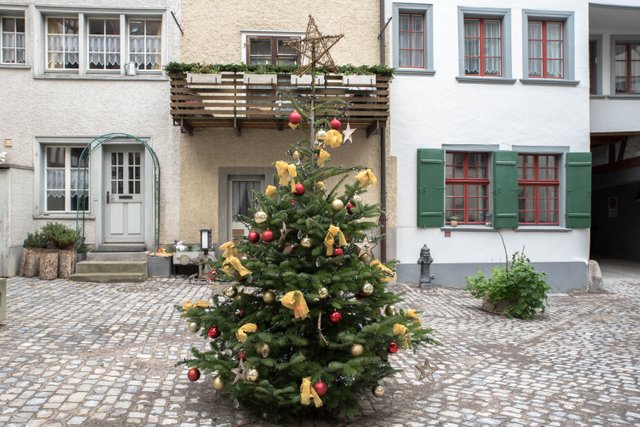 It was a quiet Sunday afternoon, so it was easy to take photos with no people photo bombing...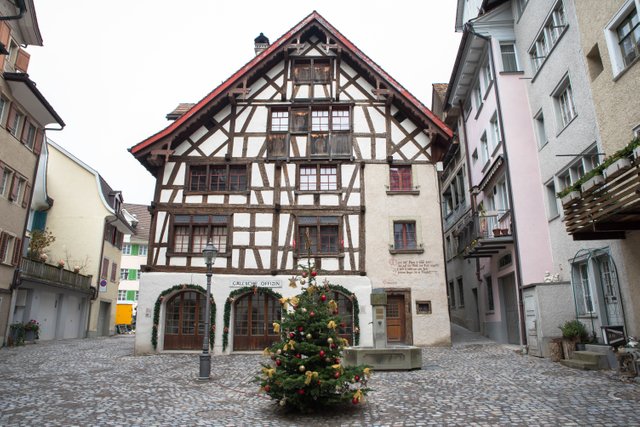 We we walk down to the river now and see if we can find something interesting there.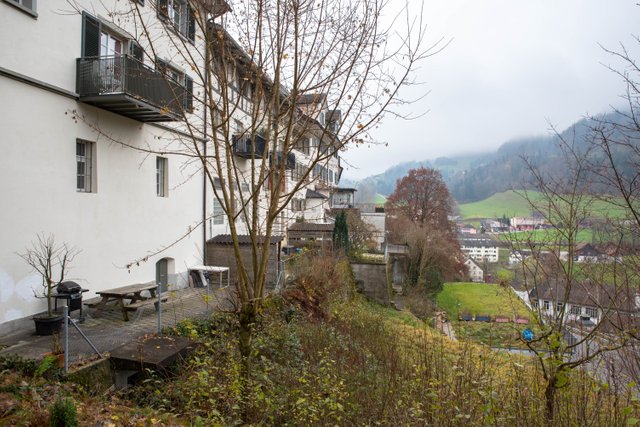 We were lucky that it was not freezing as the path was steep and I'm sure it would be slippery.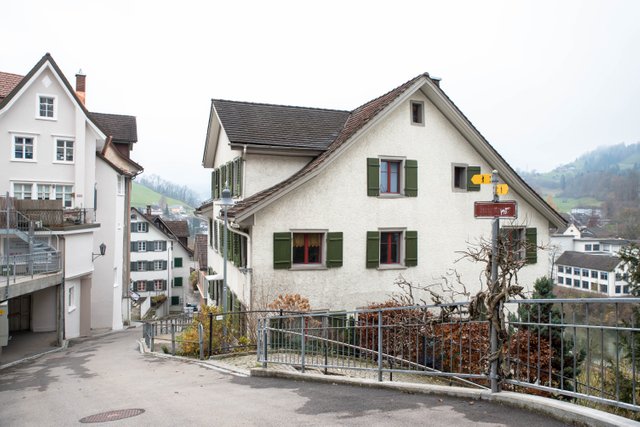 We got to enjoy nice views of the town on our way down. The hills around us were hidden in clouds.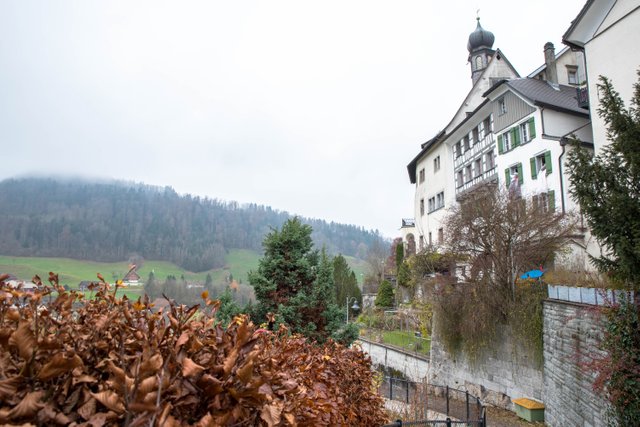 Here we met a guy with a huge dog. I don't know what kind of dog it was but apparently it was still a puppy and wanted to play. I found it a little bit difficult as it was heavier than me 😊
The guy was talkative and asked us many questions. He wanted to know where we're coming from, why we are in Switzerland, how we like it, if we plan to stay, and so on. We got these questions quite a lot, so we learned some standard answers that we don't mind sharing with strangers.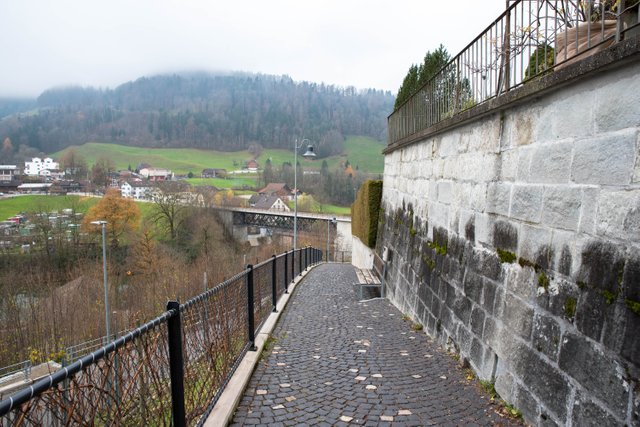 Lichtensteig lies at the river Thur. This river has many secrets and I might reveal at least one of them in the coming weeks.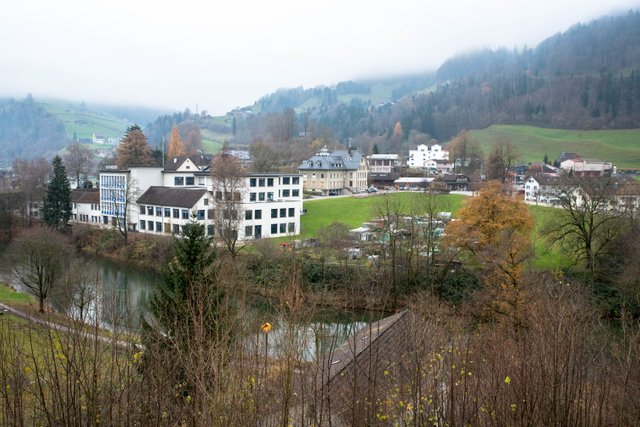 And here we get to enjoy the panorama view of Lichtensteig.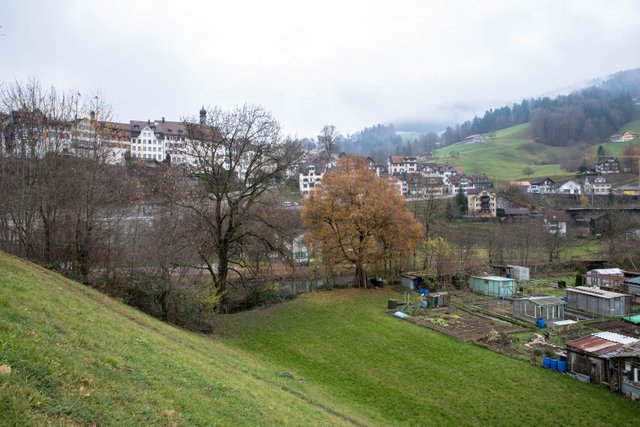 The bridge in the back is called the Thurbrücke and it was built in 1910.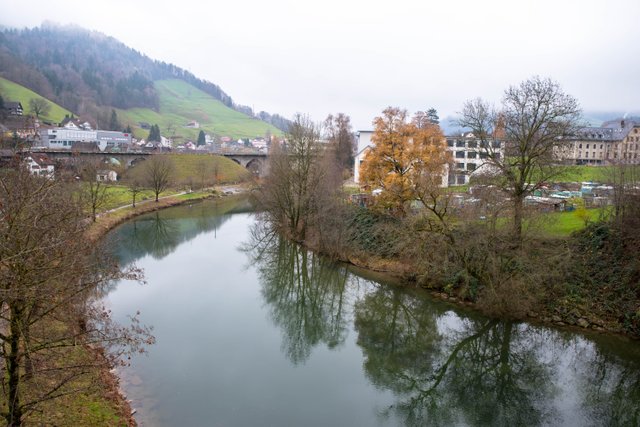 Close up of the bridge - can you see that house behind it? Now sure if I'd like to live this close to the railway bridge.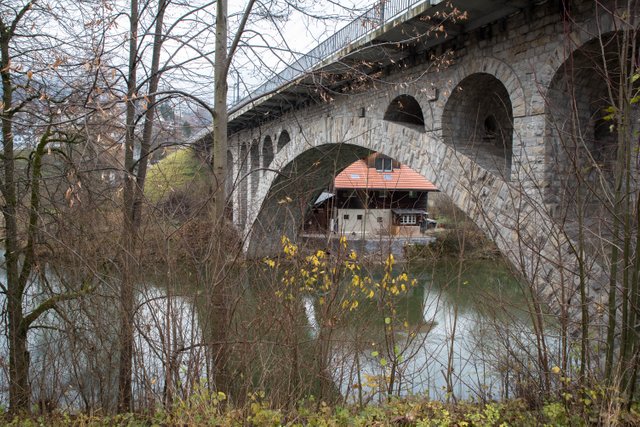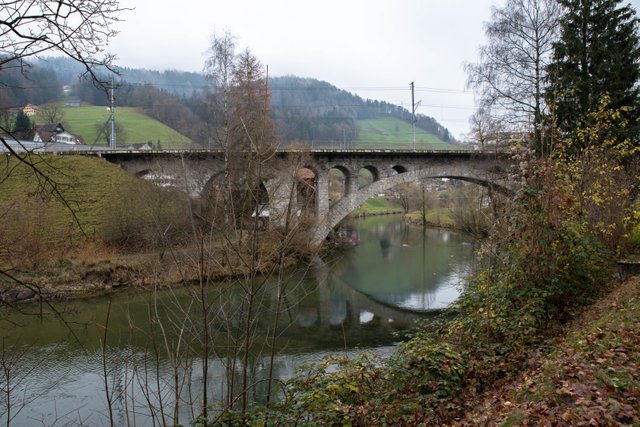 Can you see that strange concrete building overlooking the town? It's the Church of St. Gallus, the catholic church of Lichtensteig. For a long time, Catholics and Reformed used the Lichtensteiger Parish church together. But as the differences between those two were getting bigger it was not possible to use the same church anymore and this is why the Church of St. Gallus was built in 1968. It's not the most charming building but it is one of the most important works of Walter Förderer who was the main architect of this construction.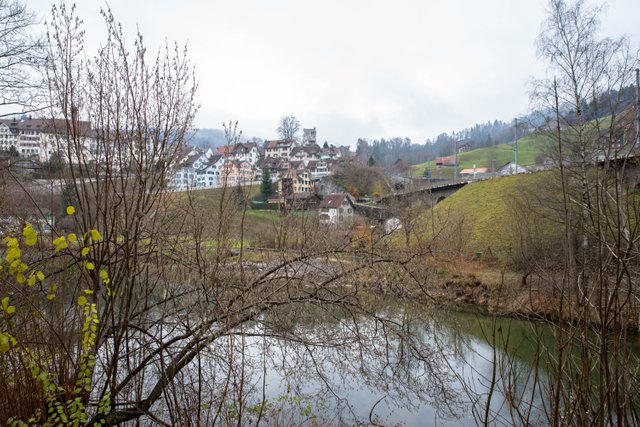 And here we have the town in its entire glory. Now, it's time to walk up that steep hill again to the car and go home.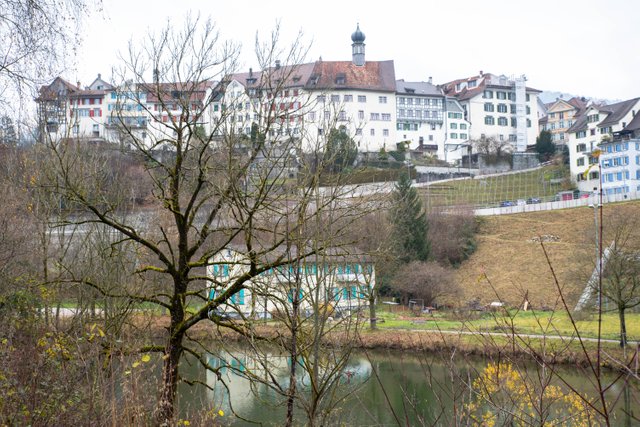 We had a great time and we will come back to explore the secret of the river Thur.
Thank you for visiting!
Cheers!
Martina