Bardejov - an UNESCO gem
I have a big family, so big that I don't even exactly know how many cousins I have. To give you a perspective, we get around 50 people when we organize birthday or any other family celebration except of wedding as then it's much bigger.
My grandparents from my mother's side had 7 children. I have 5 aunts and all of them except of one have many children, my cousins. One of my aunts couldn't have children and this is why she was so kind to us. She moved far from home but anytime she came back to visit us, she brought us many toys and sweets. We loved her visits.
She'd lost her job many years ago and now she's working abroad and coming back to her husband just a few times each year. If we're lucky to be at home when she's there as well, we try to spend as much time with her as possible.
She lives in a charming city called Bardejov. I remember visiting her when I was a child. It was my favorite town and I was so proud to be able to travel and spend a few days there. I still enjoy visiting it.
It has a beautiful historical old town with colorful houses, a museum and the parish church of St Egidius which is inscribed in the UNESCO World Cultural and Natural Heritage.
You can climb up the stairs up to the tower and enjoy the views of Bardejov and its surroundings. This is exactly what we will do today.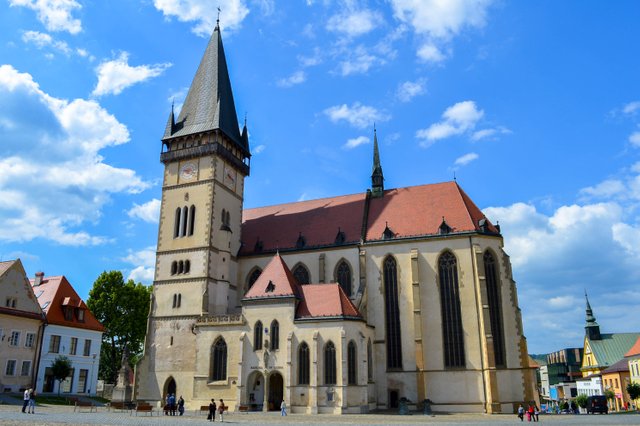 The old town is surrounded by circular fortification which was built in the 14th century. There are still 12 towers which survived over the centuries and the city wall is the most representative example of medieval town fortifications in Slovakia.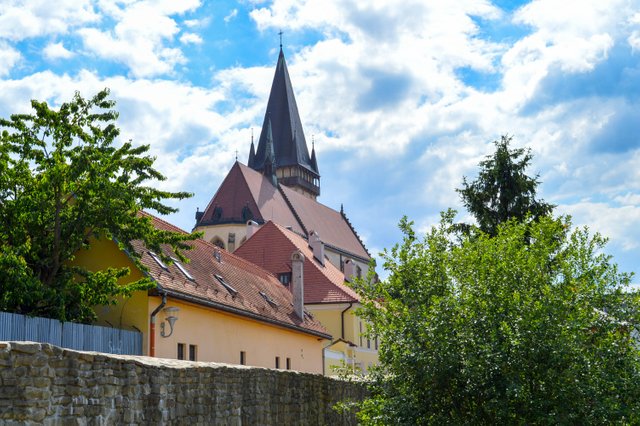 The main square consists of colorful houses, big open space and one historical house in the middle. Nowadays, the house serves as a museum. The museum Šariš will take you through the fascinating history of Bardejov and the region of Šariš.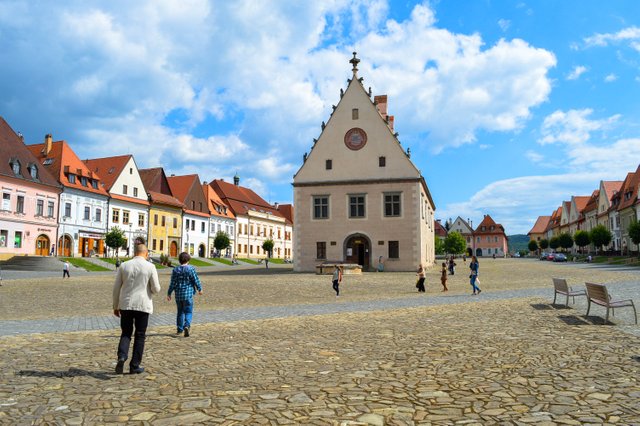 This museum was open in in 1903 and at the beginning its first artifacts had been donated or lent by various religious institutions and organizations. The first exposition was open in 1907.
If you ever happen to visit Bardejov, you should go to this museum as you will learn so much about the region that used be an important transit area. You will see the influence of many cultures here.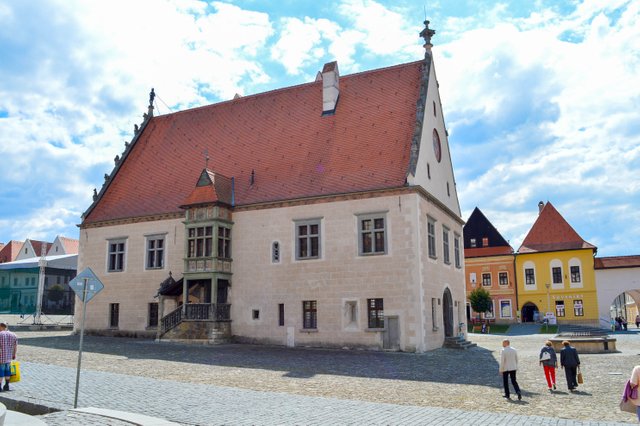 The old town looks like from a historical movie set. All houses are beautifully preserved and I dare to say that this is exceptional in Slovakia.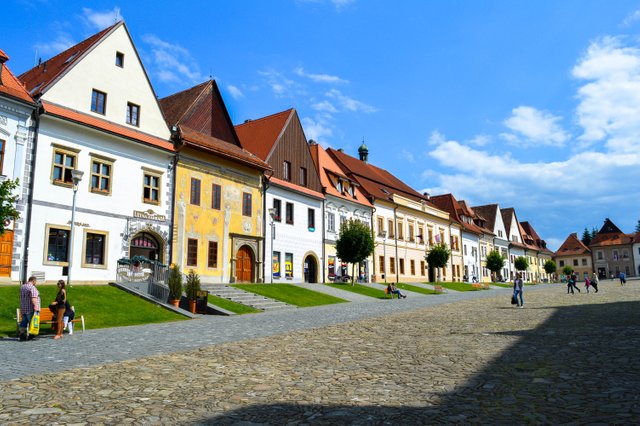 The other side of the main square...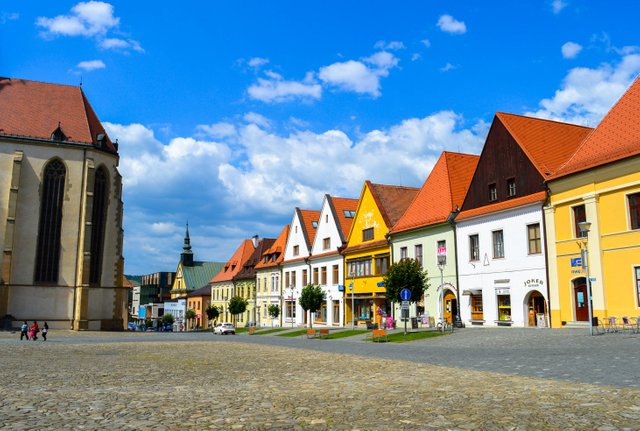 And now let's go to the tower!
But first, I'd like to tell you some details about this church.
The Basilica of St Egídius dates back to the 15th century. It has 11 Gothic altarpieces and even though the interior is rather simple, the church contains valuable artifacts and historical pieces.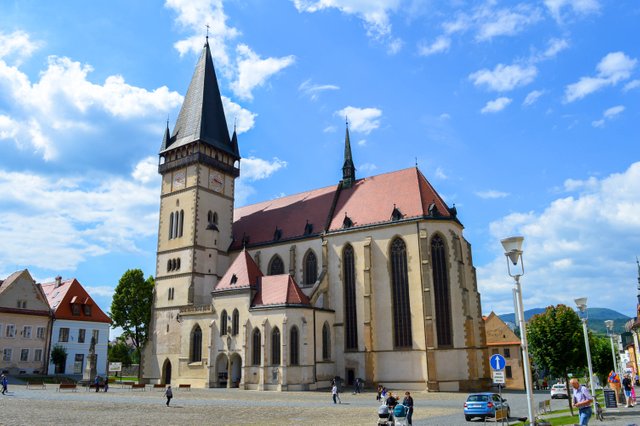 Let's go upstairs now. The entrance fee to the tower is only about EUR 2 and it's worth a visit. My mom stayed downstairs as she is claustrophobic and doesn't handle the stairs in old towers very well. But I must say that this staircase was quite wide and I keep telling her that she should have tried it.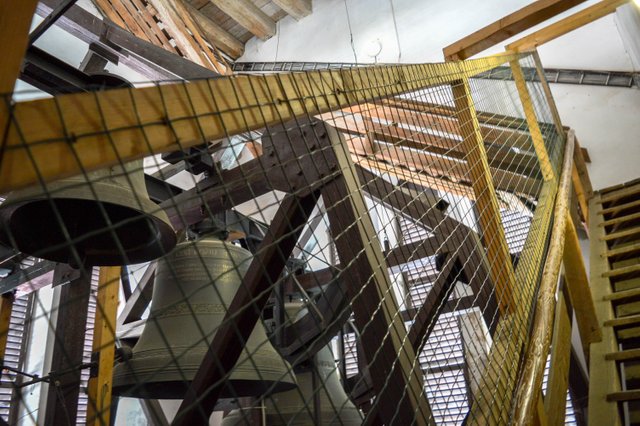 And here we are!
Look at this picturesque main square! You can even see my aunt's house however I'm not going to tell you which one it is 😊 But it's not on the main square.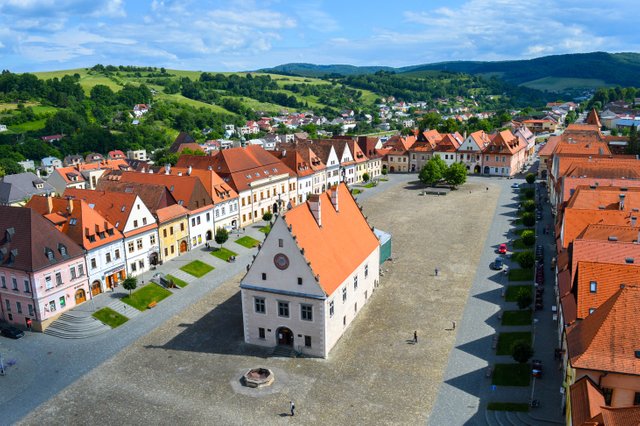 On the right side we can see the Greek Orthodox church (that yellow building with two towers). We can also see 2 towers which are part of the city wall.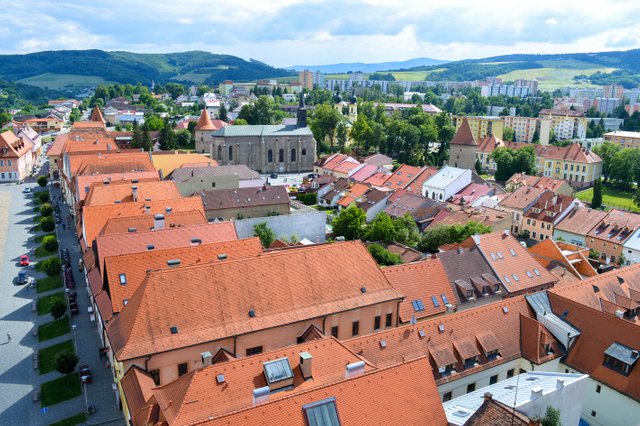 And here is the modern part of the city...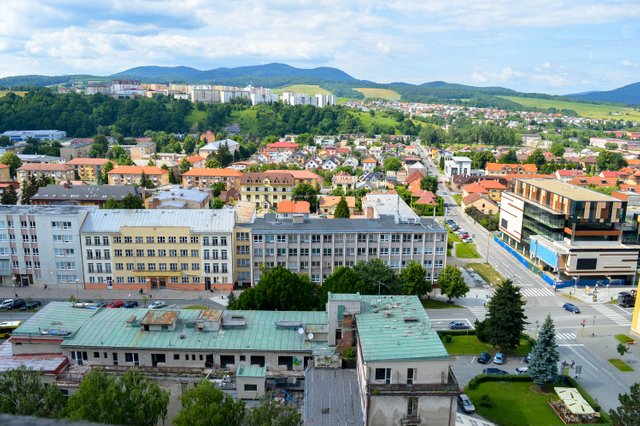 I like those red roofs...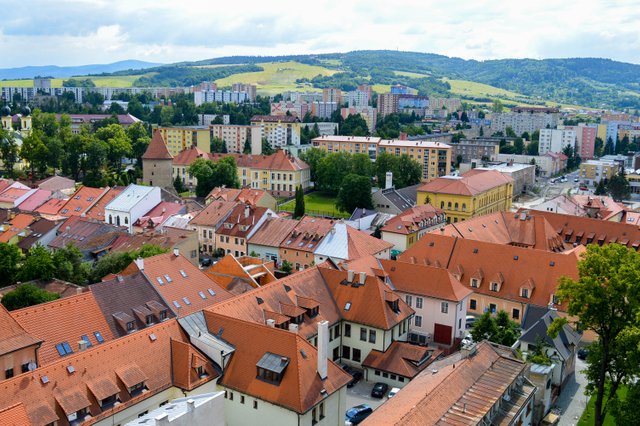 And the Greek Orthodox church zoomed in, so that you can see it better. Next time I'll take you there too.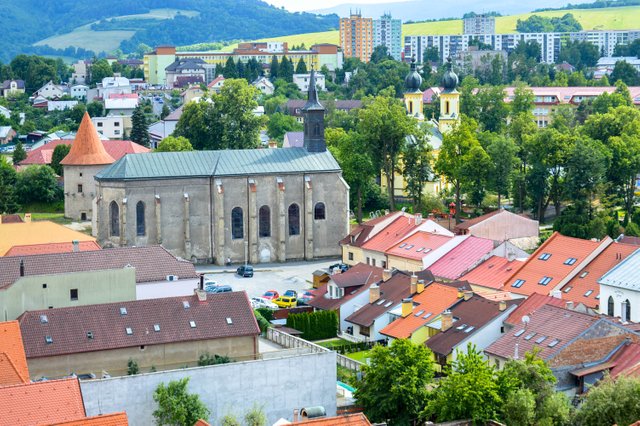 I hope that you have enjoyed a tour in the city which is so important to me.
Thank you for visiting!
Cheers!
Martina