Eindhoven - design and high-tech hub
Eindhoven is a city in the province of North Brabant in The Netherlands. It is the fifth biggest township in the country and the biggest city in North Brabant.
It is known as a technology hub and it is home to the Philips electronics. It is already more than 125 years ago that Mr. Philips brought light to the city. The company and Eindhoven grew rapidly hand in hand and the city became a modern hub full of design, innovation and technology. Today, old industrial buildings have been transformed into trendy shops, cafes and restaurants.
You can still feel the passion for design, innovation and high-tech everywhere in the city. There is a cool Philips museum too which is must-see when you come to Eindhoven.
The students from various countries in the world come here to study at the prestigious university and Eindhoven became a student city that almost never sleeps. There are plenty of various events, such as concerts, performances, etc during the year.
I have visited Eindhoven before and I have always found something what I liked, so I was sure that we would have a lot fun last Friday when we decided to visit it again.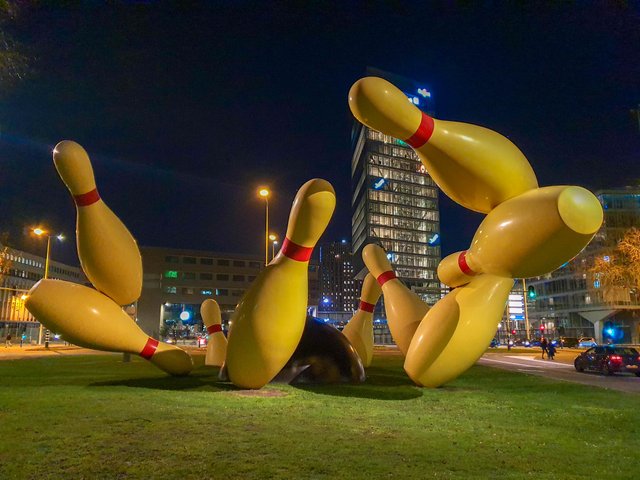 My husband works from The Netherlands this week and I joined him this time too. He was working all Friday, so when we got to Eindhoven it was already dark. We planned to go for dinner, but the weather was good, so we went for a walk around the city first.
We started our walk in the city center which was modernized not that long ago. My husband kept telling me how it looked like 20 years ago when he used to live here. It was apparently very different.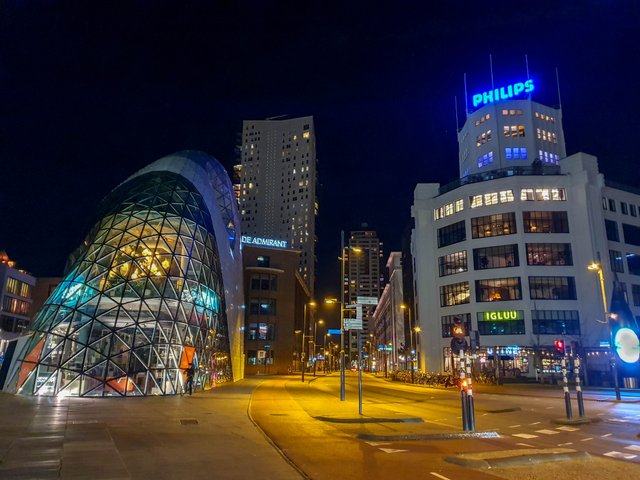 Most of the new buildings have innovative design as otherwise they wouldn't fit in the concept of this city. This hotel building had nice lights which were changing colors, especially on top of the building with its bar.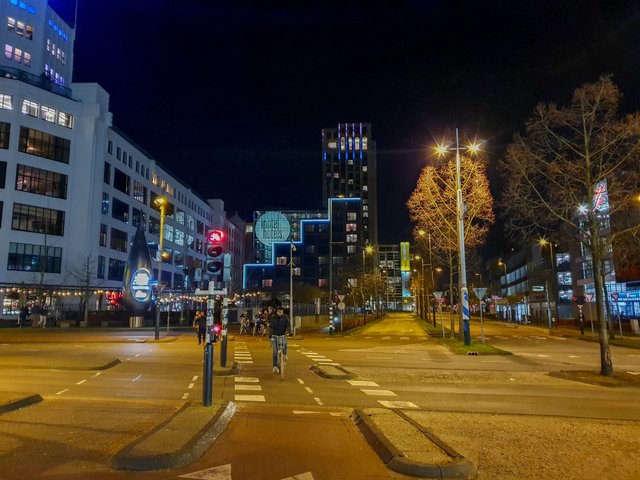 Eindhoven is innovative in all fields, even in cycling. This is a cycle shed in the city center. This street art was created in 2018 by The Dutch Sober Collective and the German artist 1010.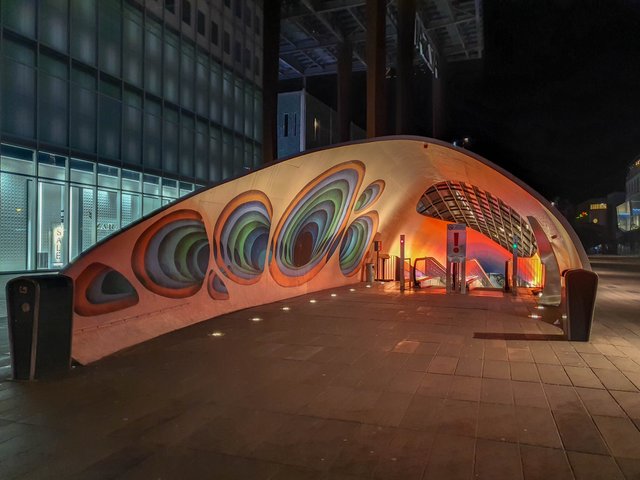 When you stand in front of the wall you feel like it was 3D and you could enter one of those tunnels.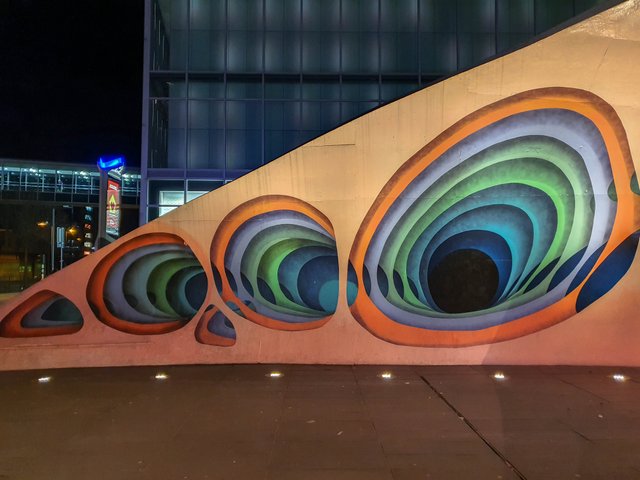 The Piazza is a shopping mall that was opened in 1970. It was originally designed by Theo Boosten and renovated in 2005. The renovation was designed by an Italian architect Massimiliano Fuksas. It's a popular shopping mall with many shops and even more people. I am not a shopaholic, so this kind of places make me feel anxious but I can imagine that many people love it.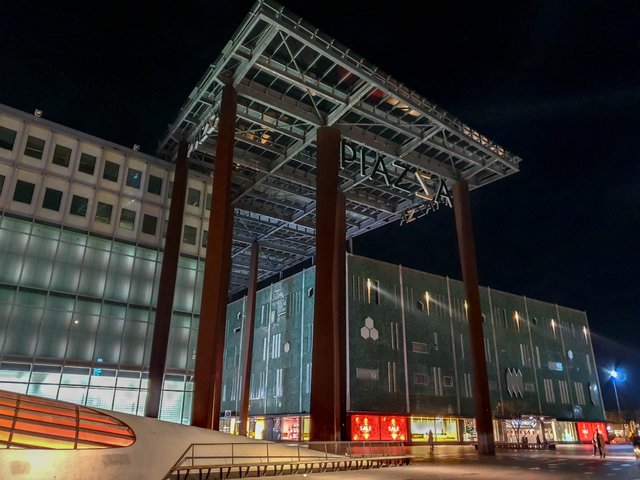 This is the other side of the square and the cycle shed. Here we can see different colors.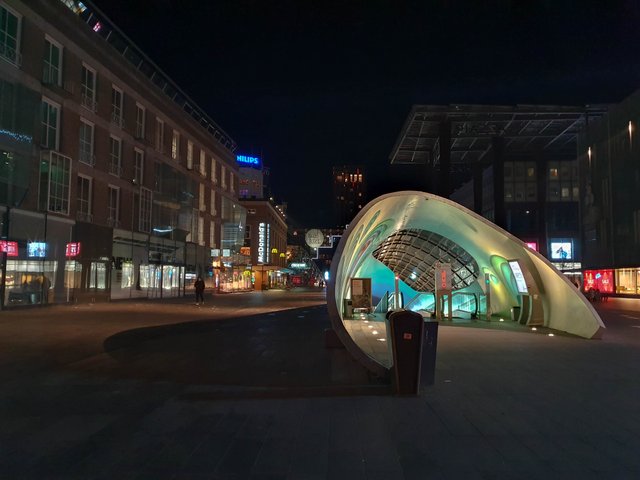 When I was standing here, I didn't feel like I was in a Dutch city. Those cities that I visited in this country mostly have historical buildings in the old town and Eindhoven is very different. When you enter one of the side streets you get to the old parts too, but this particular part made me feel very strange, like I was in a wrong place at that moment. Don't get me wrong, I like how it looks but it's just not Dutch, not the way I know it.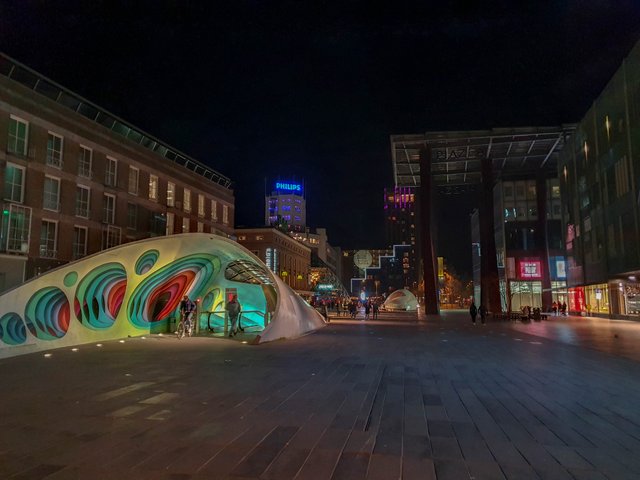 This statue was created by the Italian artist Mario Negri in 1968. At that time, it wasn't set in this place. It's original place was between the Piazza and Bijenkorf but it was replaced later on.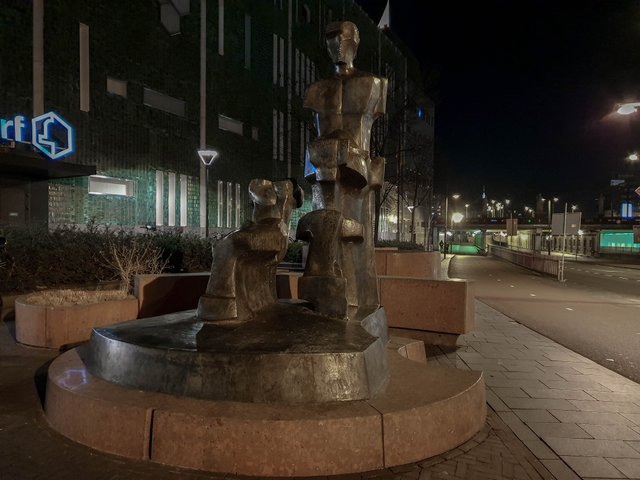 We passed the main square and walked around the side streets when I saw these bicycles. This is very typical here. There are so many of them that I wonder how do you find yours when you place it here in the morning and there are hundreds more in the evening when you return to pick it up.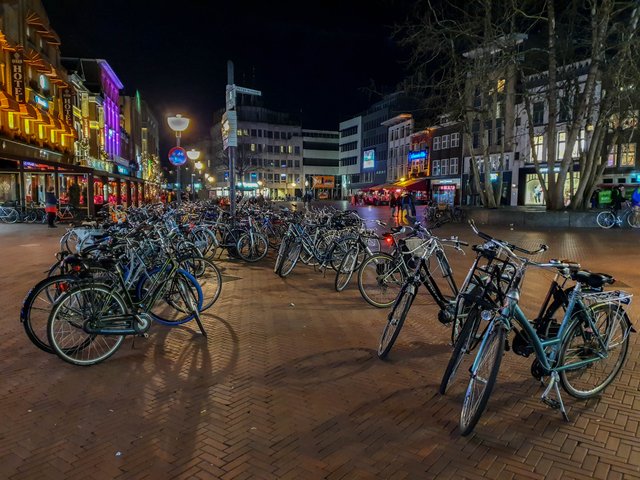 This artwork caught my attention when we were passing by in the car. There was no parking place, but I wanted to take a photo, so my husband dropped me off at the traffic lights and was driving around this place until I was ready to hop back in the car. It was funny and I hope that there were no street cameras.
It is called Flying Pins and it is one of the most popular landmarks in Eindhoven. It was designed by the Swedish sculptor Claes Oldenburg and his wife Coosje van Bruggen. It depicts large bowling pins being struck by a bowling ball.
Look at the car on the right to understand its size. It is big!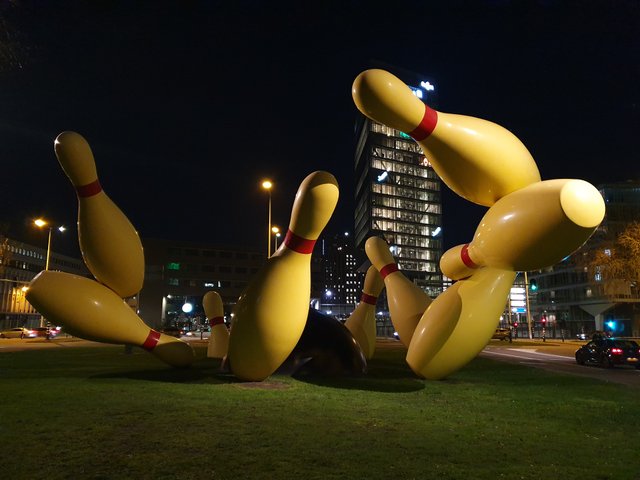 After our walk we were ready for dinner. We booked a table at a vegan fine dining restaurant called Bij Albrecht. We were excited to try their food as it looked exquisite on their website.
When we arrived, we were greeted by the waitress who took our coats and showed us our table. Then she brought us some Chinese tea to clear our taste buds and get them ready for our food.
The concept in this restaurant is simple. You can order either 4 courses or 5 courses. The menu is fixed, and you have no idea what you get.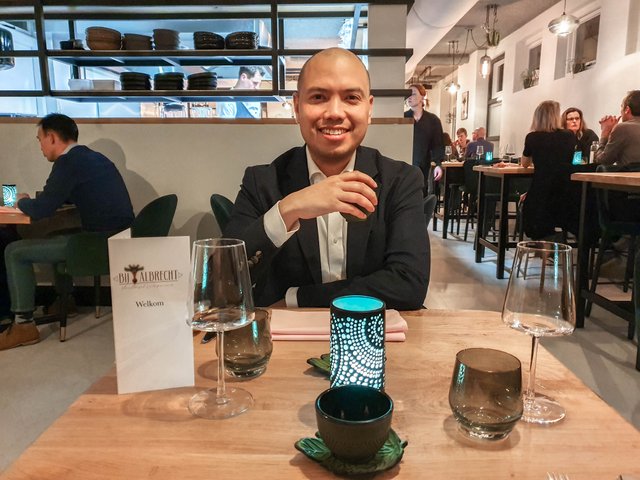 We started with amouse bouche. It was ravioli with faux grai and truffle. It was delicious. The filling of the ravioli was creamy and tasty, and I could have more than one. I didn't really like the way they served it as this glas was too big for such a small treat.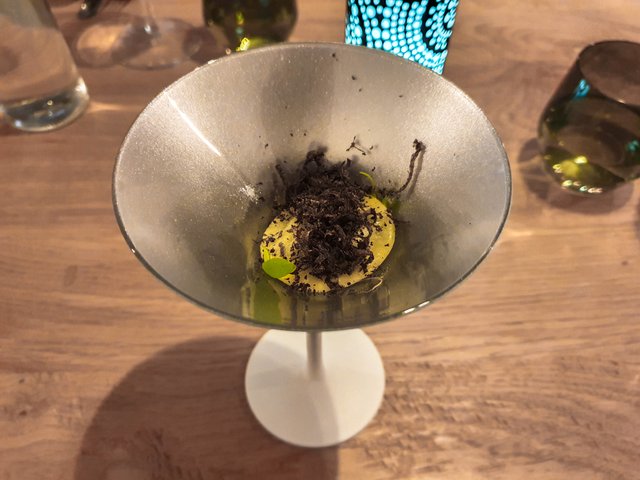 Our next course was carrot quinoa with various carrots. This was my favorite dish of the evening. The quinoa was creamy, and veggies were crunchy. That vegan caviar was spot on. I have tried to make it myself, but it didn't taste anything like this. I really enjoyed it. I also liked that cracker but I wasn't a big fan of the yogurt sauce as it wasn't needed there for my liking.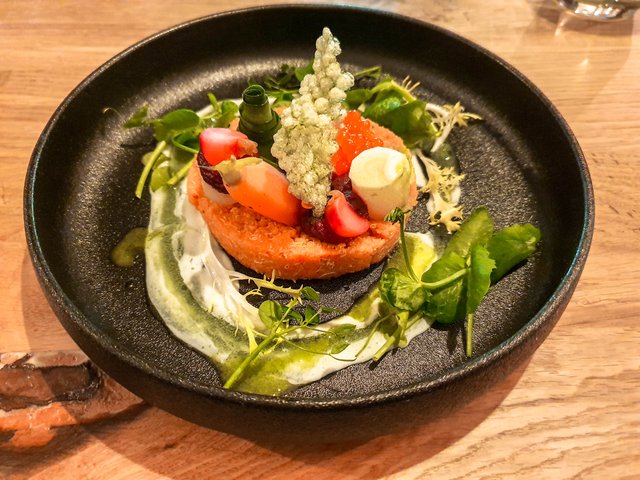 We waited 45 minutes for our next course. There must have been some mistake as I saw that other people who came later got their meals already and we were still waiting. Nobody informed us about any delay, and this is a big failure as I would expect some explanation in a fine dining restaurant. I sent feedback to the owner and he apologized but I believe that it should have been done while we were there.
This dish was mixture of various potatoes with mushrooms and thyme and smoked cabbage leaf. I liked the idea and flavors but the potatoes were under cooked. However, the sauce and the mushrooms were delicious. And that cabbage leaf was exclusive. I haven't had anything like that before. I could have eaten a plate full of those leaves only and I wouldn't miss the rest of this course at all.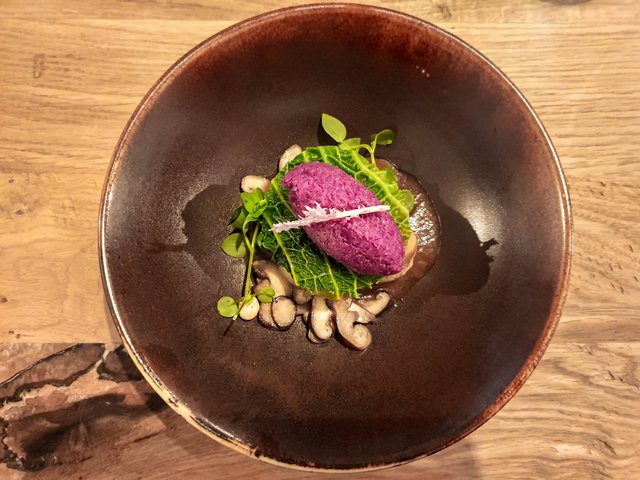 This was a dish of smoked radish, grilled sweet corn and ginger/lemon espuma. I did like this one, but it wasn't wow. The smoked radish was interesting but a little bit too bitter to me. I would have wished for more from this dish.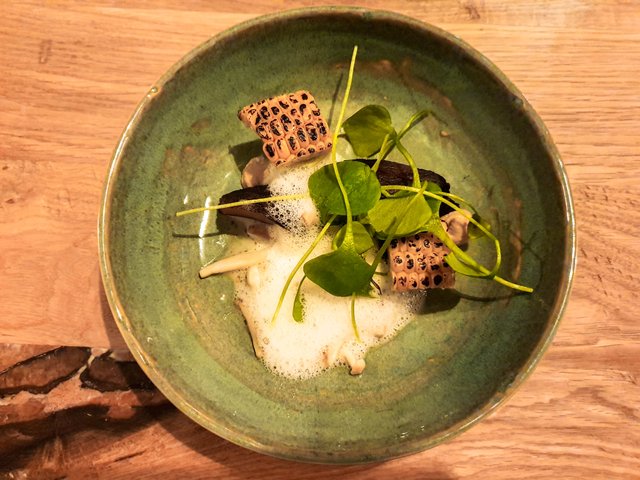 The dessert was the winner! It was creamy coconut caramel with chocolate mousse and beetroot macaroons. I wished I had more.
It was a nice finish of our evening, but I must admit that even though I liked the food I will not come back to this place. Everything took too long, it was noisy and I couldn't understand what we were actually eating as I couldn't hear the waitress very well because of the noise. I expected more from this pricey place. It was nice to try but that's it.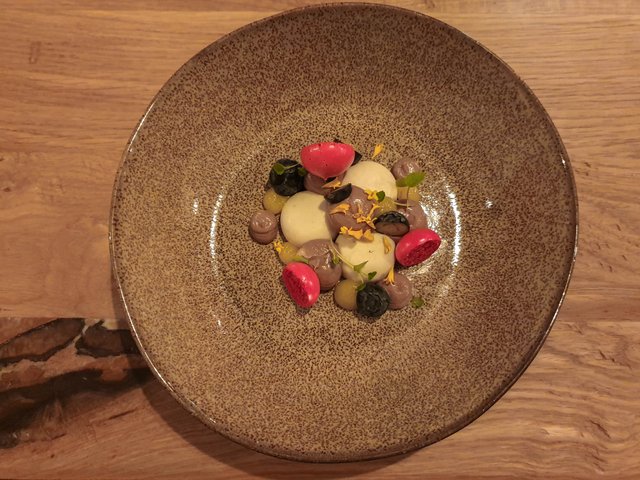 After dinner we went to the Evoluon. It is a place for events, congresses or any big meetings which makes you think that UFO landed in Eindhoven.
It was commissioned in 1966 by Fritz Philips and it used to serve as a science museum.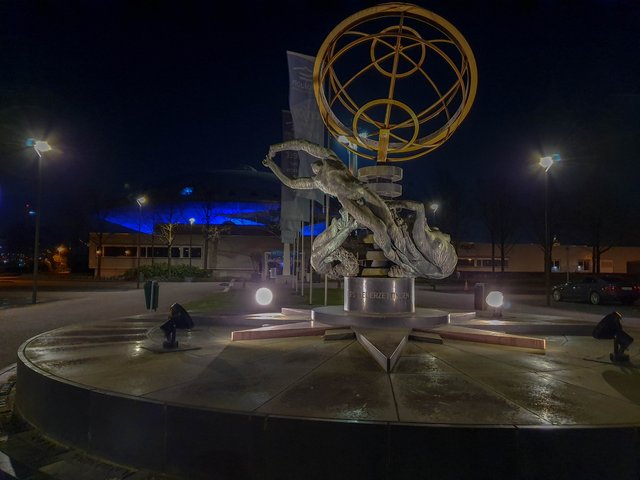 It can host up to 1500 visitors and its unique place means that Evoluon became one of the most popular landmarks in Eindhoven.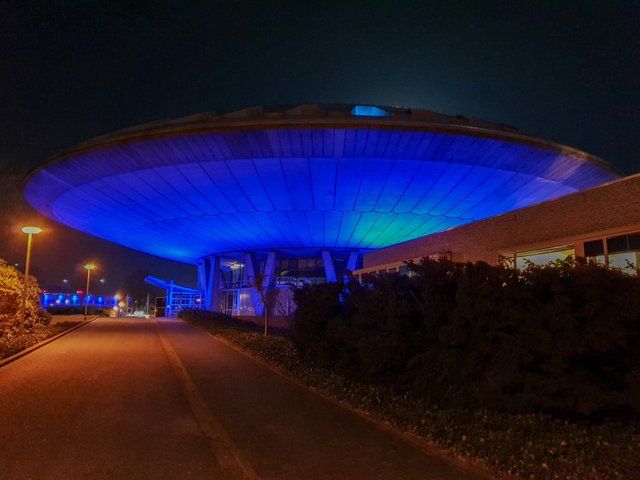 It was commissioned by Philips to celebrate 75th anniversary of the company. It has an unusual design and therefore its construction required a lot of planning, calculations and work.
There is a big parking next to the Evoluon, so you can just quickly get out of the car, check it out and get back in. It is illuminated and makes it a great place to visit in the evening.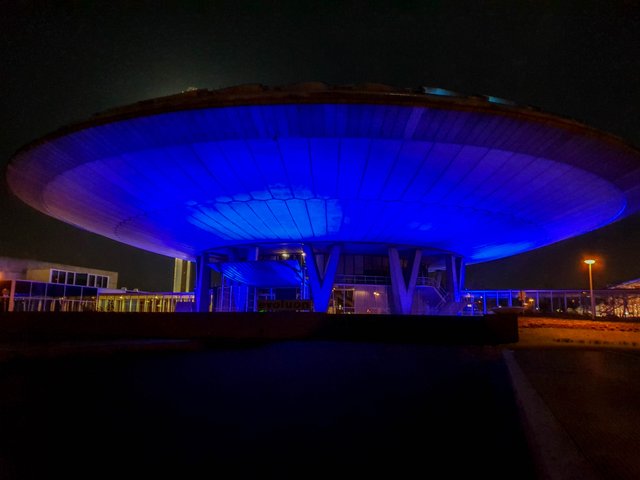 I hope you have enjoyed our trip in Eindhoven.
Thank you for visiting!
Cheers!
Martina