Launching Businesses on the Steem Blockchain
My creative friend David Vardanyan from Lights and Shadows Productions joined us at the very first Waivio meetup in Vancouver, BC, where we are building startups on Steem. And this video will serve as a cool memory of how it all started!
I am delighted to share my knowledge and experience with my friends who are entering the dynamic world of crypto.
The Waivio platform and the Steem blockchain are now stable and mature enough to serve as a platform for small and large companies alike.
What is particularly interesting about creating startups on a distributed blockchain is that they are very independent (they sell their own services to their own customers) and yet they benefit from a combined network effect, where the success of each company helps other companies to thrive, as the growing ecosystem of users, connections, content and rewards benefits everyone involved.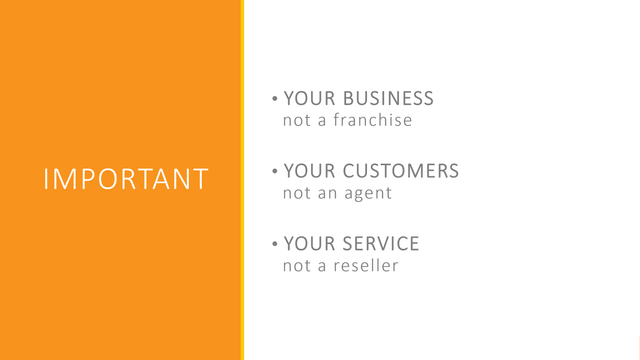 One of the first practical applications of the Waivio Attention Trading Platform is the management of rebate programs for restaurants. This concept was presented three months ago at the SteemFest in Bangkok.
And now we have launched a knowledge exchange program for interested entrepreneurs to explore the practical aspects of building a business on the Steem social blockchain.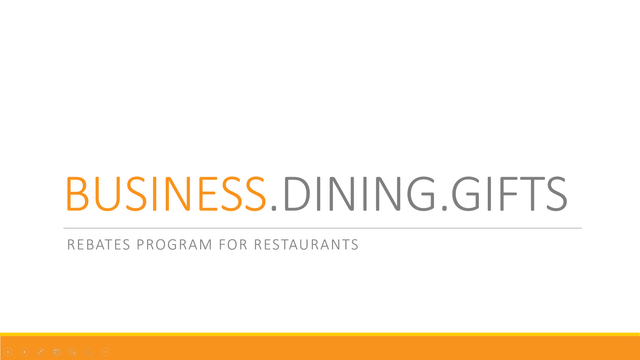 Creating even small businesses often involves many challenges, including significant initial investment, office rent, purchasing production equipment and inventory, setting up operations and diverse workflows, launching websites, social channels, marketing campaigns and much more. In most cases, even small businesses need employees even at the initial stages of operations.
Running restaurant rebate programs offers many advantages over many kinds of traditional small businesses: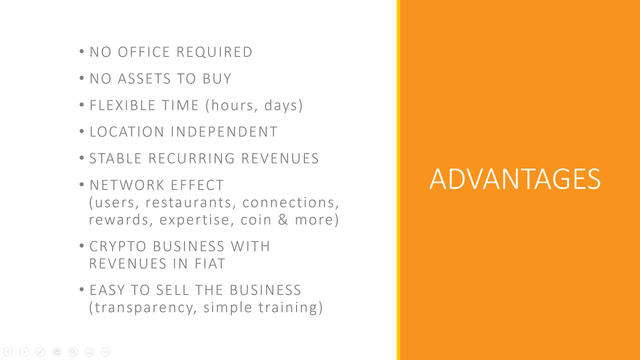 Rebate programs are designed to serve a stable set of customers giving the owner an advatage of stable and predictible revenue streams.
And when the time comes to sell the business, transparency of transactions on the blockchain allows for a simple audit of operations offering new owners an additional level of confidence.
When we are reviewing the skills required to operate such a business, ability to work independnently and attention to details are a must. It is important to issue invoices on time, promptly process payments to reviewers, update restaurant menus, motinor reviews and provide reports to restaurants.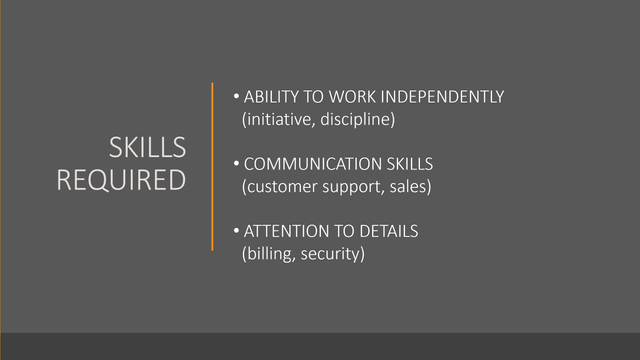 And when it comes to communication skills, the main focus is on customer service before sales skills. After the initial building of the customer base, the work will mainly focus on the correct handling of payments from invoicing to distribution of rewards, customer service and maintenance of restaurant listings and menus.
---
Every business, and especially startups, are associated with risks. And although it is impossible to mention them all, here are some of the risks that are specific to this type of business: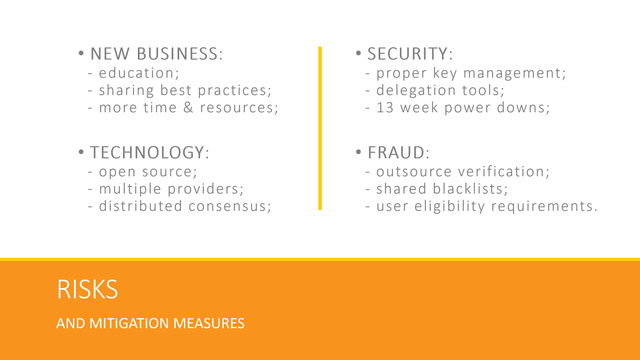 Many people think they have heard of rebate programs for restaurants, or it is a very logical service to use. But in reality, this is the first time this type of service is being offered on a global scale.
This is made possible through the use of the Waivio attention trading platform and the social blockchain Steem for the accumulation of social interactions and the ability to handle massive numbers of micro payments.
New technologies can have errors, inefficiencies or lack of the required features. The active use of private keys for processing crypto payments also poses security risks, as all payments are final and cannot be reversed. Appropriate security protocols must be implemented (management of hot and cold keys, minimization of cash in operating accounts, delegations, power-ups, VPNs and more).
---
The typical restaurant billing cycle is not based on time periods, but on the amount of rewards distributed. It begins with an advance payment by the restaurant. The company retains 25% of this amount to cover operating costs and as profit. And 75% of the funds are converted into cryptos and distributed to eligible users for submitting qualified reviews. Once the rewards are distributed, online reports are submitted to the restaurant and the next invoice is issued.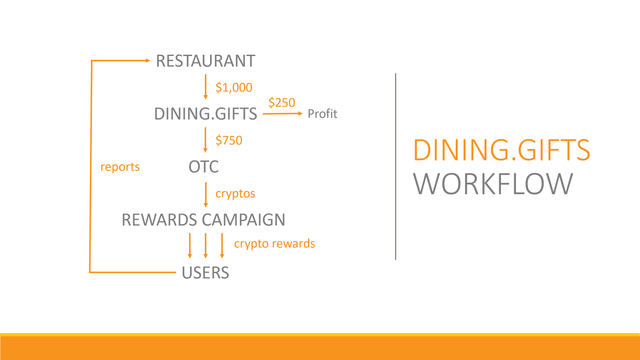 Dining.Gifts companies receive regular currency (dollars, aka fiat money) for their services. Thus their income and profits are not dependent on often volatile crypto exchange rates.
The distribution of rewards to users is carried out within a tight timeframe and can be specified in cryptos at the beginning of the campaign, thus also eliminating the company's exposure to changes in crypto rates.
There are many convenient ways to exchange regular currencies into cryptos. Here in Vancouver we have many Over The Counter (OTCs) exchanges that provide services to businesses. They accept e-transfers and make spot price conversions into the specified crypto and deposit it into the pre-registered account. Once the process is established, it works instantly and on demand.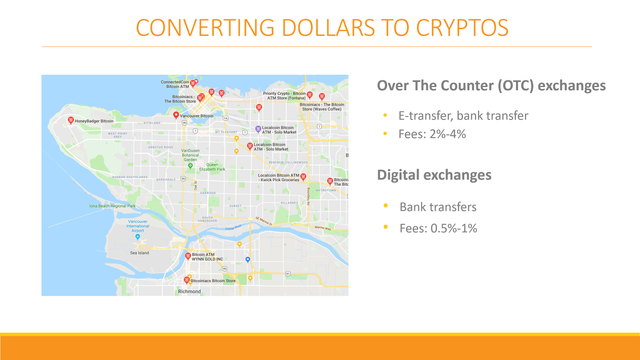 Businesses can further reduce exchange commissions by registering with online exchanges directly.
---
So what kind of profit can such a company make, and how much work does it require?
The next slide lists some key performance indicators (KPIs) and estimates for a one-person operation providing services to 20 average-sized restaurants. Such a business is expected to generate $40,000/month in revenue and $10,000/month in operating profit (these estimates do not include additional crypto revenues).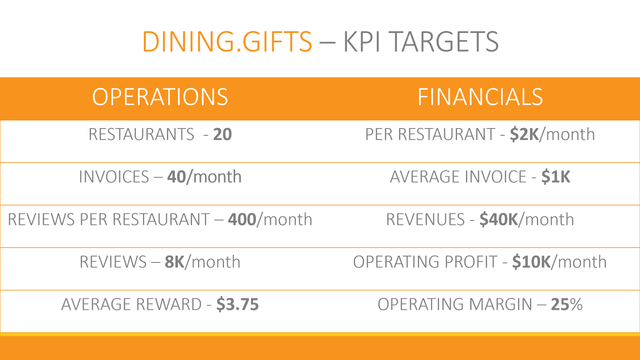 From an operational point of view, such companies will process 40 invoices per month ($1,000 per invoice) and confirm micro-payments for 8,000 reviews. The Waivio platform provides automation tools for managing reward campaigns and payments to users.
It is always difficult to estimate the initial costs of starting a business, but since this type of business does not require an office or inventory, the initial costs are minimized, with most spending being demo rewards to users and local online advertising (Google, Instagram, etc.)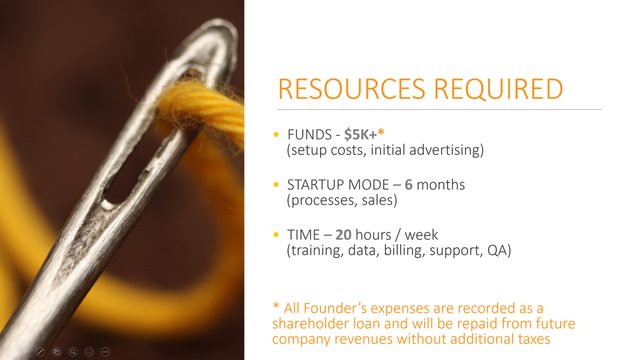 To operate the Dining.Gifts type of business, guides should know the basics of blockchain technologies, cryptos, distributed social consensus, security, basic accounting principles, and more. The Waivio platform is constantly evolving and provides additional tools and features for users and guides.
To this end, Waivio has established a knowledge exchange program (3 months, 1 meetup per week) to bring aspiring guides up to date with the latest technology and to support them through the entire process of starting their business, setting up appropriate security and accounting processes and much more.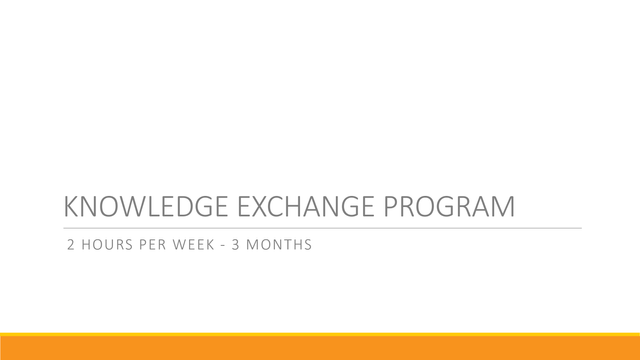 The knowledge exchange program also includes a number of invited speakers, including CPAs, designers, social marketing specialists, OTCs and others, to provide entrepreneurs with all the tools and connections they need to run their businesses.
The scope of the program is summarized in the slides below.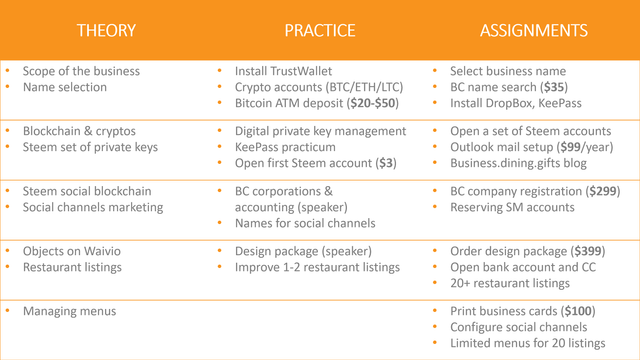 It is difficult to predict all the costs involved in starting a new business, but we have included them in the slides to the best of our knowledge (in bold).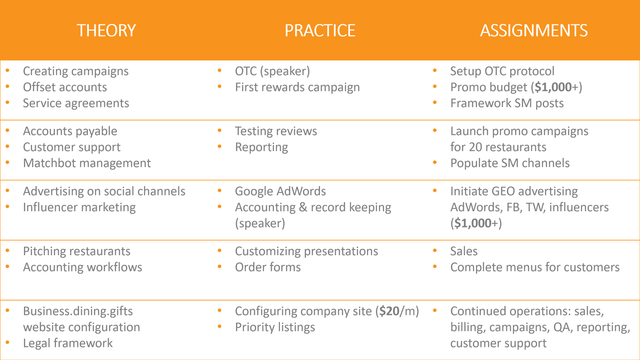 At this early stage, the program is offered to a small group of entrepreneurs in Vancouver, BC. However, we are exploring ways to record these knowledge-sharing sessions and make materials available online.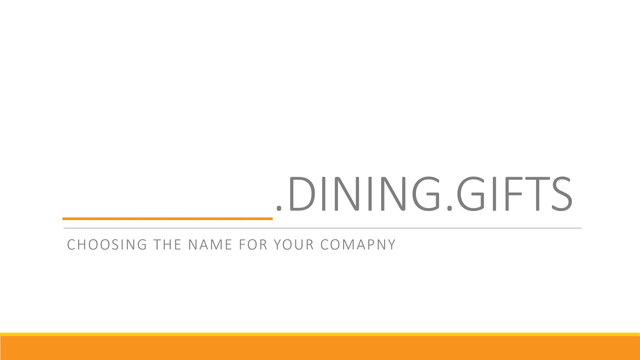 These are really exciting times and many tools that were previously only available to multinational companies and banks are now easily accessible to small businesses, allowing them to achieve economies of scale through cooperation rather than centralization.
We welcome you to this new and exciting world!
Just #keepsteeming!
Waivio