Infotelligent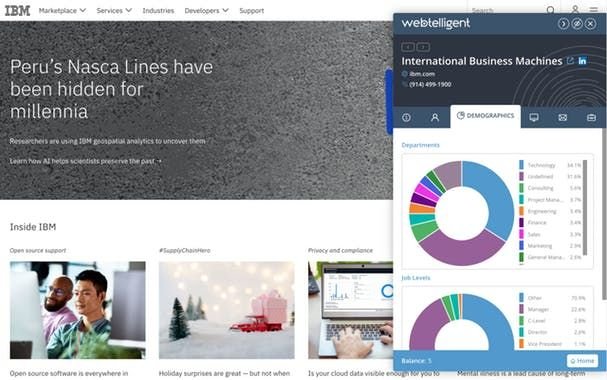 Hey Everyone! 🖖
Super stoked to introduce Infotelligent to the Product Hunt community 😺
Infotelligent Chrome extension is a sales & marketing intelligence tool allowing you to research companies, find emails, reach decision-makers at the right time, and grow your pipeline 🚀
Infotelligent has 2 main parts: WEBtelligent & INTENTelligent
WEBtelligent:
Your online prospecting assistant that gives you instant sales intelligence as your browse the web. Whenever you're on a company's website, if we have information about that company, Infotelligent will start pulsating. All you need to do is click on the pulsating icon and you'll instantly have all information about that company. This Information includes:
SIC code
NAICS code
Industry
Number of employees
Revenue
Company phone
Employees working at that company (email, job title, department, job level) - Tech stack (7500+ technology products tracked)
Email Patterns
Similar companies
INTENTelligent:
Cold outreach doesn't have to be freezing cold anymore! 🥶 Add a layer of Intent to your outreach. Find the companies that are currently looking for what you sell, and find the right decision makers in those companies. All you need to do is select up to 12 topics relevant to what you sell, and select your target audience using company size and industry filters. Alternatively, to choose your audience, you can upload a list of websites of your target companies. Each week we'll give you 25 companies that are currently researching your solutions. You can then use WEBtelligent to find the right decision-makers at these companies and find their emails. Intent data is not only for the rich corporations, now you can have access to Intent data for free without spending thousands of $$$.
Welcome Product Hunters! We really hope that Infotelligent will help you grow your pipeline and sell more effectively. We'd love to hear your thoughts and feedback.
P.S. If you need any help, please visit our website (www.infotelligent.com) and use the little chat in the bottom right corner to reach out. We'll be glad to help you with setting everything up.