EFFECT OF DRUG ABUSE ON THE LIFE OF YOUTHS AND STUDENTS IN AFRICAN COUNTRIES
Good day to my co-steemains and all the ever-supporting community.
it a great calamity event that Drug abuse and intake have become increasing among the youths, students and individuals of nowadays without due attention from the parents, teachers, educational stakeholders, and government agencies...this however have increase the rate of crimes and criminal and criminality among youth within most Africans countries, most Africans government have to introduce a yearly/annual programme on how to kick against drug abuse and it effects on individual life.. Most students mega illegal protest, army robbers, hooliganism, thugs, kidnappers, terrorists, rapist, and bag snatcher in most cases are caused by intake of one drugs or the other before which can actively and sharply carry out these dirty assignment. However campaigns against drug abuse, intake, and dealer should be a constant protocols to the socialist, public organisation and private organisation, governmental and non-government organisation....more developed countries like USA, ENGLAND, KOREA,JAPAN, GERMANY, ITALY have developed increasingly in industrial and infrastructural and not on drug abuses, intakes and dealer... This act is common to many Africans countries such as SENEGAL, GHANA, GAMBIA, NIGERIA, MAIL, BENIN REPUBLIC, BURKINA FASO, MORROCO, TUNISIA, ANGOLA, ZIMBABWE, ZAMBIA, and IVORY COAST e. t. c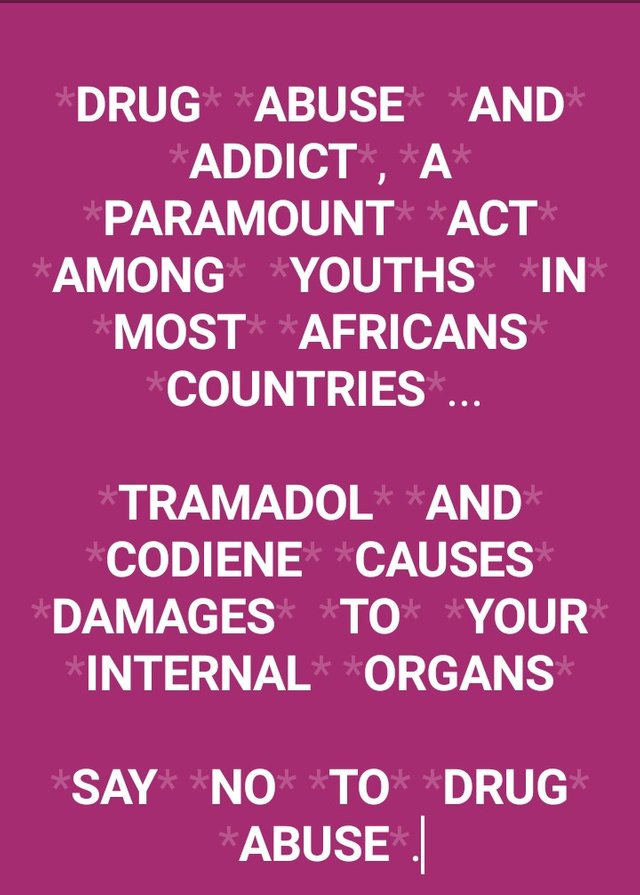 WHAT IS DRUG ?
WHAT IS DRUG ABUSE ?
🌼 DRUG is an substance that can leads to physical, social or mental changes in the body
🌼 DRUG ABUSE...is the non-medical use of drugs without the directive of a doctor or a physician
💥💥💥 forms of drug abuse
🌼 tramadol
🌼 alcohol
🌼 codeine
🌼 marijuana
🌼 cigarette
💥💥💥 identification of drugs addict include
🌼 possesing of drugs.....drugs addict always have drug with them anytime, anyway. The are not vendors and sellers, but they makes sure drugs are available with them to take and share with friends...
🌼 smells of drugs...all drug have a certain smell and odours that move along with them as a signboard... Those who take marijuana and alcohol smell like alcohol.... However drug addict use a perfumes so that people won't notice their body smell or odour
🌼 memory disorder....a drug addict are liable to have a memory disorder, as a microbiologist my research makes me understand that those drugs are mosy likely to damage their medulla oblongata in conjunction to the cerebrum which resulted into MADNESS.....however africans usually attached this to being spiritual, tagging their great grand father or mother are the spiritual causes..... AFRICAN MENTALITY
🌼 abnormal behaviour pattern...drug addict are known to be rude, silly, lying, dishonesty, rapist, invidual..drug addict are known to a problem to the nation, society, organization, community, village, town or country where they found themselves as they remains a regular member, costumer and suspect of the security guard and agencies
🌼 lack of physical strength...most drug addict are known to lack physical strength, they usually lean, thin and looks life-less, as a microbiologist many research makes me understand that alcohol and some other heavy drugs are dangerous to the KIDNEYS , LUNGS, LIVERS, GALL BLADDERS, SMALL AND LARGE INTESTINES unfortunately leading to mis-function and less-effectiveness of this important organs...
IN CONCLUSION most of this drug addict and dealer are illiterate and nonentity as they are unable to decodes the damage those drugs are causing to their important body system...oh my God... when the head is bad the own body is of no use,.... I also expect some public and private organisation, governmental and non-govermental agencies to work hand in hand and in collaboration with one another for the total eradication of drug abuses and heavy drugs importation in African countries, as well as pleading with ECOWAS which happens to be a body guiding African nations to work on these with all their strength, influence, and power as well as political bodies to also carry our an annual programme be it conference or convention where youths, and individuals, we be enlightened
It is also unfortunate that drug dealer who sells most of these drugs are mostly from big African countries..Nigeria, Ghana and gambia to be precise
One of the most dangerous drug common to African youths, leaders and individuals of nowaday is 🌼 TRAMADOL🌼and 🌼 CODEINE 🌼 which happens to contain a toxic chemicals which makes it a blood sucker
I wish everyone to follow me up as I will be writing next on the 🌼 ON THE CAUSES AND SOLUTIONS TO DRUG ABUSE IN AFRICAN COUNTRIES🌼
thanks for reading
READ UPVOTE COMMENT AND RESTEEM