THE BIRTH OF LOVE FOUNDATION -GHANA + MINI-WHITEPAPER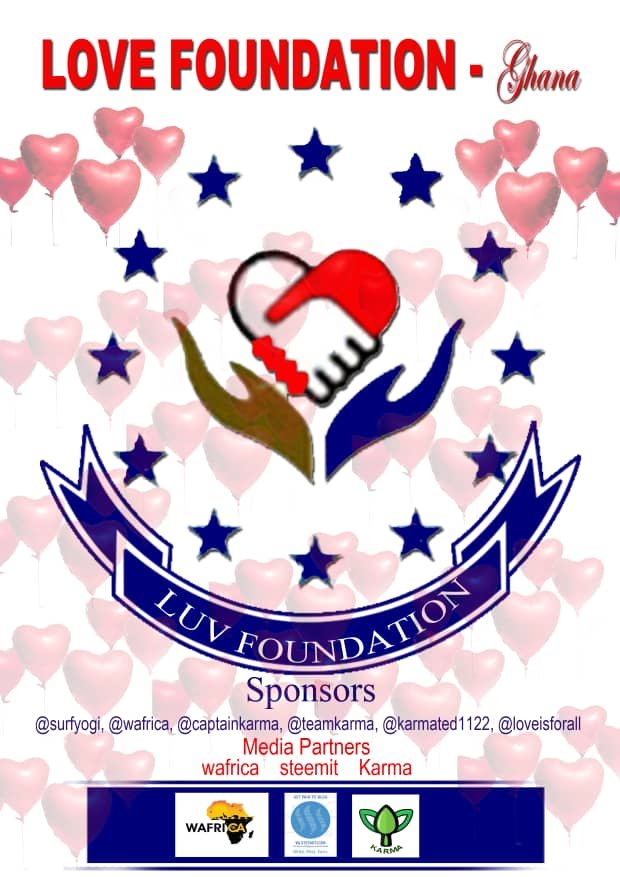 LOVE FOUNDATION-GHANA
( Love 4 All)
(MINI-WHITEPAPER)
INTRODUCTION
We rise by lifting others."-Robert Ingersoll
LOVE FOUNDATION-GHANA is a non-profit foundation powered by the blockchain and, aimed at helping alleviate poverty in GHANA using the power of the blockchain technology, with focus on helping those whom society may have forgotten through empowerment and children with special needs. The foundation targets helping achieve one of the biggest goals of the Sustainable Development Goals (SDGs) which is "NO POVERTY".
GOAL 1: NO POVERTY
"Eradicating poverty in all forms remains one of the greatest challenges facing humanity. While the number of people living in extreme poverty has dropped more than half-from 1.9billion to 836 million in 2015-too many people are still struggling to meet the most basic human needs."
The world need more people to go into the world and give their all in the betterment of society. People need to stand up and start adding value to other people's lives by being of service and living selflessly. Giving thyself wholly to the service of mankind is not just about donation. It is about making a difference. In Ghana the problem of poverty at all levels have been discussed but daily it seems the country's worst enemy, poverty keeps depressing many lives. A lot foundations, co-operate organizations, government and individuals in societies have tried to solve this problem and we believe that we can do more to help our mother nation.
MISSION
The mission is to spread love beyond boundaries through giving thyself wholly to alleviate poverty in most villages in Ghana. Guiding us through our mission are our core values:
• Focusing on the critical needs of children and women
• Celebrating the diversity of programs we offer and donors who make them possible
• Staying to our heritage of responsible stewardship
• Operating with accountability and transparency
VISION
We believe that when a child life is changed and women are empowered it can change their families, society and ultimately the world. We believe that if we join forces, we can alleviate poverty and the world will be a better place. Our vision is to completely alleviate all forms of poverty in Ghana, through empowerment and supporting needy children. Our focus will be in three areas:
• Educating youths in the region about the blockchain and enlighten them about DAPPs with focus on how they can use them to change many lives.
• Incubating and executing projects that seeks to improve general welfare of children and women in our community.
• Building partnership with donors to undertake projects that will benefit the entire community.
PROJECTS INCUBATED
These are the future projects of our noble foundation:
1. YOUTH EMPOWER [YE]
This project is quite similar to empowermeEos, and our foundation will team up with empowermeEos team to help educate the youth on the EOS blockchain with focus on how to empower them to alleviate poverty.
2. THE LOVE OUTREACH
This project is a core project of LOVE FOUNDATION that seeks to touch the world with love and sensitize all on the need to love one another regardless of their religious, race, ethnic, economic or social background. The LOVE TEAM will visit various schools across the country and embark on massive sensitization and support the students as well. There are special programs that will be organized in the form of school competitions that seeks to foster great sense of belonging among the children.
3. BASIC INCOME (A.B.I project)
Project A.B.I is an amazing basic income project at an experimental stage, that seeks to support needy children in Ghana, given these needy children a daily basic income to improve their lives and a way of supporting needy families. The target will be school going children who can't afford a meal on daily basis and also lack basic study materials for their education.
4. WOMEN EMPOWERMENT.[WE project]
Women across the globe are very instrumental in global development and for that matter deserve our support, but in most developing countries, they are the most neglected. Our goal is to empower one mother at a time, because we believe that their empowerment will bring tremendous change in the lives of their families and ultimately entire community. The foundation using the power of the EOS blockchain and KARMA will source and fund women to build business or learn a trade that will improve their living conditions and families. This will go a long way to alleviate poverty in our society.