In todays post, i will be talking about some of the health benefits of grape. This is however not to be confused with grapefruits. If you do not know the difference between grapes and grapefruits, then check out this post by Karen Sheviak. If you do, then let's dive right into the post for today.
HERE ARE 5 HEALTH BENEFITS OF GRAPE.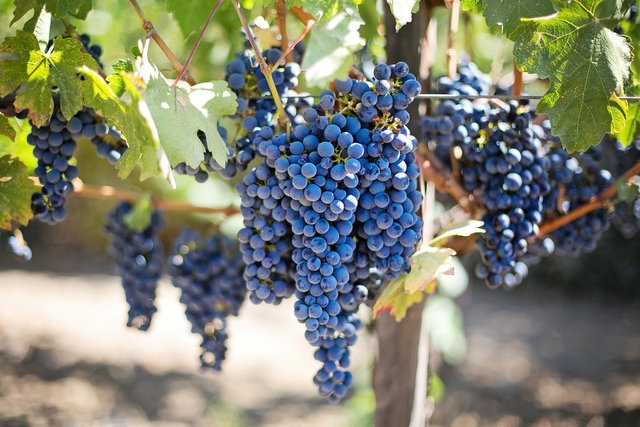 Source
1. High Antioxidant Contents.
Studies have shown that grape contains over 1,600 antioxidant compounds especially in red grapes. This study which was conducted in 2016 by The Lithuanian University of Health Sciences noted that these compounds such as resveratrol are also found in red wines because they are made with grapes and a good number of these compounds remains even after the fermentationn process.
2. Grapes helps fight Cancer
Grape helps fight certain types of cancer such as breast cancer and Colon cancer (also known as cancer of the intestine). A study published by the U.S. National Library of Medicine postulated that this is because grapes contains four types of compounds which are known to fight the development and growth of the type of cancers mentioned above. These compounds include catechins, quercetin, anthocyanins and resveratrol.
3. Grape is beneficial for heart health
Numerous health studies over the years have mentioned that grape consumption is good for the heart. Grape is good for heart health because it contains a lot of potassium and sodium. In a data generated by from the Third National Health and Nutrition Examination Survey. It was explained that repondents with high potassium and sodium intake had less chance of developing heart related illness such as stroke and high BP.
4. Grape is good for the eyes.
Another health benefit of grape worth noting is its benefit to the eyes. Grape is very good for healthy eyes because it contains certain plant chemicals which helps protect the eyes against common eye diseases like the age-related macular degeneration (AMD). Some of these plant chemicals found in grape which is good for the eyes includes lutein and zeaxanthin.
5. Grape is also good for your bone.
The last health benefit of grape i will like to note here, (though there are still many unmentioned) is its numerous benefits to the bones. Grape is good for the bones because it contains certain nutrients such as vitamin-K, calcium, potassium, phosphorus, magnesium, and manganese. These nutrients help improve bone density, and also keep the bones strong and healthy
---
References
---
AD: With just a minimum of 10 steem power delegation, you can get unlimited resteems plus $0.010 upvote daily on your posts. You can delegate more to get higher upvotes. If interested, ask me how in the comment section below.
---