According to government websites, Nigeria received 850 Million in 2017, $739 Million in 2018 and even as this year is only half finished, Nigeria has still enjoyed a National "Reward Pool" of $227 Million USD worth of GRANt money. Money we could start siphoning into more responsible programs based on the blockchain that can ACCOUNT for such vast amounts of funding without blinking an eye.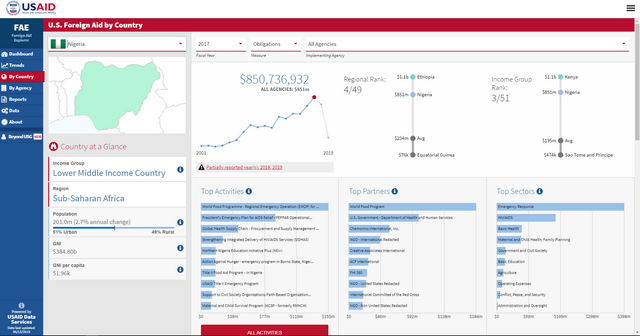 Ghana too has been given hundreds of Millions of US dollars in USAID and we could write proposals to submit to the https://usaid.gov offices and request funding for our own projects like @wafrica and its WAFRO token and scotbottribe which would then have the funding to onboard hundreds of schools and universities with steem accounts and $4 smartphones bought in bulk for every student, as a trial program to see how much money USAID could save by using a steem based blockchain system to replace their current fund dispersion programs.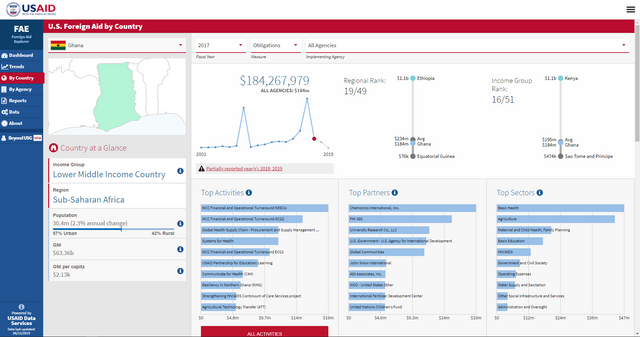 https://explorer.usaid.gov/cd/GHA
This data is from official USaid website https://explorer.usaid.gov/cd/NGA which has their own 'explorer" and I am alerady thinking of how USaid could use Steem (or EOS) for a USAID Sidechain with USAID Block Explorer, to TRACK DOWN EVERY Dollar of Aid given to Africa, even seeing down to the individual user that gets the tokens, and with @yensesa and other similar exchanges that work on the ground with local banks, users will be able to easily convert their tokens to spendable fiat
Now these hundreds of millions of dollars sound more than just 1 or 2 Billion, so its important to see just how much money these countries get. And we must realize how striong teh corruption must be for people getting consistent USaid payments every year that is not even a loan, it is not to be paid back, its all "free"! Of course it does not come without political costs, and also more importantly grave economic and cultural consequences as it gets Nigerians and Ghanians addicted to this free money from ANOTHER people's government that then robs them of the skills and economic experience their own farmers and clothe manufacturers and bankers would need to accumulate that same amount of food clothes or cash, and so when the USaid is eventually stopped, its going to hurt them as they wont have the local economies to support themselves after given so much cheap USaid and food and second hand clothes that Americans think are helping, but then local farmers cant sell their food and local cloth makers cant sell their clothing.
Steem based blockchain solutions can help this and its been a long tiem coming.
. It also feels liek Star trek and if we are going to spend this much money then why should any Nigerian ever go hungry? Obviously that money is being stolen, squandred wasted and kept back from the people by corruption, and if we funnel just a FRACTIOn of that money through a RESPONSIBLE blockchain likes teem we can ensure that no one gets a dime until theyve posted on an immutable blockchain under special protocals that can allow Nigeria, Ghana and other West African Nations receiving this sort of US Aid
I nominate this project, an upcoming steem scotbot trieb and EOS token, for getting US Aid funding and with it we could buy steem accounts, SP and $4 smartphones enough to onboard 100 thousand to 1 MILLIOn African Students in schools and universities throughout Nigeria and Ghana. @mcsamm and @phonedata could buy bulk data from Vodaphone with the help of @anaman and @tj4real and we could end up with a pilot program funded using same money US Government gives every year anyway but this program could "teach a man to fish" instead of delivering year after year of fish shipments. We could ask for funding to create a fully financially independent West Africa with just a few pilot programs in a few schools across Nigeria and Ghana, Steem is the seed crystal and with just a small percent, just 1 million dollars out of 1 billion, a 1/1000th of the USAid budget, we could totally transform the region in a year or two AND help steem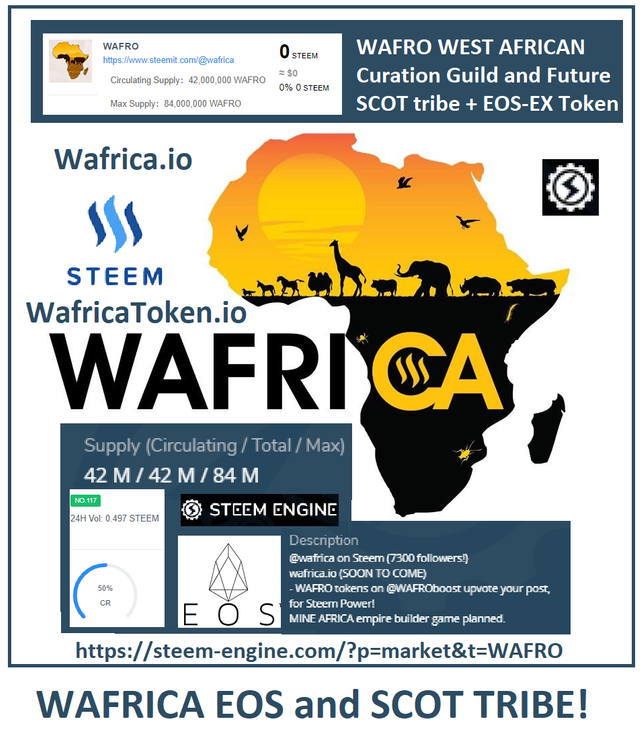 I am awaiting a Proposal from @lordjames about @surfyogi 's @wafrica tribe and I am hoping top see 10 SBD spent to try a simple proposal to remind steem that AFricans deserve a tribe too and the cost could be paid for by the proposal system funds, and it would only help to create a great steem based community for west Africans who can then get into media, and on the news, creating so much positive Public relations buzz for steem.
Anyway I hope to hear from teh wafrica crew about creating a STEEM proposal AND contacting @lukestokes at @eosdac to purchase a WAFRICA dac or WAFRODAC :) AFRODAC would be a great name.... to allow wafrica members to use the WAFRo EOS token coming soon to be able to create and vote on proposals for wafro project ... similar to hwo I will be using my EOS SAND token from steem engine to work an EOS DAC for my SAND DAC for san diego, california :)
Anyway I hope to hear from WAFRO members and check the wafrica discord to catch some new meetings soon