NordVPN vs Surfshark VPN - Which is the fastest VPN provider?
Are you looking for a VPN provider that comes with solid speeds, and at the same time will give you the basic services that you look for in a VPN provider? Both NordVPN and SurfsharkVPN are capable of unblocking Netflix in quite a lot of countries, they work with Disney+, you can use them to stream BBC in the UK (on some devices), and they will also encrypt your online activity and keep you safe online. But, which of the two mentioned VPN providers have the best download speeds?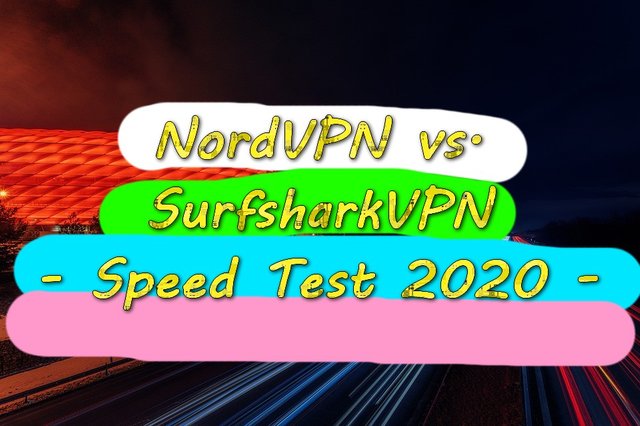 Every year, we do quite a lot of VPN speed tests, and earlier in 2020, we have already tested HideMyAss and ExpressVPN. But, what's up with NordVPN and SurfsharkVPN?
In order to test the download speeds of a VPN provider, you will need to check your original download speeds first. This is to discover how much the VPN connection is actually slowing down your Internet connection speed. The device we use for testing normally runs with download speeds between 300-500 Mbps, so there are no problems there. But, how much will a VPN connection slow down our connection speed?
Testing NordVPN first
NordVPN has a very nice application and it is one of the best out there when it comes to unblocking sites. They come with a 30-day full refund policy, and they have great prices, especially on their long-time VPN subscription packages.
Visit the NordVPN website right away.
During the test, we connected to quite a lot of NordVPN servers, and we have got to say that the speeds were solid, with one exception. As we tried to connect to one of their servers in Argentina, we got download speeds between 0,8 and 3 Mbps per second. But, that was the exception. All the other VPN servers gave us download speeds between 179 Mbps and 256 Mbps. Well, there was one other server in Germany that only gave us 49 Mbps, but that was it.
You can check the full NordVPN speed test in the video above.
The conclusion has got to be that NordVPN is really solid and that they are a fast VPN server. But, how are they compared to SurfsharkVPN?
Testing SurfsharkVPN download speeds
SurfsharkVPN is still to be considered a newcomer in the VPN business, but they are really hitting it out there. They are incredible at unblocking Netflix, and they support Netflix content in more than 15 countries. They are also great at unblocking Hulu, Amazon Prime, Disney+, BBC, ITV, and more, so if the goal is unblocking, I would probably pick SurfsharkVPN over NordVPN. But, what about their download speeds?
Visit the Surfshark website
Last year, I did a SurfsharkVPN speed test, and the results were terrible. So, a few months later I did a new test, and the results were better. And, I am happy to see that the 2020 speeds of SurfsharkVPN have gotten even better.
The download speeds of their servers varied between 41 Mbps and 219 Mbps. Even the slowest server (which was in India) gave speeds more than enough to stream any online content, so I wouldn't really worry about that. The fastest server was in France, but also the servers in Australia and Canada had quite similar speeds.
You can check the full SurfsharkVPN speed test in the video above.
NordVPN or SurfsharkVPN? The Speed Challenge!
To be honest, both VPN providers gave us solid speeds. In other words, I wouldn't think so much about the download speeds, but I would rather just pick the VPN provider that comes with the extras and unblocks the services you are in need of. For example, both providers will help you get rid of the Service Unavailable error message on Disney+, but only one of them will help you unblock Amazon Prime in the United States (Surfshark).
Both providers have 30-day money-back policies, they will both let you use ONE VPN subscription on several devices at the same time, and they both have applications available for all the important platforms.
Which VPN provider will you choose? Let me know!
If you have any comments or questions, write them down. I will do my best to answer as quickly as possible!