SteemVPN - Delegate Steem Power to Activate VPN Service - Service Update - April 10, 2019 - $0.438 US/STEEM
SteemVPN Status
Virtual Private Steem Network
User Sumbited Test Results from April 10th 2019.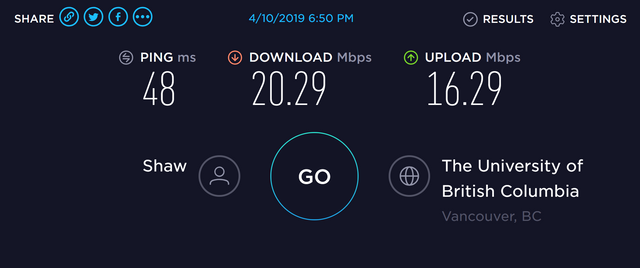 https://www.speedtest.net/my-result/a/4846433916
Thanks @phusionphil for submiting the speedtest, Share your speeds in the Discord Chat for your chance to be a 5% beneficiary of the Weekly Service Update.
---
Get 50% off Steem Power Delegation rates while Early Access is still on!!!! Dont Miss out on your chance to get in Early!!!
---
Internal Ads Only, No 3rd Party Material.
The only ads you will see on @steemvpn are from the steem community. Open discussion about advertisement will be in the comments, spam will be filtered by the community. YouTube is 100% ad blocked on our service and that is by default with any subscription, however it seems the new dual ads slip through. Google ad sense is also 100% blocked by default, and either of these services can be unblocked if you desire. This assures our users and their viewers will not be subject to the ads on the major brand sites while using those platforms to curate content. This creates a more engaging atmosphere for the viewer and gives the content creator full control over the content advertised during their viewings.
---
Classifieds
Do you have something you want to promote with SteemVPN?
We will promote your content!!! Just present it in the comments to your peers and the community will filter the content for spam before we vote on the weekly promoted content.
Free Advertisement for Early Adopters. There is only 1 requirement, it has to be related to the Steem blockchain in someway and we are not picky after that.
Inquire in our discord chat, we want your content and we have very simple guidelines.
Jobs
Are you looking for employment in the Steem and Cryptocurrency economy?
We have a job for anyone with Bandwidth Control automation experience.
Decentralized Exchange
Do You have Cybercoins?
We have a variety of cybercoin payment options including a decentralized exchange, we offer competitive exchange rates on all top 25 Market Capitalization Coins for payment on these services. Private Payment Gateways are also available for users with Digibyte, Monero or Zcash.
Zelegations - Zcash 90 Day Steem Power Delegations
We have the exclusive service, 90 Day Delegations for Zcash Z-Address. This is currently done manually by @phusionphil or @themeekshub. This would enable users to delegate up to 10x the amount of Steem Power and gain access to much faster speeds for 90 Day periods while maintaining the highest level of anonymity. Blocktrades offers a similar streamlined service for all other Cybercoins that can be utilized to perform this same type of 90 day Delegation.