DEFACTO Project Announcement
View the DeFacto Project website for more info and demo!
THIS IS THE ONLY OFFICIAL DEFACTO TOKEN, PLEASE DO NOT USE ANY OTHER CONTRACT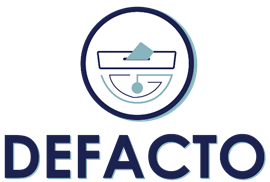 What is DEFACTO?
DEFACTO delivers a voting and polling solution on the blockchain to create a 'Better World Through Fair Voting'. Until now traditional voting has been fundamentally flawed due to lack of transparency and being centralised as a process and system.
The innovative DEFACTO structure addresses key issues with the way in which voting currently takes place and coordinates activities on the blockchain on a bespoke crypto platform. This whitepaper seeks to detail the specific items and activities which DEFACTO will action in order to achieve these goals. DEFACTO also offers public and private transactions across the platform and a Proof of Stake (POS) reward system for network participants.
The primary purpose of DEFACTO is to facilitate truly Private transactions and fair Polling on the blockchain, whilst rewarding users through a generous Proof of Stake system.
The DEFACTO community created the idea for DEFACTO in late 2017. The goal of DEFACTO is to provide a secure, incentivised blockchain voting platform and digital asset class.
The DEFACTO Project comprises 4 founding members and a diverse volunteer group of members who work together to achieve our common goal of a bespoke blockchain platform. Please contact us if you're crazy for crypto and interested in joining our team.
Our development team all utilise best coding practices and are fully vetted to ensure the highest level of commitment to the project.
We are always appreciative to new members so please get in contact with us if you believe you can contribute as a developer, tester, admin or moderator, marketing specialist, adviser.
Why DEFACTO?
DEFACTO is a Proof of Stake (POS) Privacy & Polling Digital Asset.
Proof of Stake (POS): You will accrue annual profits and compound interest using our Proof of Stake (POS) system. Generous rewards in place for nodes who stake their DEFACTO coins.
Privacy: You can choose to remain anonymous on the blockchain with our bespoke 'Spectre Protocol' which incorporates the latest blockchain security features.
Polling & Rewards: Submit your opinions and propose items to be polled on our decentralised dynamic voting system cast as an immutable ledger on our bespoke blockchain platform. Get rewarded for your efforts and contributions to the platform and product.
DEFACTO is truly decentralised and borderless to allow users to propose and cast votes which will help to define policies and shape the society in which we live. Record your views forever and ask other users their views and opinions. Vote on 'Hot Topics', Commission Polls for your organisation or ask the community anything.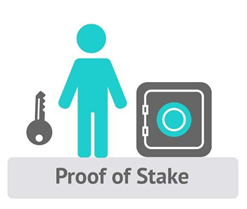 DEFACTO can support dynamic policies for all major policy making genres such as Agriculture, Environment & Rural Affairs, Communities, Education, Economy, Finance, Health, Infrastructure & Justice.
How can I participate?
The Token Sale will start on 17/08/2018
The Token Sale will end when the hard cap of 102,400,000 DEFACTO has been issued to investors.
There is a finite amount of 102,400,000 DEFACTO tokens available for the Token Sale.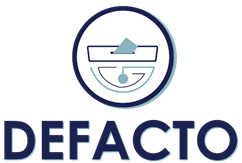 DEFACTO COIN
Fixed DEFACTO coin supply of 160 million
PoS Algorithm
Block reward set to a 6% founder fee to be used to maintain and further develop DEFACTO
Block time ~ 1 minute per block
Confirmations for spending: 5
Confirmation for staking: 300
Approximate emissions: 10%
Master node collateral required: 250,000 DEFACTO
WEBSITES
Official Website https://defactovoting.io
Official Voting Demo https://defactovoting.com
BLOCKCHAIN EXPLORER
To be delivered in main net.
WALLET
DEFACTO Token wallet guides and DEFACTO coin Wallet instructions will be posted here or on our main social channels in the future.
MEDIA
You will find updates posted across most social media, to ensure the DEFACTO community is always up to date on the latest initiatives and progress.
You can contact the DEFACTO team on any of the various channels, but especially on Telegram and Discord. Feel free to ask questions or give criticism!
Telegram CHAT: https://t.me/defactocoin
Discord: https://discordapp.com/invite/92pTfb7
Twitter: https://twitter.com/@defactocoin
Facebook Page: https://www.facebook.com/defactovoting/
Reddit: https://www.reddit.com/u/DefactoVOICE
Steemit: https://steemit.com/@defactovoting
MARKETS:
Exchange partners to be announced following the Token Sale
DEFACTO coin markets to be listed on main net launch.
This thread will be one of several principle channels for DEFACTO based discussions and announcements. Be mindful of any external links posted by users on this thread. DYOR and do not disclose your private keys to anyone!
Welcome to the DEFACTO family.