Disappointed about the VOICE Beta launch: U.S. only and a lot of restrictions 🤔
Bin ein bisschen von dem Beta-Launch des neuen sozialen Netzwerks Voice enttäuscht. Ich bekam gestern eine E-Mail (siehe unten), in der erklärt wurde, dass die Beta zu Beginn nur für User in den USA zugänglich sein wird und sich alle User bei HooYu mit ihrer realen Identität verifizieren müssen (KYC!). Damit ist Voice noch restriktiver als herkömmliche soziale Netzwerke wie Facebook oder Twitter.
Während dem Verifizierungsprozess muss ein Selfie gemacht werden, was gleichzeitig das Profilbild sein wird (!) und anfangs auch nicht geändert werden kann. Was?!
Die Beta-Website ist ebenfalls nicht öffentlich und alle Rewards werden nach der Beta wieder resettet.
Apropos Rewards, die Rewards werden nicht in EOS ausgezahlt, sondern in einem eigenen Voice-Token.
Sorry, aber dieser Beta-Launch hat mit den Grundprinzipien einer offenen, grenzenlosen, erlaubnisfreien und zensurresistenten Blockchain nicht viel zu tun, sondern erinnert eher an ein zentrales Service mit einem Token, das möglichst alle Regulierungen einhalten oder sogar übererfüllen will.
Bitcoin und auch Steem waren von Anfang an eine offene, erlaubnisfreie und globale Blockchain. Das ist Voice leider nicht.
Was haltet ihr von Voice? Sind das nur Beta-Probleme oder ist Voice tatsächlich zu restriktiv?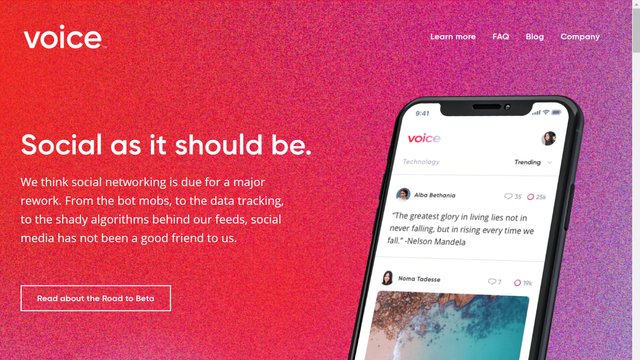 Social as it should be? https://voice.com/
English
I'm a bit disappointed with the beta launch of the new social network Voice. I received an email yesterday (see below) explaining that the beta will initially only be available to users residing in the U.S. and that all users will have to verify their real identity with HooYu (KYC!). This makes Voice even more restrictive than traditional social networks like Facebook and Twitter.
During the verification process, a selfie has to be made, which will also be the profile picture (!) and cannot be changed in the beginning. What?!
The beta site is also not public and all rewards will be reset after the beta.
Speaking of rewards, the rewards will not be paid out in EOS, but in a separate Voice token.
Sorry, but this beta launch doesn't have much to do with the basic principles of an open, borderless, permissionless and censorship-resistant blockchain, but is more reminiscent of a central service with a token that wants to comply with or even exceed all regulations.
Bitcoin and also Steem launched from the beginning as an open, permissionless and borderless blockchain. That is unfortunately not Voice.
What do you think of Voice? Are these just beta problems or is Voice really too restrictive?
Voice Beta Launch Newsletter
On February 14th, we will begin inviting groups of users who requested access so we can take on feedback in a defined, manageable, and efficient way.
Before this happens, there are a few things we want you to know:
Initially, Voice Beta will be released to those residing in the United States. As we optimize, we will continue a steady roll out globally in the English language.
Invitations will be regularly sent in groups while we test the platform. If you haven't already, tell your friends to request beta access!
To start, all content on Voice Beta will only be visible to logged in, registered users. We expect this to change within weeks, so write with public viewing in mind from the start.
The Voice Tokens that users receive during beta are not transferable and will be reset at a later date (but don't worry, we've got some cool features coming to reward beta testers).
Rapid changes of features and stability refinements are expected as we tweak and improve Voice. We will periodically do maintenance on the site, so don't be alarmed if you see a 404.
Real verified identity is integral to Voice. You'll notice that we're using HooYu to confirm a) you're a real person and b) reside in the United States.
You will be asked to take a selfie during Hooyu registration - this will, for now, be your profile picture on Voice, so don't forget to smile.
So, what's next?
Starting February 14th, invites will begin being sent first to US Residents -- those that took the Pre-Beta survey in the United States, then at random -- to other residents in the US.
Invites will contain instructions on how to register for Voice and verify your identity as well as some other tips on using Voice for the first time.
As we said when we announced the Road to Voice Beta, we want to share our journey with you. Voice won't become everything it can be without your involvement, scrutiny, and feedback, at every stage of the process. We encourage you to follow our updates featuring our latest findings, biggest challenges, stories, and behind-the-scenes peeks. Have a question? Just hit reply, we're here to help.
Thank you for joining us as we rebuild public trust in media together.
---
Happy V-Day btw 🌹
Live your Secrets and Steem Prosper 🔥
xx Viki @vikisecrets