Stop Over Thinking: Start Posting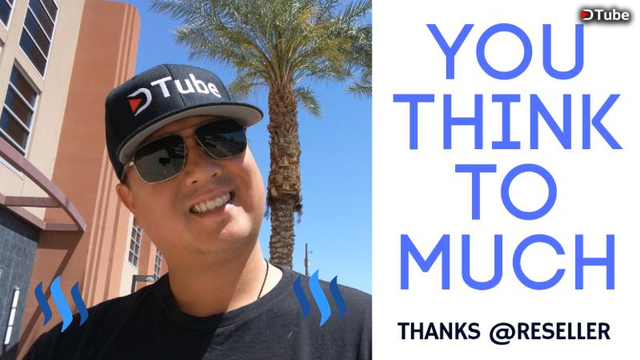 ---
Hi Everyone. Another gorgoues day here in Henderson/ Las Vegas. It is sunny, 91 degrees, slight breeze, & no clouds in the sky.
Big shout out to Chris @reseller for giving me this killer DTube lid. Go visit him at https://steemit.com/@reseller He has an awesome channel. The Steemit Minute is a much watch everyday.
I have definitely fallen into this category. Been a victim of THINKING to MUCH. Which has led me to not post. Have to so many friends about Steem, they sign up, they get approved, & they don't. The excuses are something to the effect of: I need a better computer, I need better clothes, I need a haircut, I don't want to half ass it, the weather is bad. The list goes on and on. And they never post or they post very very infrequently.
Stop it. Just post. Paralysis by over analysis. Sure you have heard that before. We can to achieve perfection but we can strive for it. Sometimes on our quest of trying to get to nirvana we end up doing nothing. Just post.
We can get better from each and every post. Practice makes perfect. Don't be too hard on yourself. Steem has just started no one expect a amazing from all the different creators. Just post. We can learn from our post. See what works and adjust for the next post.
Consistency is key in Steem. If you post frequently and very little you will never gain the momentum & success that a great deal of Steem wish to achieve.
Has this ever happen to you? Tell me about. Love to hear your story. Tell me how you overcome this obstacle. What helps you? I want to learn. Who knows by sharing you might help others or me who have been in the same situation. Thank you. Have an amazing wonderful joyful weekend.
Delegate SP to @steemcreators. Any amount can make you $$$ & help a great cause. 25, 50, 100, 5000 SP. You will receive 75% of profits proportion to your delegated SP & help fund #steemcreators projects.
Steem Creators North September 6-7th Toronto, Canada, $125.00 USD
Steem Creators Conference April 11-13th in Austin, TX. $125.00 USD https://steemcreators.com
Help me reach 25,000 Followers & a 70 Reputation.
Please Follow, Upvote, Comment, & Please Resteem.
Thank you all.
I.J.
---
▶️ DTube
▶️ IPFS