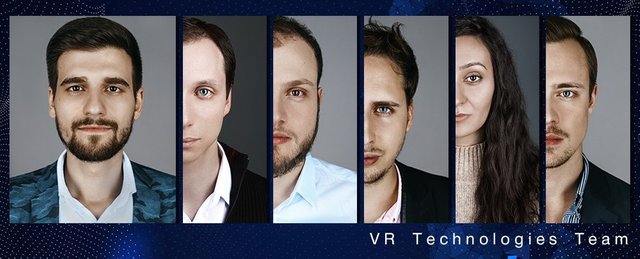 Nowadays one of the key problems preventing active development of VR technologies, is lack of high quality content for VR equipment.
Our team offers a solution that will attract thousands of developers and authors from all over the world to create and monetize high quality VR content — the VRT platform, which is a tool for creating VR content and a decentralized marketplace. The platform will be based on blockchain technology that guarantees transparent distribution of funds and enforcement of intellectual property rights. Moreover, we are working on creation of special SDK and API which will make it possible to significantly simplify the creation of VR content, and, as a result, to involve wide audience engaged in the development of the system.
The unique experience of our team will allow us to implement the set task. The head office of VR Technologies company is in Moscow and our additional representative office is located in Singapore. Currently the company consists of 40 employees and develops software complexes in the field of VR technologies.
The team of the project already has vast experience in development of VR technologies — earlier in 2017 they launched an educational project "VR Time Machine", which allows to study history in a playing format using VR technology. The Agency for Strategic Initiatives, a Russian autonomous non-profit organization set up by the Russian government, was interested in the project with the aim to promote priority projects in the economic and social spheres. Our team consists of high-class specialists who have made significant progress in the following spheres:
Konstantin has overseen four major international projects, in which he served as general and executive director. During his time managing ILN Softlab, he acquired valuable experience in creating digital products. Over seven years' experience creating and managing company offices all over the world makes Konstantin an expert in the strategic and business aspects of the Project. His varied experience includes working with VR solutions, IT development, and franchising, inspiring confidence and creating incredible opportunities for the VRT Project. Konstantin is a media expert and consultant who works closely with various media and analyst firms and has his own expert blog on "Echo of Moscow" and other sites.
Dmitriy has launched and developed a number of complex IT projects from scratch. He has a great deal of industry experience, including projects for major investment and government funds. Dmitriy has served as CIO and Product Owner at two international companies, which are still operating successfully today. He is often invited to advise technology startups, including new blockchain-related projects, and his analysis has helped twelve startups enter an active working phase and avoid the problems usually associated with the early phase of a startup's lifecycle. Currently, Dmitriy is a CTO at ILN Softlab, as well as a consultant at several digital agencies that deal with creating complex IT projects. He is responsible for technical implementation of the VRT.
Denis Mazur — CTO
Denis is an extremely experienced player in the software market, who has held key positions and leading roles in the actively expanding VR field for more than four years. Over his eight years of accumulated IT experience, Denis has become known as a dependable, creative, effective, and talented manager. He is considered one of the leading VR experts in Western Europe, as well as the rest of the world.
Neema Teymory — Smart contract and solidity consultant
Neema is a leading international expert in multiplayer game development as well as in high-load, high-reliability systems. During his nine-plus years in software development he has created a rigid quality control system for his tasks. His main focus during development is software security and stability.
Igor Berezovskiy — Business consultant
Igor worked at a number of banking institutions from 2012 to 2016, including the Moscow municipal government's small-business support network and Sberbank, as well as others. He has since transitioned from the banking sector into management. Igor develops and manages a specialized space that is adapted to the needs of startups and business management. The enterprises he manages include a unique chain of co-working spaces, a transport rental service, and a number of food service companies. As a VRT consultant, Igor effectively adapts and optimizes the Project's resources.
Sevil Baer — PR & communications
Sevil is a professional journalist, editor, and director. She has managed communications and PR at several startups and founded an interactive publishing agency, an innovative book platform, and complex technical projects in pharmaceutics, IT, and entertainment. She also worked with the Russian government fund for the development of interpersonal communications.
Alex Ovchinnikov — Blockchain developer
Alex is a native of Canada and is a leading developer for several international companies, including News Media Canada. Alex is an experienced blockchain developer and has participated in creating complex solutions for documentation and financial paperwork tracking based on blockchain technology. Alex is a highly sought-after specialist in this field and is responsible for developing and adapting blockchain solutions at VRT.
Evgeniy Kiselev — Marketing director
Evgeniy has a vast experience of working in top advertising agencies like TWIGA, E:MG, DEPARTAMENT. He is a winner of the festival of creativity in advertising "RED APPLE 2017". Evgeniy is a participant from Russia in advertising festival "AdStars 2017" in Korea. Currently he is a CEO & Creative director at REALizarium and Head of Marketing at VR Technologies.
Ivan Zaytsev — Marketing manager
Ivan was involved in marketing promotion of a large industrial complex which produces industrial equipment, components and is engaged in the construction of complex technological solutions for plants and factories. Ivan also has extensive experience in logistics and supply issues, solves all logistical issues with VRT project partners. Ivan works with potential clients, communicates with our partners, leads the initial communications. Without his help, the project would not work so smoothly.
Dmitriy Nazarov — Community manager
Expert in the field of entertainment and eSports industry with 5 years of experience. Dmitry worked for the largest CS:GO information resource HLTV.org. He also led the development of new game modes for such gaming platforms as csgofast.com and csgobets.com. Dmitriy was an organizer of the tournament Master Series: Stockholm Showdown 2016.
Nowadays Dmitry is responsible for the content part and development of VR parks around the world.
Elizaveta Kolobova — Head of SMM
Elizaveta is addicted to marketing and foreign languages and has strong background in brand management and marketing strategy. Has worked in Plenum, branding agency. with such brands as MasterCard, Gazpromneft and others. However, for Liza work with customers has always been the most incredible part of the whole marketing process.
Currently Elizaveta is a cofounder at a clothes brand and Head of SMM at VR Technologies.
Elena Lyashenko — Business Development
Political scientist of international relations by education, she has experience of commercial activity of more than 10 years. Exhibitions and conferences are her favorite habitat. She knows 3 languages, visited 20 countries. Innovative technologies are in the sphere of Elena's interests. She used to be an Account of Key International Clients and the organizer of huge international B2B trade fairs. Elena worked in British start-ups and was a Regional Managing Partner of the international investment platform.
Anastasia Akolzina — Community manager
Anastasia is a community manager of VR Technologies.
She speaks 4 languages: Russian, English, Italian, French. Anastasia has a huge experience in communications.She lived abroad for 5 years : USA, Italy, Spain, Japan, China.
Mentors of the project:
Dr. Marco Sacco — Adviser of the development strategy in the European Union
Marco is a senior researcher at ITIA-CNR and Head of the Department of EVA (Enterprise Engineering and Virtual Application), Manager of IT Infrastructure and Networks, Head of VR/AR Laboratory. In addition, he is president of EuroVR, the European Association for Virtual Reality and Augmented Reality.
Dr. Francois Asseman — Head of sales in Optitrack
Ph.D, whose education and experience includes a doctorate in Biomechanics and Neuroscience, a three-year postdoctoral fellowship in clinical research and six years' experience in mechanical engineering. He lead optitrack European office and help us to improve our tracking technology.
Sergey Pisotskiy — eSports market expert
Sergey is a highly qualified eSports manager. He managed such teams as The RED and Virtus.pro.
Daria Arefieva — Blockchain Ambassador
Daria is one of the most recognized figures in the Russian crypto-community and is one of the five most recognized women in the blockchain industry. She acquired invaluable experience during her years as a partner at consulting firm Token Sale by Eberhald Lindford, and as CEO and cofounder of CryptoFriends, a company that specializes in organizing large blockchain-related events. This experience formed the basis for developing an absolute game-changer in the industry, the Token Sale Hypethon format. Daria is the inspiration and source for the development of this unique format. Daria is an organizer for an accelerator that specializes in financial/technical startups, and has worked as a marketing and PR team leader in the banking sector. She also works with various charities in her spare time.
Eric Benz — Advisor, Blockchain ambassador
With over 10 years of experience in finance and related fields, Eric is the project's advisor and Blockchain Ambassador. Eric has been an active investor in blockchain and financial/tech projects since 2012 and is an acting board member at a number of large companies. He is also acting director at Cryptopay, one of the largest bitcoin exchange and merchant systems in the UK and EU.
Dmitriy Machekhin — Advisor, legal advisor
Dmitriy provides legal support for VRT as an expert consultant in legal matters.
Dmitriy formerly specialized in providing startups and cryptocurrency ventures with legal assistance and received recognition for his work as partner at the firm GMT Legal, where he is leading the "digital, blockchain, and startups" practice.
He is known by colleagues as a dedicated professional with extensive experience in international law and token sale support. He has written a number of articles on blockchain technology and cryptography, and has been working as a consultant and blockchain specialist at the GVA LaunchGurus startup accelerator.
Igor Vasiliadis — Advisor, financial consultant
Igor is the project's advisor and financial consultant, and was responsible for developing the structure of the project. He is currently managing financial and tax issues, as well as fundraising and strategic business planning. One of his major projects was the acquisition and management of the MirTeleCom holding (worth approximately $320 million). Igor founded Level 2 Consulting in 2004 and still serves as the company's CEO.
From 1998 to 2004, Igor worked with Savchenko's IT-holding SIBINTEK, and has served as CMO at WinWin Solution.
Johannes Kanter — CEO / cofounder of a digital agency WINK
After beginning his marketing and social media career eight years ago, Johannes has contributed to many well-known projects, such as Fleep and Click & Grow (among others). This experience led him to start his own digital marketing agency, WINK.
Valentin Savchenko — CMO in WinWin solution
Valentin Savchenko, CMO in WinWin solution, has 20 years of international marketing experience in helping to bring innovative technologies into the mainstream. Previous work experience includes Microsoft and consulting to start-ups, mid-market firms, and enterprises. Valentin also spent 3 years living and working in Frankfurt, Germany and Tokyo, Japan. He is the author of numerous whitepapers and the top-ranked speaker at multiple conferences.
Valentin currently works with some of the leading and most innovative companies in the blockchain/ decentralization space including OB1/OpenBazaar, Storj and DCorp.
Our team will actively promote our VR parks and partner other companies, what will allow to boost demand on VR content at our platform. In order to develop this branch we attract investors and franchisees, what enables us to scale up in geometric progression. Constant marketing support of the VR parks will create hype around them, and as result VR parks visitors will learn about the opportunities of the VRT platform and will be able to use its services.
A particular advantage for the VR content developers will be an opportunity to test and monetise games at offline sites in different countries — in our VR parks, the franchise network of which we actively develop. Another way to monetise projects will be the ability to find customers at the internal marketplace of the VRT ecosystem. Thanks to blockchain basis developers will have guarantees of the fully transparent automated distribution of money and intellectual property rights protection. Every time a piece of content is purchased, the smart contract will be automatically created in order to check the licence and/or to distribute royalties. The most perspective developers will get support of the special fund.