VR and blockchain — buzz words, right? Yes, but there is so much more!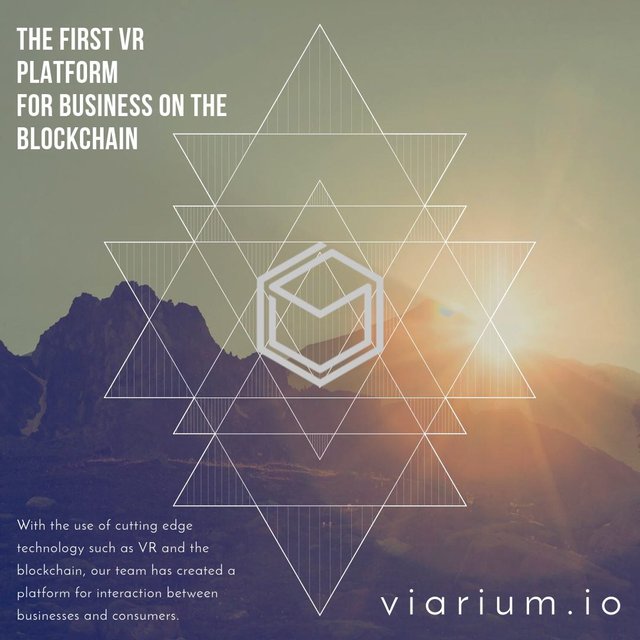 Why does Viarium use a blockchain?
VR and blockchain — buzz words, right? Yes, but there is so much more! Blockchain technology allows Viarium platform to:
— Protection the content;
— Establish stable and decentralized P2P economic model;
— Build a decentralized network that performs tasks on transcoding, storage and signal delivery;
— Trace the history of content and publication;
— Create a transparent award system for nodes participants within Vuarium network.
How to buy space in VR shopping mall?
After ICO is completed and virtual land units are sold, buildings could be constructed on those units. Building's owner will be able to put it for sale or for rent. The purchase will be available in user's personal account.
Which countries can participate in the project?
Participation is open to all countries, but there are some exceptions. These exceptions happen due to current jurisdiction of certain countries like USA and Singapore. Therefore, please always check the rules which apply in your country.
What equipment is required to work with the platform?
User needs to access his/her personal cabinet from computer's browser to work with the platform. However, to enter the virtual world a powerful computer with HQ video card and a VR headset (either Oculus Rift or HTC Vive with Touch Controllers) will be needed.

How is a showroom/gallery created in the virtual world?
Users digitise the content they need. The simplified mechanism is this: a concept is drawn, then a 3D model is made, followed by optimisation and coding, and in the end the textures are smoothed. Please read our White Paper for a detailed explanation: https://en.viarium.io/my_assets/files/viarium-wp-en.pdf?v5
How will Viarium cope with technical issues — an internal team or outsourcing?
The Viarium team plans to offer such services itself. In the future, we also plan to create marketplaces and design kits. However, any participant is free to use the services provided by a third party.
Who needs Viarium?
The application is literally limitless. We target broad audiences: investors, VR content developers, business owners, people of creative professions, construction companies, healthcare agencies, shipbuilders, consumers, sci-fi fans and art connoisseurs.
How to transfer an income from virtual world to the real one?
The exchange of VRX tokens for other cryptocurrencies will be conducted on specialised exchange platforms. The users of Viarium platform will also be able to get revenue for their services in any way possible (by mutual agreements with their contractors). For example, they can create a P2P contract with payment in fiat currency.
Do you have more question? Ask them here: https://t.me/viariumen