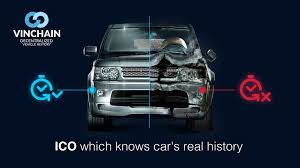 One of the greatest inventions of man is the automobile or cars. It has made people's lives easy and very comfortable. It is a big factor why all other industries have grown big and became profitable when we talk about transporting good and services. Aside from that, the car industry has boomed into a million dollar industry which makes constant changes to car models each month. This means that every month new car models are released right out of the factory which leaves a market for used or second-hand cars.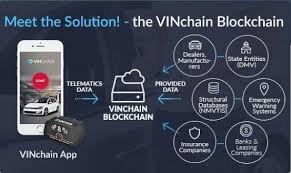 Over the course of time, the used car market has grown. There is a radical upward and downward trend for the prices and buyers of used cars. If we look behind the curtains of this used car sector, we will find a lot of loophole or problems. The question is, "Is there a solution to these problems?". That is where VINCHAIN comes into the picture. Before that let find out some of the problems this industry is facing.If we think about it the main of the puzzle for the used car sector is VEHICLE DATA. It is very import because this will be the basis for the pricing or value of the cars which are sold in the market.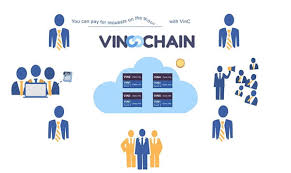 What are the problems of the used car industry?
No Periodic Data updates - This is an important problem that needs to have a solution. The vehicle data needs to be updated periodically because of the vehicle data is the basis for the value or price of the vehicle. Any changes that happened to the car should be up to date.
No Intensive Data Verification - Since vehicle data is hard to come by and sometime unaccessible to buyers, there is a big possibility of fraud or misinformation from the seller. Some information is not verified and validated by authorized data providers.
Losing the Trust - Buying and selling of product should be built on trust which is slowly disintegrating because of dishonest practices. Some people would prefer to buy brand new and expensive cars rather than get scammed by capitalist used car sellers.
Bank Insurance and Leasing Companies Fraud - Insurance firms and leasing companies give inaccurate pricing or quotes for the insurance. This is a disadvantage for the vehicle and car owners because they would be paying more.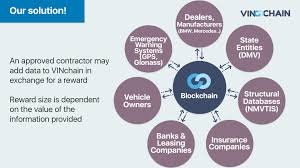 What is VINCHAIN? (some information from VINCHAIN WEBSITE)
In general, VINCHAIN is a decentralized blockchain database that records all relevant information pertaining to vehicles. For each vehicle, a blockchain passport is issued which will be stored in a distributed registry. VINCHAIN is also capable of producing reports that can be ordered immediately by buyers, sellers, and other market participants. VINCHAIN is comprised of two major parts of its ecosystem which are the VINCHAIN app and desktop application which will be accessible to dealers, insurance companies, and manufacturers. The VINCHAIN ecosystem will rely on VIN TOKENS as a digital currency within the ecosystem. It is both a utility token and a tradeable token. In simple terms, VIN TOKENS will be used to pay for all information related to a VIN number that is available in the ecosystem. The good thing about using VINCHAIN and VIN TOKEN is that it has token allocation for all users who provide data or information in the network.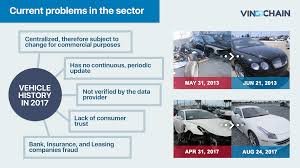 What are the advantages of VINCHAIN?
VINCHAIN API - With the use of API access this will make the interaction of businesses to the database easy and convenient. Th integration of API will make it very accessible and secure. It uses advanced protocols for building the best software applications.
VINCHAIN APP - This is a breakthrough app which will give more benefits to the user. It is a multifunctional app which will enable users to get discounts and save a lot of money. Using this app will help users avoid fraud.
VINCHAIN SOURCE REPORTS - This gives customers verified reports which are very up to date and accurate. The companies can sell this information to their customers which will be a win-win situation for both sides.
VINCHAIN HISTORY REPORTS - Customers will get full detailed information about the history of the cars that they are buying. This will be updated periodically for more accurate information and can help access the value of the vehicle.
VINCHAIN BLOCKCHAIN - Using the blockchain technology makes the entire VINCHAIN ecosystem secure, decentralized and transparent. It can provide all transactions which will be recorded chronologically and publicly.
BIG DATA ANALYTICS - This will be advantageous for big companies like INsurance firms and leasing companies. The data or information that is gathered will be used for big data analytics.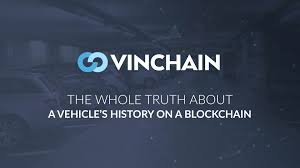 Why invest in VINCHAIN?
For the investor, VINCHAIN is definitely a good investment because of the platform it supports which is Used Car Industry. Meaning it is a unique platform which gives it limitless possibilities. This is already a booming industry which is already in existence. It's not a vision but there is already a structure and framework for this industry. Booming Used Car Industry means ROI is assured and at the same time, the application of the platform is limitless. If you're a good investor, it not always about getting back the capital or getting 2x or 3x the amount you invested but also believing and using the product or platform. I believe VINCHAIN will be a topnotch ICO and will be very useful in the everyday application of cryptocurrencies.
To know more about Vinchain:
official site: https://vinchain.io/en
White Paper: https://vinchain.io/en/files%2FVinChainWhitePaperRu.pdf
Telegram: https://t.me/vinchainru
Twitter: https://twitter.com / VINChain_io
Facebook: https://www.facebook.com/vinchainio/
Bitcoin Talk: https://bitcointalk.org/index.php?topic=2208708.msg22243573#msg22243573
PLEASE UPVOTE OR RESTEEM OR GIVE YOUR COMMENTS ABOUT THIS ICO.