IoT Chain's DAG code git repo update + 10,000 ITC giveaway

We are delighted to announce the release of the IoT Chain source code on GitHub. We had committed to making our source code available and are pleased to deliver on this promise. Furthermore, we can confirm that the IoT Chain DAG test network will be released soon as well! This is an important milestone in our journey to building a secure, lightweight OS for the Internet of Things.
You can view the IoT Chain official GitHub here: https://github.com/IoTChainCode/itc-ts
In light of this exciting update, we are running an activity dubbed "Win 10,000 ITC — Follow Our Journey" which will run from February 2–9, 2018. Subscribers who follow our official Twitter accounts and retweet the announcement can earn ITC rewards and will be entered to win a grand prize of 500 ITC!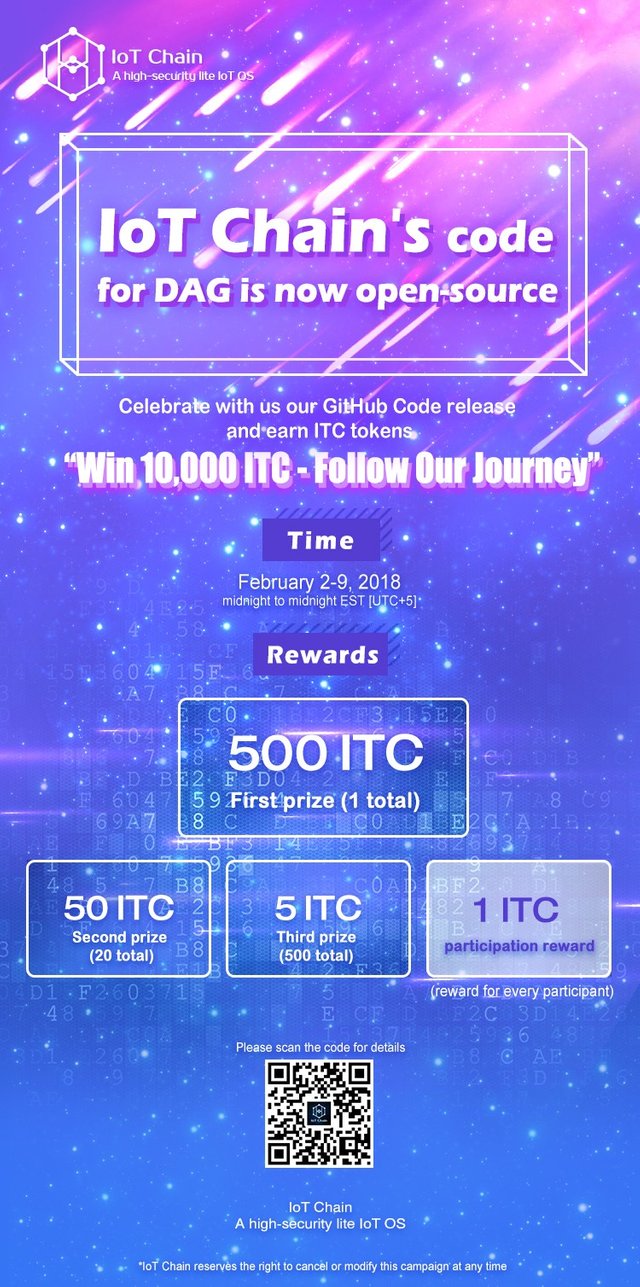 Date and time: February 2–9, 2018 (midnight to midnight EST [UTC+5])
How to participate:
Details:
There are 10,000 ITC tokens available for this promotion. Tokens will be awarded first-come, first-served based on the order of entries received. No additional tokens will be awarded once the cap is reached or the promotion is over.
Those who successfully complete all of the participation steps during the activity period will be awarded one ITC token based on availability
In addition, some lucky participants chosen at random will receive ITC tokens as follows :
First prize (1 total) — 500 ITC
Second prize (20 total) — 50 ITC
Third prize (500 total) — 5 ITC
Notes:
Your participation is only confirmed once the provided form is successfully completed.
The ITC tokens will be sent to the eligible participant's wallet address within 5 business days after the activity end date
Users are encouraged to subscribe to the official IoT Chain Reddit and reply to the topic # 'DAG code is now open source': https://redd.it/7u99rk.
There you can ask questions and share your expectations. We will select a few questions and provide a response via an official Q&A.
Source :
https://medium.com/@IoT_Chain/iot-chains-dag-code-is-now-available-on-github-we-are-giving-away-10-000-itc-to-celebrate-1b2d437fb0d3