So I love working from home, and I wanted to increase my income. I have been selling things on Ebay for while. I go to Thrift stores and I look for items that are almost new or has tags. I go to bargain hunt stores and I look for great products.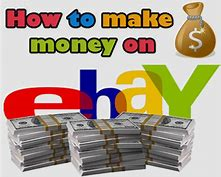 You have to be careful , it is easy but you can also lose money.
Some mistakes I've made and how to avoid:
Bad customer service - I've not been quick to get items out on time. Also customers become irate if you don't send them follow up emails if shipping has been delayed. You have to be quick or you will get negative feedback or disputes. It's easier to handle with an I'm sorry email because. If you are honest buyers can tell and will wait patiently. You must communicate. Negative feedback can hurt your ability to sell. If you and another seller have the same item and they have no negative feedback and you have some they will buy even for a higher price with the other guy. Especially if you have just started, negative feedback will destroy your reputation.

Spending too much money on listings. It is hard to get people to notice your items. I've found more information on the listing or good pictures is better than some of the add ons like borders or bold. certain items you should buy these, but avoid on low dollar amounts. You can eat up all your profit in listing fees.

Not marketing your items correctly. A good trick I like to use is bundling items together as a lot. People like gift packages and it makes your listing stand out. Don't just use the standard listing item. While it will save you time. Add to your listing. Why should buyers buy from you opposed to Buddy's Store? Make it a fun experience.

Stock up on inventory quickly. You need to keep your store and listings going. Don't wait until you are depleted. Always look for a good bargain or a good deal. There is always something to find.

Research your items before you spend money. Don't buy high dollar items such as computers or tv's and get stuck with them. Low dollar amounts in bulk may be a better option. You just have to find stuff that will sell and sell for a nice profit.
NUMBER 5 IS SO IMPORTANT, DONT BUY HIGH VALUE ITEMS PLEASE!!!
Sometimes an item that I think it is awesome and it would sell fast is not a good item after I check the ebay app for the sale history of that item!
How to start?
To get started with making money on eBay you'll need to register and set up a seller account if you haven't done so already. You'll put your credit card, debit card or bank account information on file with eBay when you set up your seller account so that eBay can charge you for the seller fees you incur (more on those later). You'll need to tell eBay how you want to pay for your seller fees each month and which forms of payment you'll accept from customers.
When you set up your store you can link it to a PayPal account. That way, your customers can pay you using their own PayPal accounts, which is both convenient and secure. PayPal also offers Seller Protection, which covers you for "claims, chargebacks and reversals for unauthorized payments and items not received for eligible transactions that are paid for with PayPal."
Start small. While your ultimate goal may be to become an eBay Power Seller, you want to take things one step at a time. Starting with just a few items to sell gives you the chance to learn the ropes and establish yourself as a reputable seller.
Like any new enterprise, selling on eBay may present you with some unexpected challenges, and you're bound to make a few mistakes--everybody does. Begin by selling just a few items so you can familiarize yourself with the responsibilities that come with being a seller.
To become a truly successful seller, you need to have lots of positive feedback. When you're first starting out, you won't have any. Build your business slowly and give great customer service so that you can earn positive feedback. That way, you'll earn the trust of buyers, who will be more likely to do business with you once they see you're an established and honest seller.
There are so many ways to make your product look good!