What is going on with Silver price ?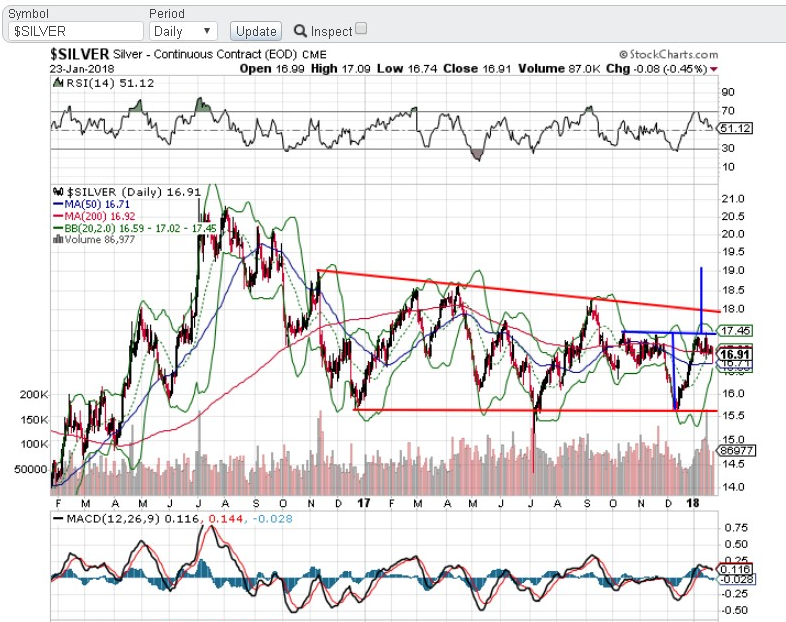 My chart analysis is showing a very interesting situation developing with Silver price right now. Currently trading around $17.2, it's forming an inverse Head & Shoulders (H&S) pattern shown in blue on the above chart. If and when it goes above the neckline (around $17.5), my next target would be just over $19. If it can then stay above the upper red line (around $18.1), it's likely to go up to $21.
This would seem to be in alignment with the other indicators (such as the $USD going down and Gold price going up) as covered in my previous post here:
https://steemit.com/marketreport/@jmsm2/us-dollar-and-gold-is-the-usd-about-to-collapse-and-gold-about-to-rise.
Update on [email protected] UTC: The silver price went above the neckline a few hours ago and is now testing this support level around $17.5 and if it can stay above this level, my initial target of $19 should be achieved fairly quickly.
If you've found this information helpful, please consider upvoting and resteeming this post. Thanks !
DISCLAIMER: I'm not a financial adviser, nor a professional trader and nothing I say here is meant to be a recommendation to buy or sell any financial instrument. It is purely for educational purposes. Don't invest money you can't afford to lose. Always do your own due diligence before trading or investing.