Extra Life is coming!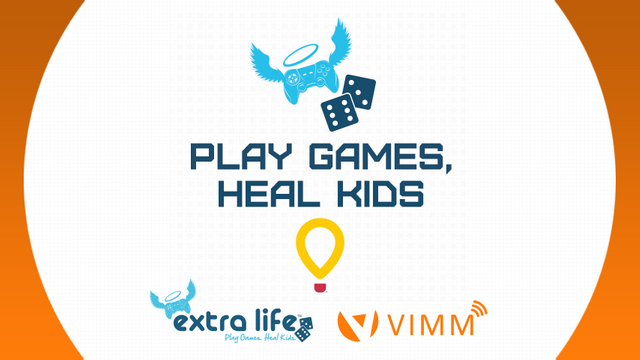 Good evening! It's @ddrfr33k again, and it's been a while since I've talked to you guys. You might have already noticed, but @chiren and I have been working hard on preparing for Extra Life. We're excited! Maybe a little too much...
Currently, we have three streamers that will be broadcasting on Extra Life Game Day: @sirjaxxy, @trey50daniel, and @ddrfr33k. Hey wait, that's me! All three of us will be streaming, some of us going longer than others. Make sure you tune in here:
@sirjaxxy: https://www.vimm.tv/c/sirjaxxy
@trey50daniel: https://www.vimm.tv/c/trey50daniel
@ddrfr33k: https://www.vimm.tv/c/ddrfr33k
It's not too late to join in, you know! You still have until 11:59 PM on Wednesday, Eastern Time, to fill out this form and jump in on the action. Everyone who takes part will be on the front page!
But reminding you guys about this isn't the only reason why we're posting this today. @chiren has been hard at work preparing the site for Extra Life, and now we have an Extra Life widget set up on everyone's channel page!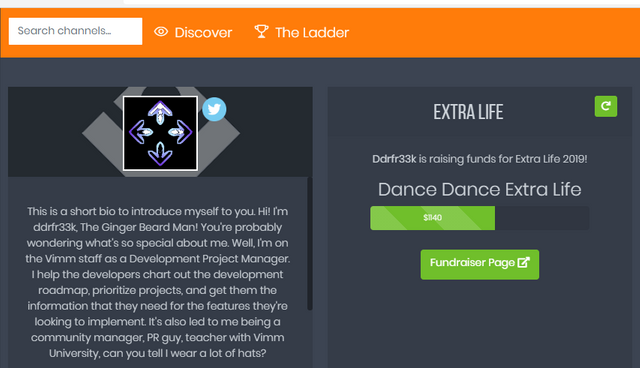 On your channel, it'll show up right next to your bio. And you can enable your donation page by going into Settings, and clicking on the "My Contributions" tab.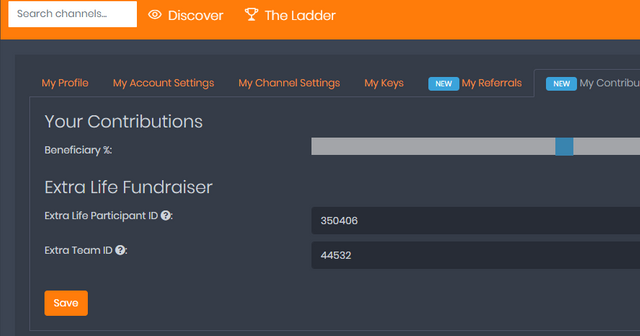 Oh look, it's the beneficiary slider, too! Right below it is a space to punch in your participant ID and your team ID. Add those, hit "save," and you're all set! Now anyone can get to your fundraising page through Vimm! It's quick and easy, and it's gonna be awesome!
Extra Life is a fantastic charity, and we at @vimm are proud to support the lifesaving care that your donations support. Let's have a great game day, who's with us?
---
Get in touch!
Support @vimm on Fundition!

Have you checked out Vimm University?
-- How to Handle Streamer Burnout --
-- All About The Steem Blockchain!--
-- Making a Good Post --
-- Branding Identity --
-- The Copyright Boogeyman --