How the blockchain will change YouTube (and Facebook, etc.) forever
To announce my new STEEM book, I made a video on my YouTube channel, trying to break down how the blockchain will change sites like YouTube or Facebook.
It's a hard thing to explain clearly, but I'm getting a little better at it. If there are any n00bs with questions, please ask! I need to practice helping people get how the blockchain can circumvent the unsustainable ad-supported model.
---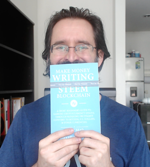 Make Money Writing on the STEEM Blockchain demystifies the blockchain and helps writers start earning on Steemit. Buy it on Amazon »