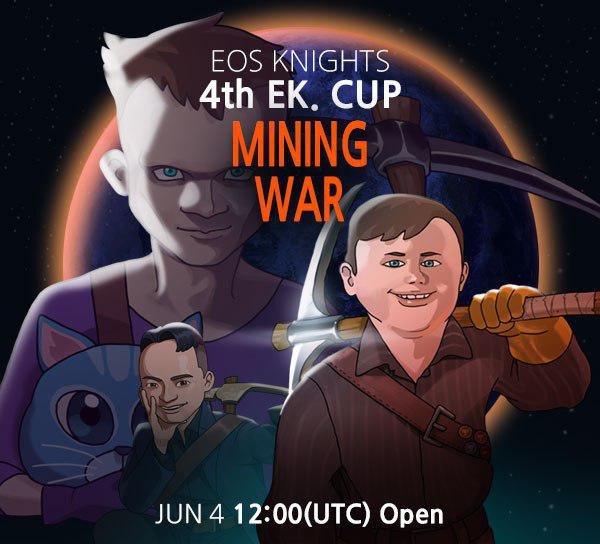 ---
4ta COPA EK. comenzará el 4 de junio.
Desde el martes, 4 de Junio a las 12:00 (UTC) - Hasta el jueves, 6 de Junio hasta las 12:00 (UTC); 2 días.
El período de la Copa EK se acortó de 3 a 2 días.
Se compite con personajes 15X más fuertes; Byte Warrior (Guerrero de bytes), Mad Scientist (científico loco), y Rising Sun (sol naciente).
Recompensas para ser reclamadas:
60 EOS: la primera cuenta que cree con éxito y entregue King's Armor o la Armadura del Rey; 30 EOS sumados de la copa anterior.
2 EOS: Top 100 de cuentas que alcancen el piso más alto.
MW: Cada participante obtiene MW, según la cantidad de pisos que suban (1,000 MW es la recompensa máxima).
Miscelaneos:
Habrá Mercado de materiales tipo Normal a legendario en el evento.
También se entregarán 25,000 Dark Magic Water (DMW) al principio.
DMW se puede utilizar durante la copa EK. Copa solamente!
Se proporcionará un Caballero Byte Warrior, Mad Scientist y Rising Sun en nivel 1 al comienzo.
Durante el evento, el ataque de todos los Caballeros será 15 veces más fuerte que de costumbre.
Ciertos artículos requieren 4 materiales. 1 de estos 4 materiales puede ser reemplazado por DMW.
---
4th EK. CUP will start at June 4th
From Tuesday, Jun. 4th at 12:00(UTC) - To Thursday, Jun. 6th until 12:00(UTC); 2 days.
EK. CUP period is shortened from 3 days to 2 days.
Compete with 15X stronger characters; Byte Warrior, Mad Scientist, Rising Sun.
Reward to be claimed:
60 EOS: the first account who successfully crafts and submit 'King's Armor'; 30 EOS carried over, from 3rd EK. CUP
2 EOS: Top 100 accounts who reach the highest floor.
MW: Every participant get MW, based on number of floors they climb (1,000 MW is max reward).
Miscellaneous:
There will be Normal - Legendary material market on the event.
There also will be given 25,000 Dark Magic Water(DMW) at the beginning.
DMW can be used for EK. Cup only!
There will a level 1 Knight of Byte Warrior, Mad Scientist and Rising Sun be provided at start.
During the event the attack of all Knights will be 15X stronger than usual.
Certain items require 4 materials. 1 out of these 4 materials can be replaced by DMW.
---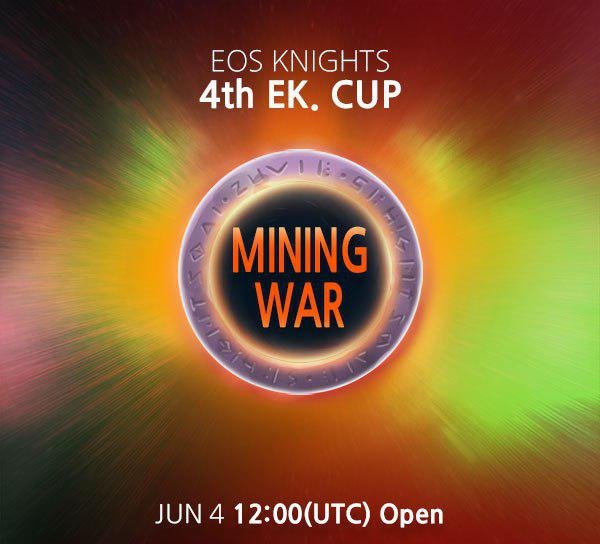 ---
@gaeljosser
Information and images taken from Official Telegram Group | Información e Imágenes tomadas del Grupo Oficial en Telegram