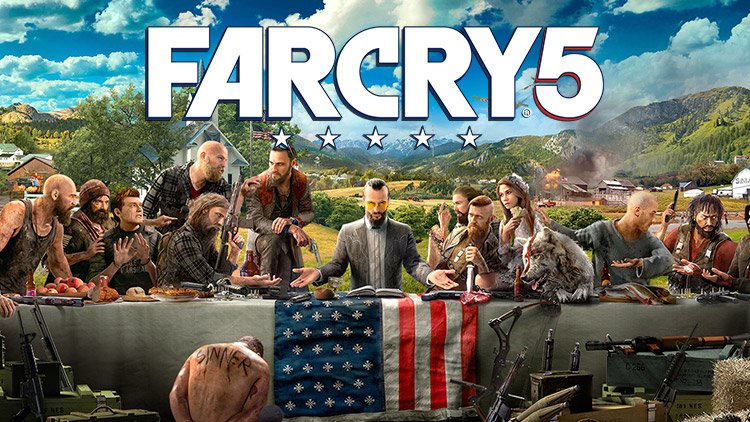 Far Cry 5 is a video game of action and shooting in the first person with an open world type of gameplay, which has been developed, produced and distributed by Ubisoft for the PC, PS4 and Xbox One platforms. It is the fifth installment of the famous videogame saga Far Cry.
In Far Cry 5 we have to face the sect Eden's Gate (The Doors of Eden), which is a dangerous cult of the Day of Judgment led by Joseph Seed, a real villain in the tradition of other legendary enemies of the saga as Pagan Min or the memorable Vaas Montenegro. Of course this evil character is not alone, and is accompanied by all his army of henchmen, the Heralds, who force us to give the best of ourselves in their approach to action in the first person who this time admits to overcome their individual campaign in format cooperative. Defined by Ubisoft as the largest and most customizable delivery of Far Cry to date,* FC5* offers vehicles of all types: from muscle cars, to ATVs, airplanes and many more means of transportation with which to travel its gigantic world.





The game has a story mode and an online cooperative mode to play the entire campaign with another player, and not just the side missions as in previous installments.
Release date: 27/3/2018
DATA SHEET
Development: Ubisoft
Production: Ubisoft
Distribution: Ubisoft
Platforms: XBOne PS4
Gender: Action
Players: 1
Texts: English
Voices: English
Online: Yes
REQUIREMENTS FOR PC
Minimum:
Operating System: Windows 7 (SP1). Windows 8, 8.1
Processor: AMD Phenom II X4 955 3.2Ghz, Intel Core i5-750 2.6Ghz
RAM Memory: 4 GB of RAM
Graphics Card: AMD Radeon HD5850 1Gb, NVIDIA GeForce GTX 460
DirectX: 11
Disk space: 30 GB of free space
Recommended:
Operating System: Windows 7 (SP1). Windows 8, 8.1
Processor: AMD FX-8250 4.0Ghz, Intel Core i5-2400S 2.5Ghz
RAM Memory: 8 GB of RAM
Graphics Card: AMD Radeon R9 290X 2Gb, NVIDIA GeForce GTX 680
DirectX: 11
Disk space: 30 GB of free space
Trailer: