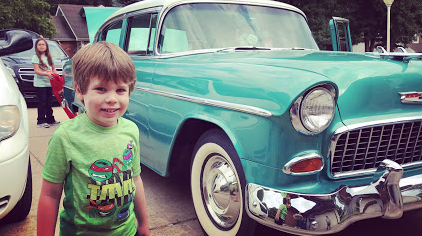 As some of you might remember, my son loves vehicles. With his sensory processing disorder and autism, he fell in love with anything that spins early on in life. So, naturally, he loves vehicles of all kinds. In fact he probably knows more about them than any other 4 yr old I know (I don't know a lot of 4 yr olds, so that may not be saying much).
This Bel Air has been in my friend's family for 4 generations, and when his daughter will be of age, she'll be generation 5.
This was my son's reaction to seeing it for the first time.