Desert Combat Gameplay 05-18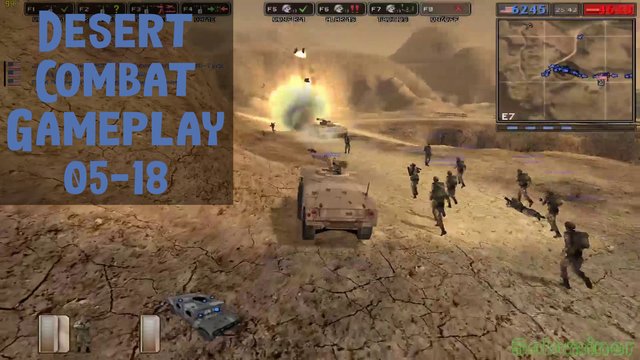 Using the MRLS truck, I take out enemy troops attempting to recapture the points where my allies are. I move my truck as the troops seemed to have stopped going that direction. Maybe the AI has changed paths since its just a completely killing field. Moving up the hill I come across some RPG soldiers but they did not engage me. I ended up dragging a body under my truck for a 1/4 mile or so..lol
I tip my truck and make a run for the enemy base. Taking out a few troops before they overtake me. I chuck a grenade their direction but get gunned down before I could get away. I respawned and got into the Apache attack helicopter and made my way back onto the battlefield. Almost all of the outposts are captured by the allies but there was one that had a battle going on.
I assist by taking out some tanks, until a destroyed turret almost hits my helicopter. I head further down the road and take out an APC but before I could it gets a solid shot on me and I find myself going for a final kill. Though that kill ended up killing me. I think I ran into the exploding turret on the second tank.
I respawn and make a second attempt to provide some anti armor cover, though I was taken out by a machine gun. Probably one mounted to a tank. They really shred the helicopters.
I respawn in the AC-130 this time and have to deal with the shitty AI flying. Seems their scripting was never improved. They fly so fast and high its hard to get a shot at anything.
We eventually capture the final base and make a run for the HQ. I drive the humvee and make our way into the base. I run over a bunch of enemies and we set up on the top of the hill to take some shots. Though the AI gunner will not give up the seat. A helicopter almost crashes right on top of us but we were out of the way luckily. I tip the humvee driving crazy on the way into the base and then flip it a few times. I eventually reach the flag though this base cannot be captured.
So we leave and just drive around the map trying to disrupt the enemy. As the truck gets shot up I drive back to the enemy base and take an APC. Going on a killing spree in the middle of the base I denied them the opportunity to respawn and take the bases over. But there were so many of them. I took their Hind helicopter and eliminated them before finding better targets to go after. I find a skirmish going on and take out the enemies the best I can. Its hard to tell who is who and I cause some friendly fire before going after some more easily identified enemies.
| Solominer Presents: | Desert Combat 0.9 modded for 255 players |
| --- | --- |
| Year | 2004 |
| Genre | First Person Shooter |
| Console | PC |
| Platform | Windows 10 |
| Rig specs: | Main gaming setup |
| --- | --- |
| Processor | Ryzen 7 1700 Eight Core overclocked to 3.7 Ghz |
| Memory | Corsair DDR4 32GB overclocked to 3066 XMP 16-17-17-35 1T |
| Video Cards | 2x Gigabyte G1 1080 no overclock |
| Power Supply | Corsair 1000W |
---
| Coin | Address |
| --- | --- |
| BTC: | bc1qhfmvd2gywg4fvrgy2kkkkyqta0g86whkt7j8r7 |
| LTC: | ltc1qdyzm5cwgt8e2373prx67yye6y9ewk0l8jf3ys9 |
| DASH: | XkSqR5DxQL3wy4kNbjqDbgbMYNih3a7ZcM |
| ETH: | 0x045f409dAe14338669730078201888636B047DC3 |
| DOGE: | DSoekC21AKSZHAcV9vqR8yYefrh8XcX92Z |