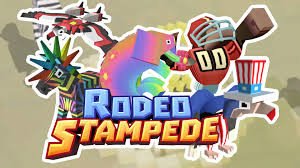 Platform: iOS
Price: Free, with in-app purchases
It's rare to find a game on mobile devices that actually has a fair progression system in it, but Rodeo Stampede may be just that. It's fun, good-looking (even if it has that annoying pixel graphics thing going on) and it rewards everyone, not just people who spend unhealthy amounts of time playing games.
The plot
You're the owner of a zoo (oh and by the way, I have always wanted to work in a zoo, seriously) and as with most 'ownership' games you have to make money. Now, as far as I know, you can't 'lose' by being unprofitable or anything like that (anyone who has played the ridiculously difficult Sim City Buildit will know how that makes things rather depressing) but instead, the game just keeps urging you to make the zoo bigger and better.
(and ride endangered, protected animals like all they are is...big cats)
I've been playing this for about two weeks and already I can see it's potential to be a firm fixture on my phone. It's not hard to make money. You can pick up coin crates as you go. And every day (I think it's twice a day) you receive visitors to your zoo. If all you have is a couple of sickly seagulls and a rat you won't make a lot of cash. But if you manage to 'find' exotic beasts, you're in the virtual money.

How they handle the 'acquisition' of animals is interesting. You use a lasso to rope them in and take them to your zoo. There's a nod to animal rights because the animals can become angry if you ride them too long.
While that's not ideal as regards empathy and all that, some of the animals are just weird and wonderful, and the habitats you can create are lovely, with the option of upgrading them to make them more comfortable for the residents of your sprawling animal cage base.
The progression is there too, which makes it great fun. Just a few plays a day brings you achievements, and the ready supply of money means you can easily buy the bigger and better stuff you need, as well as grab collectibles.
The verdict:
It just works. It's great fun and easy to make progress. Highly recommended.