The Vibeo Platform - An Advanced Instant Messaging Ecosystem on the Blockchain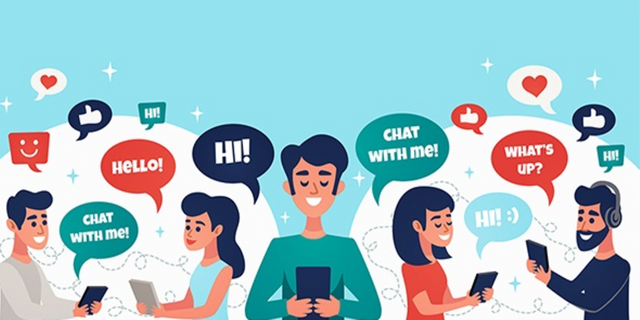 Instant messaging is an online communication that allows text messages to be transmitted in real time over the internet between two or more parties. It is a conversation that is done similar to a chat on the computer or other mobile devices. Real-time messages are sent through a standalone application or embedded software of a social media platform. Instant Messaging is denoted by IM or IM'ing and has bought an important change from text message to IM globally.
Text messages are sent through SMS or MMS and at a cost. SMS are still in used but are not popular because Instant Messaging has taken over them. Instant Messaging is free with no cost across all messaging application on the various platforms. Most Instant messaging platforms are attached to social networking sites. Facebook uses the facebook messenger. They are independent. You do not need to have a facebook account before you can be on facebook messenger. Some IM uses third party software that is capable of connecting them with major IM services.
Currently, there are various instant messing platforms in the instant messaging market. Only a few are built on the blockchain technology. One of such few instant messaging platforms in the marketplace is the Vibeo Ecosystem.
The Vibeo Project
The Vibeo project has created a Vibeo ecosystem which is an instant messaging and social application platform that is built on the decentralized blockchain technology. It is an international communications app with a built-in marketplace and cryptocurrency wallet. It is created to offer services that will build a strong community of Vibeo users using an instant messaging app and the blockchain economy.
The Problems of Existing Instant Messaging Platforms
The global instant messaging market is growing fast and is expected to grow more exponentially in years to come. There are problems with the existing platforms which need to be resolved. They include but are not limited to;
Some instant messaging platforms are built on the centralize platforms where users information and data are not secured. Data and information are stored on centralized cloud storage services which can easily be accessed by savvy hackers. These platforms are prone to data leakages, theft and loss. The user's privacy is not protected.
It is possible to sent files and pictures through instant messaging. Malware and worms can also be transferred as files thereby providing a backdoor access to hackers. Hackers gain access easily this way making IM vulnerable to unauthorized viewing.
Hackers can steal a users password and impersonate him in his chat with friends or groups. Making is easy to extract valuable information from unsuspecting users. The hacker can use a man in the middle attack to steal valuable information for his nefarious acts.
Some existing platforms need to be overhauled. They offer poor products in a competitive market. They do not adapt their products for international markets.
Cyberbullying, harassment and sexual abuse take place on some IM platform, especially among teenagers. There is an IM platform that is facing controversies relating to morality in the use of their platform.
Some existing platforms cannot retain their users' messages and contents. Users find it hard to recover, backup their account history or transfer their history when they get a new phone.
Instant messaging is free and some platforms are finding it hard to generate significant revenue.
The Vibeo's Solution

The Vibeo Ecosystem is created to work on the challenges of the existing instant messaging app. The Vibeo app has come up with its own unique features.
The Vibeo platform is built on the blockchain technology and has created a cryptocurrency that is used on the platform for payment. The platform makes available e-commerce environment where users can spend their cryptocurrency. Merchant will make available goods and services for user's patronage.
The platform has an in build payment system where users can create their e-wallet. The user is able to consummate cryptocurrency transactions by sending and receiving cryptocurrencies.
The platform enables audio and video calling with teleconferencing between the users. Users can also share screens on video calls, their locations, media and manage their historical transactions.
The Vibeo platform has made available advance chat with offline automated messages. Push notifications are sent to alert users of a pending message. Users are also able to know when a contact is online or have read his message.
The Vibeo platform user has a timeline blog where the user is able to post and upload videos or picture to his mini-blog. The user is able to share his blog content with selected Vibeo community and friends.
The Trip and geolocation features of the platform allow the users to share his real-time location with friends and groups. It makes it possible for friends and family to know the exact location a user is for safety reasons.
Users are able to book or order for goods and services on the Vibeo platform with payment made using the Vibeo token. This makes it easier and efficient for all the parties' involved.
The Vibeo platform avails a high security for users within the app's technology and on the application. Data and messages are encrypted.
Conclusion
The use of mobile messaging on the internet is on the increase and instant messaging is the most used messaging app currently by people. The Vibeo instant messaging has more features than most existing messaging apps. It has a safe trip and interactive geolocation feature that makes it unique. Its e-commerce feature allows users to spend their cryptocurrency for real-life goods and services. Users are able to order and book for goods and services on the platform. The Vibeo app is a must have and it can be downloaded on AppleStore and Google Play. The latest app will be available in December 2018.
For more detailed information. Visit the Website and read the Whitepaper. Join the Telegram for answers to your questions. Follow the Facebook account and Twitterfor important updates.
Author's Authentication Bitcointalk Profile Link: https://bitcointalk.org/index.php?action=profile;u=1163494
Bounty0x Username: Munareal