UMVbot
Military Veterans of Steemit - Upvote Bot.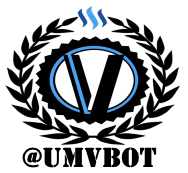 @UMVbot has been set up as an upvote bot on the Military Veterans of Steemit server
This is a community bot and not a privately owned bot, it is to be looked upon as being equally owned and governed by all Military Veterans who are active community members in the server.


Update - May 09
Updates shall be issued at least twice a month, or when necessary.
The Voting is set at 90% and shall remain at this level. The current usage has shown that there is no chance of our Voting Power (VP) dropping to 70%.
Urging all members of our server to use this service, it is yours as much as any other members.
Further more, in line with this, lets remember that we are aiming to build a community Whale that can serve all our members when needed.
In order to achieve this teamwork is needed and any and all support from members, friends and supporters via delegations are always welcome in helping us achieve our goal of independence.
We've had a 100% uptime for now, luckily there have been no "bugs " reported.
Note: When there are issues that affect your ability to use the front end platforms such as Steemit, then there is a 99% chance that the performance of UMVbot shall be affected too. Please keep that in mind when such things happen.
Thank you for your time.
If there are any questions, feel free to contact me directly on Discord or via the comments here.
Wish everyone a great day.
Yours truly
on behalf of @umvbot
@jackmiller