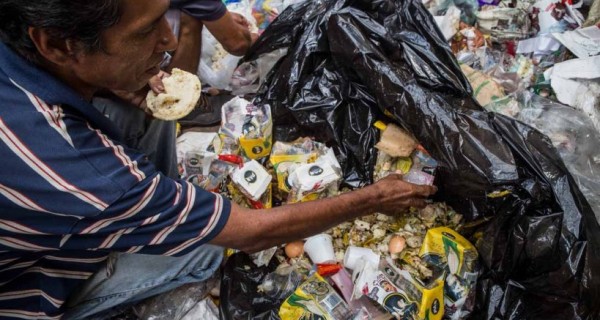 Image source
Hello good night another situation lived in the day to day in my beloved country. The crisis in Venezuela is aggravated and hunger does not take pity on anyone. It is not new to see people asking for money in the streets. But for a few years, and with the "beautiful revolution", the situation has increased and it seems that there is no will to change this situation.
The story begins on an ordinary Sunday in which, to disconnect a bit from the situation, I decided to go to the movies and so calm down a little "the feeling of frustration" that the country, which shakes us and leaves us wanting to to breathe.
While I smoked a cigar, a scruffy person passed by, wearing a torn blue jeans and a torn shirt with white and red stripes. The man had a beard and dirty hands; by its appearance it was possible to notice that already it was several months those that took in situation of street.
Immediately I thought what is inevitable: "insurance comes to ask for cash and with this crisis I have nothing to give", but the surprise did not take him when I told him that he had absolutely no money. The surprise was for me, when the man with his eyes full of tears told me: "I have this cash that I could collect in the day, could you please buy me a packet of sweet cookies in that pharmacy ?, is that they do not let me happen".
Through the face of the man I could deduce that my astonishment was of an incomparable magnitude. I was frozen and thousands of thoughts crossed my mind, one of them was the annoyance (not to say a rudeness) for the serious crisis in which we are submerged, and that apparently will not change, because the voice of the people does not they listen.
I grabbed the cash, which did not even reach a packet of cookies, and went to buy him some food. While I was standing in line I could see the man through the pharmacy's glass. He was sitting on the sidewalk of the mall, as if praying and imploring to bring some food to his stomach. It was impossible not to shed an occasional tear at that moment.
The man turned his back, and avoided the look, for a moment I was shocked: "How is it possible that this gentleman turned around and turned his back on me? Have you done this before? Anyone could run away with their money and he would not even notice. " I suppose it is because sometimes reality is so cruel that it does not touch anyone else to trust and wait. Wait for the other to take pity on you and help you, because you know that the solution is no longer in your hands.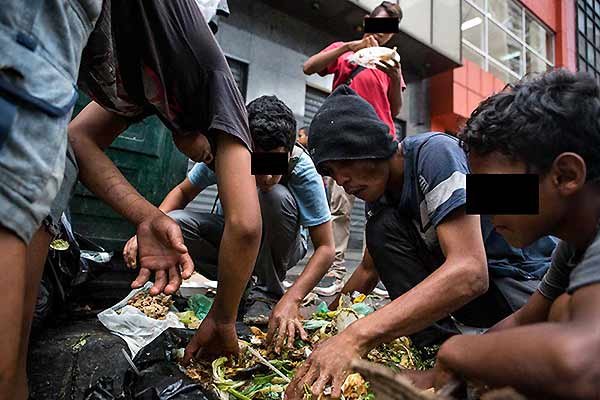 Imagen Source
I left the pharmacy with two packages of cookies and their money, I gave them to them and a shy smile was reflected on their lips, lips markedly broken by the sun and lack of care. It broke my heart, because maybe this has been the most sincere smile that they have offered me.
I kept thinking all day about this, what we have arrived at, what we have become.
I do not know if I felt more pity for the situation of street and misery in which the gentleman was or for my thoughts a little selfish at first. Although perhaps, the prize will be taken by this Government, the one that does not know all the karma that it is producing, and that after all, will one day explode in the face because so much evil can not end up in anything good.
The despair advances, the food does not pay or does not reach the table; there is no cash; nor medications; the cultural, political and economic backwardness is greater every day; but I believe that our humility and brotherhood must be key at this moment. The good guys are more, and if we decide not to abandon ourselves among ourselves, when we get out of this petulant, selfish and capricious government, we will be invincible.
Thank you for stopping to read my publication and excuse my English.
Help to help more people making this information reach everywhere so they can see the reality of Venezuela
What do you think about the situation in Venezuela? Leave your comment