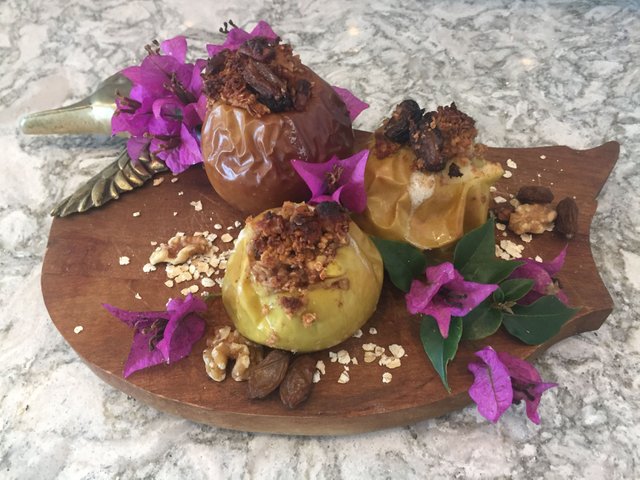 Apples and oatmeal for breakfast? Sound boring?
Well, how about Baked Apples stuffed with granola?
Mmmm!! Can't you just smell the cinnamon and cloves throughout your home?
This recipe makes a great breakfast, snack or dessert. The granola filling pares wonderfully with the tart apple!
Select a firm apple when baking apples. Some apples will become mushy when baked. They're fine when making applesauce, but not best for this recipe. I like a tart apple so today I am choosing Granny Smith Apples. My husband loves red delicious apples….so I included those for him!
You will need:
4 apples (Fujj, Granny Smith, Honey Crisp)
¼ cup agave or maple syrup
¼ cup gluten free oats
¼ cup raisins
¼ cup walnuts chopped
½ teaspoon cinnamon
Pinch of cloves
¼ teaspoon nutmeg
1 tablespoon non-dairy butter
Preheat oven to 375 degrees
Preparation:
Thoroughly wash apples, remove the cores of the apples. Core the apple making a ¾" tunnel through the middle of the apple leaving about 1/2" in the bottom of the tunnel. This way the apple is solid on the bottom of the apple.
Mix all other ingredients in a bowl, divide between the apples, and firmly pack filling in apples.
Place apples in a baking dish, topping each apple with non-dairy butter.
Pour 1 cup hot water in the base of the baking dish. Cover loosely with aluminum foil.
Bake for 20 minutes. Remove foil and bake another 20-30 minutes. Test if done by poking knife down the center of the apple into the apple. It should slide in easily. note: the apple skins will be wrinkled!
Remove from pan and serve!
Bon appetite
This Breakfast recipe entry was done for contest sponsored by @vegan.niinja entitled the #veganbreakfastcontest!
Hope you have enjoyed todays post! Please stop by again!
Blessings to all!