Morning Oatmeal With Smoothie | Fast Way For Healthy Breakfast! 🍌🌱#VEGANBREAKFASTCONTEST 🤩
Good morning everyone!
Today we'll start our day with some oatmeal and smoothie! Hihi, I'm starting my every morning with it. I love my breakfast, and I don't want to switch it to something different like a sandwich or whatever. I feel soo, soo good after my smoothie with oats.💓 My breakfast has few pluses for me:
it gives me more energy to start my day
my digesting system is so happy after a meal (however it sounds hahaha! 😆)
thanks to that, I don't need to eat my second breakfast because I feel enough energized for next couple hours
my whole body is happy to eat that every day!
The most important thing is that I don't feel so full after eating it. I have my perfect portion, which I created by myself in one of the calculators of calories. You can find a lot of them on the internet, but I can highly recommend one of them, namely https://cronometer.com/. It's really useful application, which allows you to control your calories, vitamins and generally all yours consumption. But anyway, I'll do another post about it soon. 😉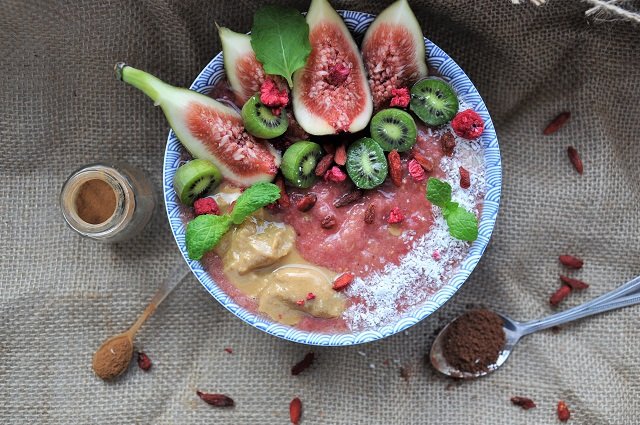 So #veganbreakfastcontest initiated by my dear friend @vegan.niinja is the best occasion to present my breakfast. This girl decided to celebrate her 2 months journey on beautiful Steemland, so she made a contest! What's a suprise! I really like that idea! 🤩 So maybe without futher ado, maybe just let's get into recipe, huh? 😋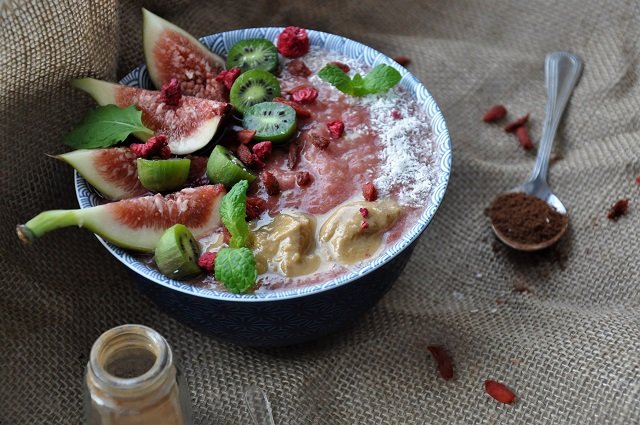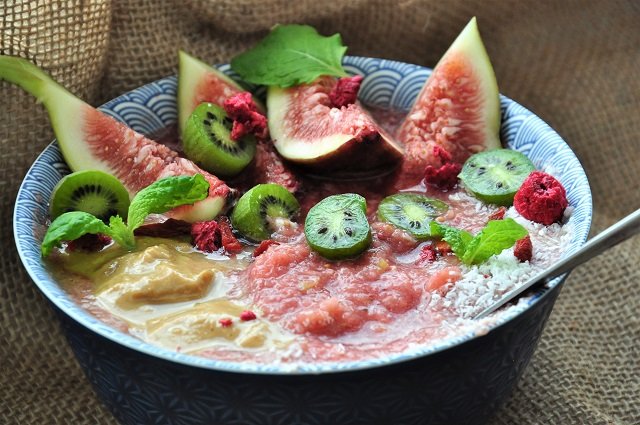 ---
For preparing you will need:
three tbsp of oatmeals
1/2 tbsp of chia seeds
hot water
For smoothie:
50g of raspberries (frozen) or any mix of berries
one banana
one apple
1/3 cup of hot water
1/2 tbsp of flaxseeds
sometimes I'm adding some other fruits like pineapple (one slice) or mango, or what I have in my shelf😋
For the top
1/2 tsp of cinnamon
around 1 tsp of cocoa powder
mini-kiwis
figs
a bit of goji berries
a bit of dry raspberries
one tbsp of peanut butter (I'm using 100% peanut butter, without salt, sugar and palm oil)
---
Preparing
into bowl place oatmeal and chia seeds, pour water and leave for few minutes, till they soak
into blender place all ingerdients for smoothie and mix them togerther
pour our mix into bowl with oats and chia seeds
add topping
enjoy the taste of vitamins!😁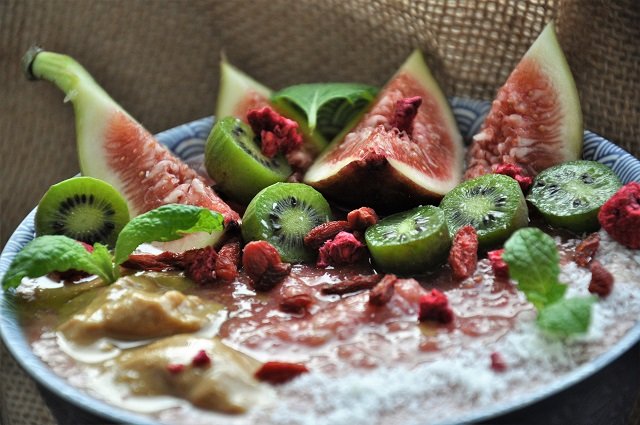 It's really simple and quick way for breakfast, no? It can really save your time as back in the days breakfast took me quite some time to prepare. I can say that I have the reason, why I should get up from my bed! Hahah, just kidding 😅. Feel free to make this breakfast with your favourite fruits and topping! It's awesome because anytime you feel like changing the taste all you have to do is change the fruits(I mostly switch the frozen fruits after i finish a package) If you'll try it, you won't stop at one! So I highly encourage to try it, if you still didn't try it I can say the only one thing.. DON'T WAIT AND GO TO THE KITCHEN! IT'S WORTH! 😄
Let me know in comment, how do you like it! Any feedback is welcome! And it gives me motivation to do more 😉
Wish you all beautiful and sunny day! Love you all! 💕