TONKA BEAN-CAROB WAFFLES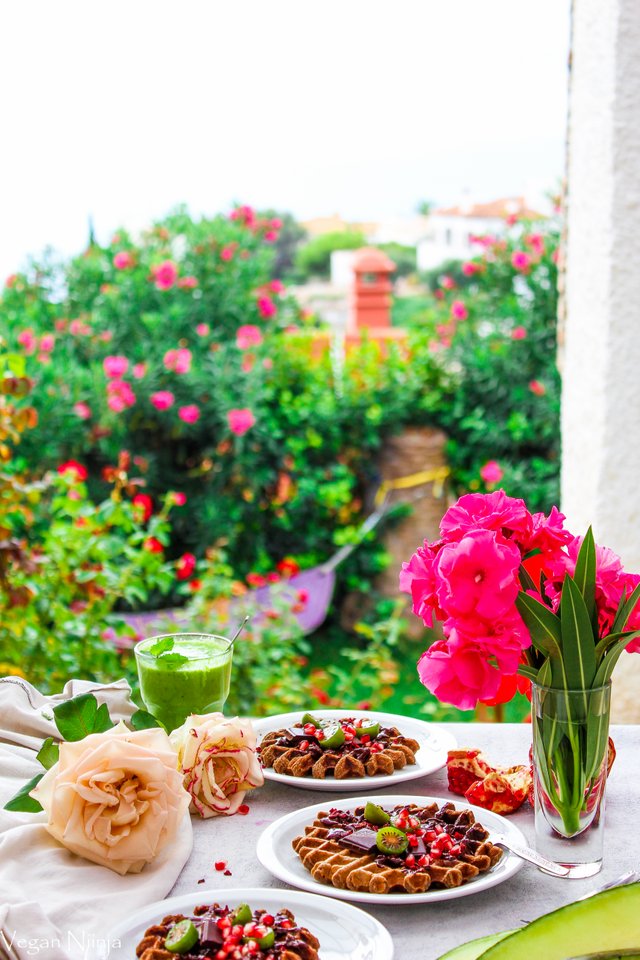 Hi dear friends! How have you been the last few days? I have been very busy just enjoying Spain and our travel. It has been such an amazing time and still is. We want to move here because of the warm Mediterranean climate and the delicious tropical fruits everywhere, but also because of the people here, the friendly spirit and the sun. So right now we are looking for all the possibilities! Sometimes you just need to take the chances and take the first step towards a new way of living.
This is, of course, my entry for my dear Lena´s @lenasveganliving #fruitsandveggiesmonday ! Hope you enjoy my carob-tonka bean waffles sweetie!
I have a new recipe for you today, a very delicious waffle recipe that I just need to share! The ingredients are very special but absolutely worth trying!
TONKA BEAN-CAROB WAFFLES☆
Recipe:
1 cup rolled oats
1/2 cup sorghum flour
1 1/2 cup plantbased milk
1 grated Tonka bean
1 tsp carob powder
1 tsp baking powder
1 tsp apple vinegar
1 tbsp chia
1 tbsp grated coconut
1 ripe mashed banana
2 tbsp coconut blossom sugar
METHOD:
Mix the baking powder and apple vinegar in a separate bowl and let it react for 2-5 minutes.
Blend the rolled oats, chia, coconut until you have a fine powder, add the plantbased milk and banana and blend until well combined, add the baking powder mix and the spices + sorghum flour and blend until you have a smooth batter.
Let it set för 5-10 min to thicken. Bake your waffles as usual.
Enjoy with your favorite toppings and company!🤗😘😍😋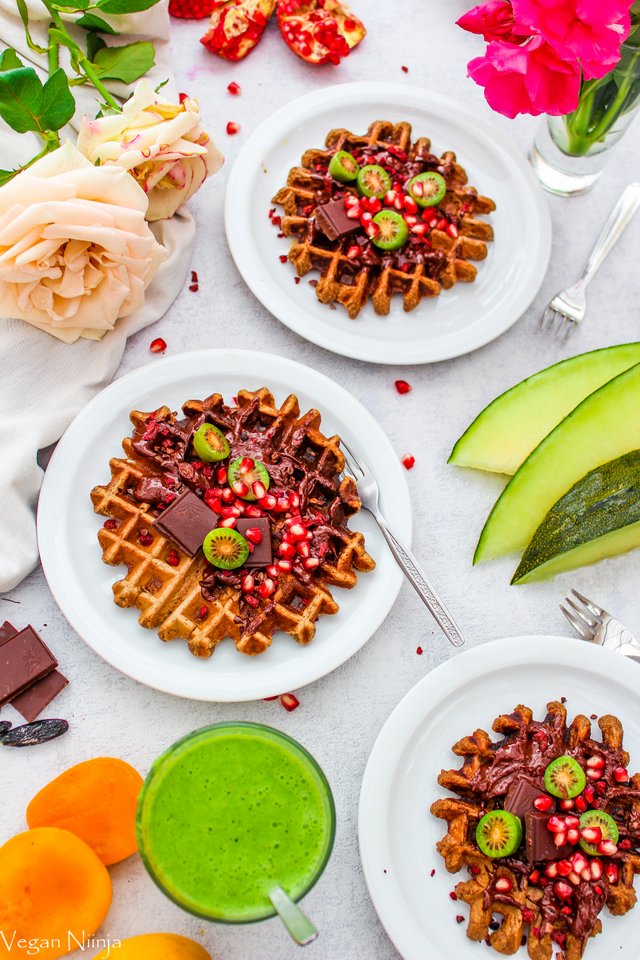 We are now visiting my dear Steemit friend @trucklife-family and her family, and I am just overwhelmed by the beauty of nature here and her amazing way of living and her kindness, my little boy had a fun time playing with Aishlinn´s daughters today! Tomorrow we are going to explore the area and spend another day together. Will show some pictures later this week!
xx