It's been a while since I posted any recipes, research has been crazy lately! 12 hour days have not been permitting me to be on steemit, which means I've been missing out on all of the delicious recipes you amazing steemians have been posting! I'm happy to be back and hoping to keep posting at least once a week :)
This recipe is our go-to Sunday dinner. It's filling, delicious and is great for leftovers. Don't be deceived by the ingredient list, it may look like a lot of work but it's actually pretty simple! What's even nicer is that we only use one pot! I love recipes that require minimal clean up :) Let me know what you think! I hope you enjoy!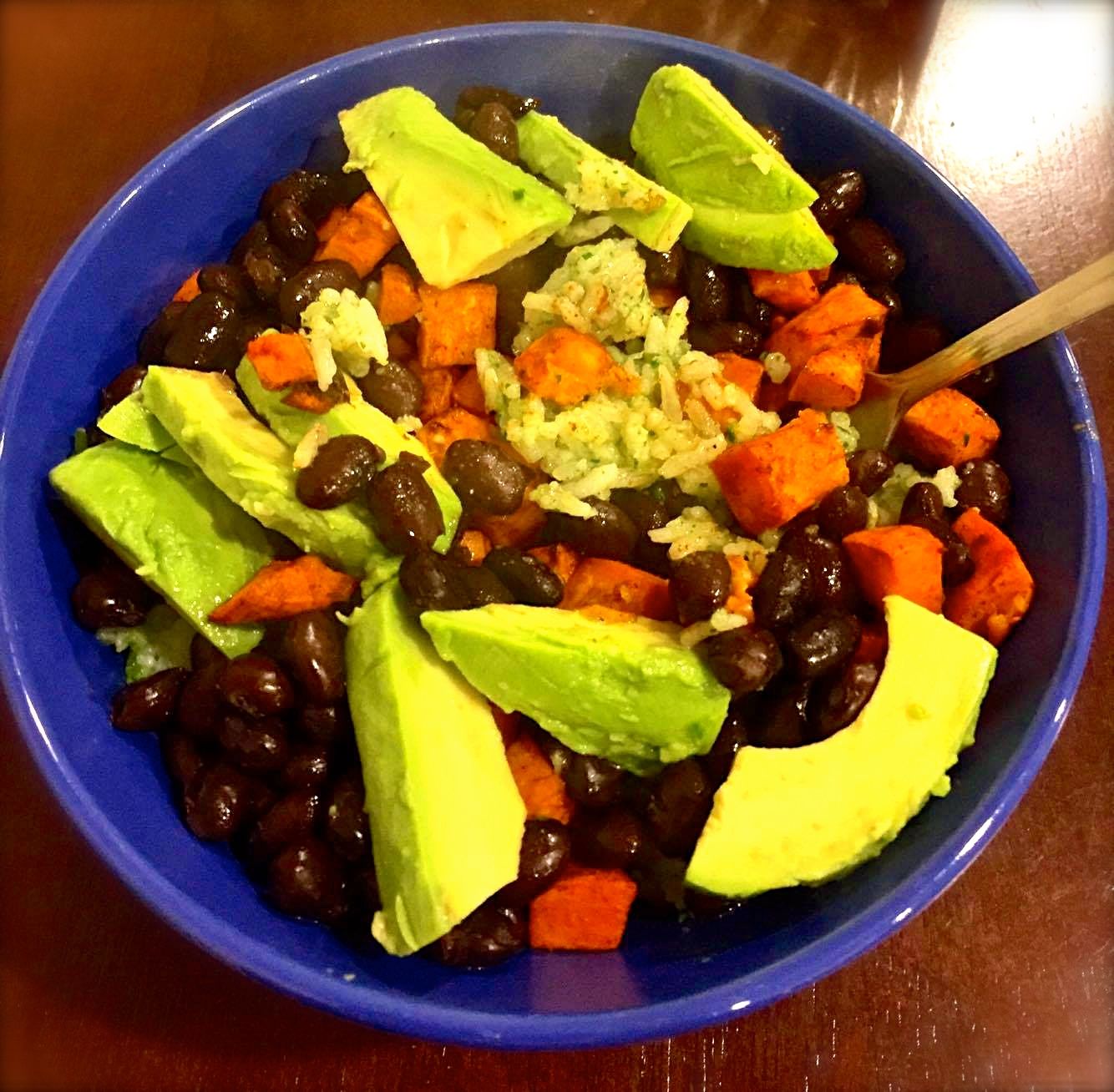 Ingredients
Rice
3 cups brown rice
1 1/2 cups baby spinach
1/2 cup cilantro
1 jalapeño pepper
1 red onion
2 cloves garlic, chopped
1/2 cup vegetable broth
Sweet Potato
1 large sweet potato
2 tbs olive oil
1 tsp paprika
pinch of salt
Beans
2 cans undrained black beans
2 tsp ground cumin
1 tsp chili powder
Toppings (optional)
2 sliced avocados
salsa
pumpkin seeds
Instructions
Cook rice in rice cooker, or pot as instructed.
Preheat oven to 425 °F and line baking sheet with parchment paper. Peel and chop sweet potato into small cubes. In a bowl, or directly on the baking sheet, toss the sweet potatoes with oil, paprika and salt. Cook in oven for 20 minutes, turning half way through.
Add 2 tbsp water small pot (or frying pan, we use the same pot for cooking the veggies and warming the beans) and add red onion, garlic, spinach and jalapeño pepper. Cook until onion is soft then add to blender. Add cilantro and vegetable broth to blender and blend until smooth.
Add beans, and their juices, to pot used to cook onions along with cumin and chili powder. Warm on medium heat.
Add green rice sauce to rice and mix.
Top rice with sweet potato, beans, avocado, salsa and another toppings you please. Enjoy!