Hummus D&A - best hummus in Jordaan Amsterdam
It's funny how hummus has become so popular over the years. I remember the times most people never heard of the yellow gooey chickpea paste. Now the health benefits are advertised and the chickpea is propagated as a remedy against cancer, heart disease, diabetes and even wrinkles, it has been moved into the spotlight as a super food. I can only applaud this new found popularity seeing the fact you can find hummus everywhere nowadays. One of these places is Hummus D&A, a super nice little bistro in the Jordaan.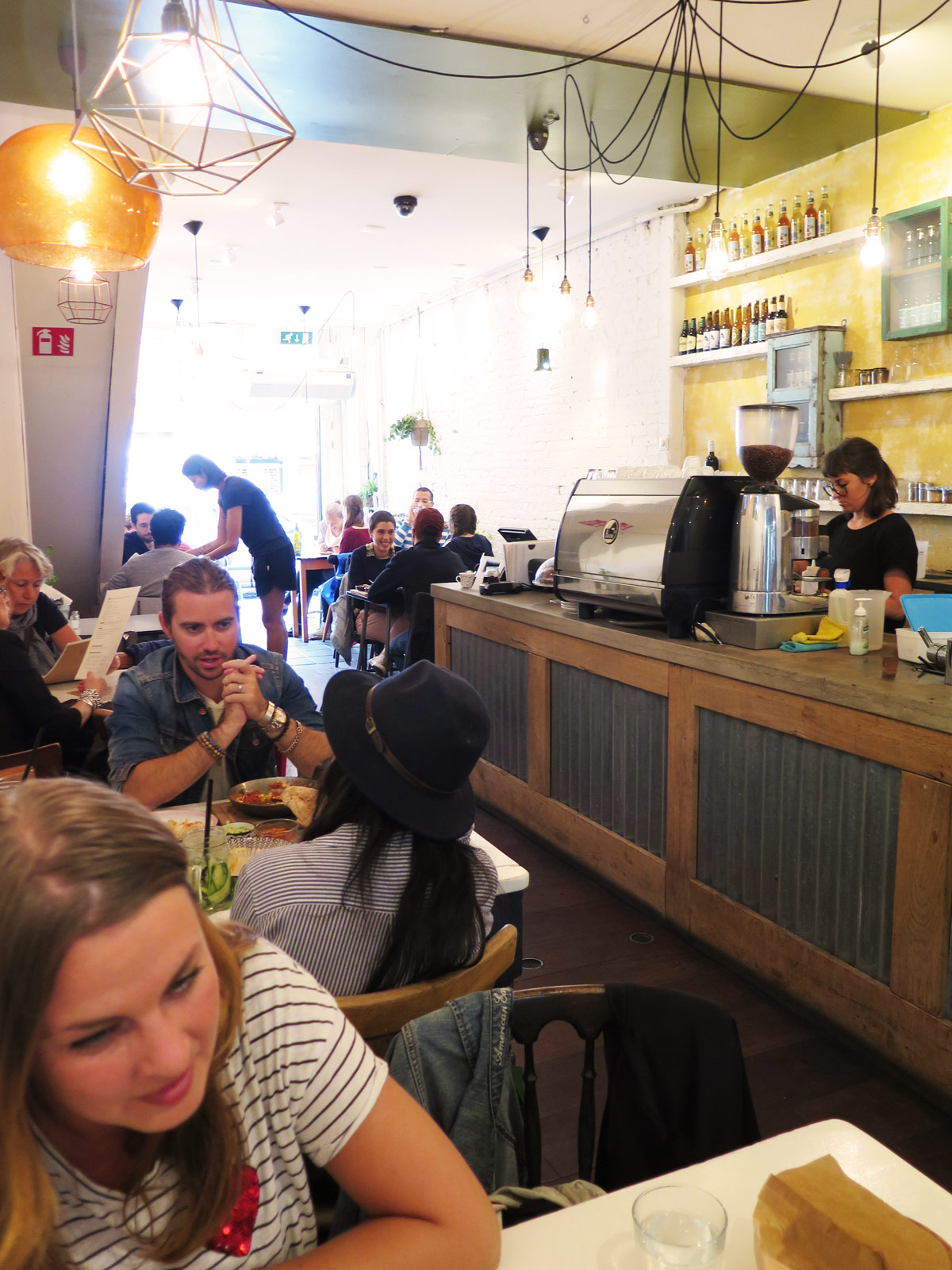 When you enter Hummus D&A it instantly feels like a busy living room. It has a very clean and open feel, even though it's quite small. There are fresh flowers on the table and you can see the chef working in the beautiful open kitchen. There are a few seats outside as well, where you can enjoy the Jordanese street life and some sunshine when you're lucky.
And what a surprise, there's lots of hummus on the menu. Six different kinds to be precise… Time for a hummus party! Next to the chick pea pastes you can order Israeli dishes like Shakshuka, roasted eggplant with tahini, falafel, couscous and more, so enough vegetarian and vegan options. They also serve a variety of speciality beers, fresh sugarless ice tea and lemonade.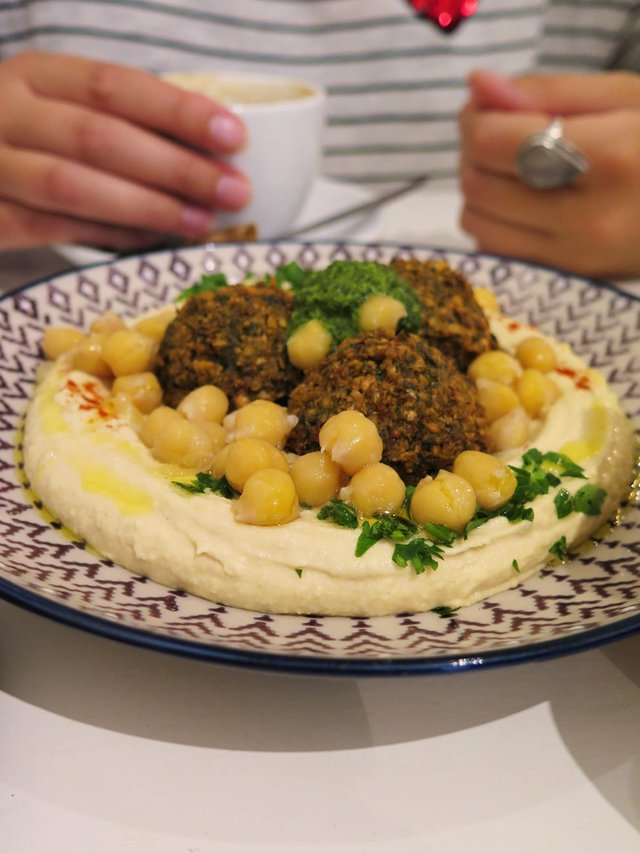 It is very advisable to order a few dishes and share them, so you can experience as much flavors as possible. We ordered the hummus with falafel, roasted eggplant with tahini, pine nuts and pomegranate seeds and last but not the trio, which consisted of labneh, tahini and baba ganoush. The hummus is so good and really fresh, the falafel super tasty, the aubergine looked very colorful and the pitas are the real deal. Actually everything was perfect, this menu is a gift for middle eastern kitchen fans.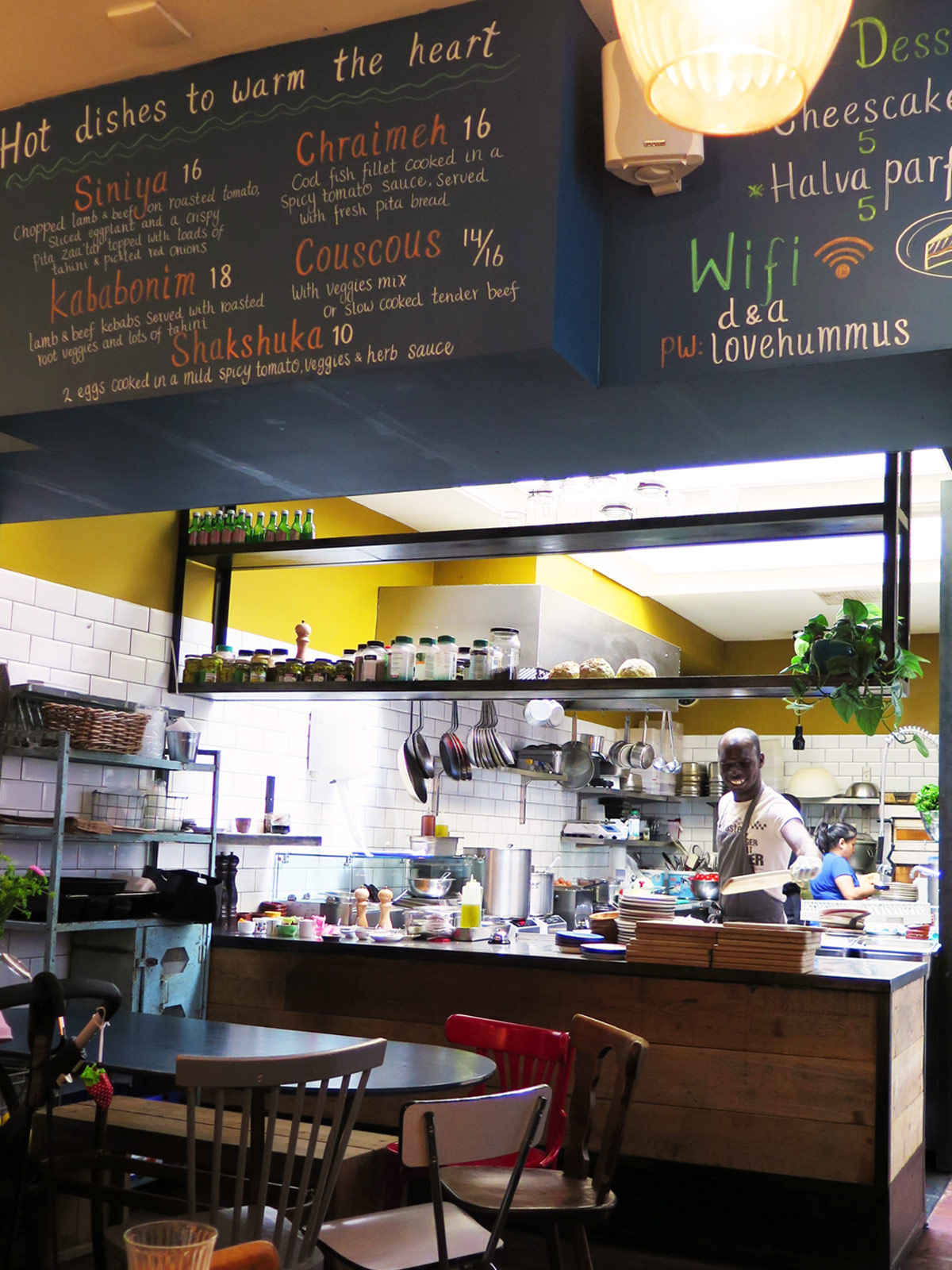 Hummus D&A is located in the Westerstraat, a lively street in the heart of Amsterdam. On Monday mornings one of my favorite markets, the Westermarkt, can be found here. This market sells lots of fabrics but also veggies and other foods. At the end of the market you will enter the Noordermarkt, where you find a flea market with very nice vintage clothing. On Saturday you can find the farmer market here with biological products. There's also a quite unknown little statue of Anne Frank at Westerstraat, and her house on Prinsengracht is very close by. I would highly recommend exploring this area and have a delicious and filling lunch at Hummus D&A. My recipe for a perfect day!
Westerstraat 136