Booze Rant 28: My Fair Critique of Valentine's... And a Pinch of Spite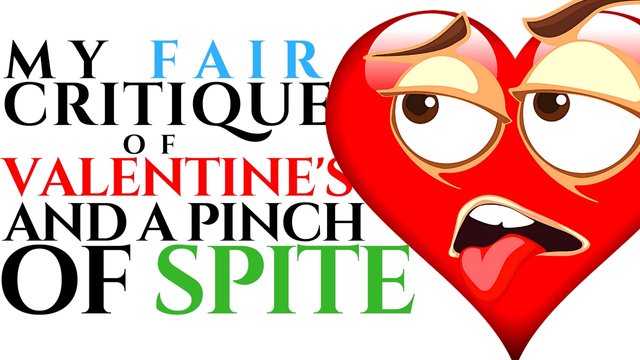 My Fair Critique of Valentine... And a Pinch of Spite.
14th of February, I see red everywhere with assorted accompaniments. The rushing lover, with the looming danger of a dissatisfied other, usually a chap. Roses in hand, maybe some dark chocolate or piece of jewellery of a kind. At the other hand, a silken, perfumed, already drink of some wine lady wearing a literal piece of cloth. Both event horizons speed headed for one another just for a day.
You'll have to excuse the lack of enthusiasm. Then again I could simple hire a Valentine's escort of sorts and play couple. I've done it before and I'd be lying if I said I haven't thought of doing it again (it was the most fun I've had), if it weren't for the seeming illusion of a promise instance or sliver in time of some intimacy and reciprocated attractions. As always I over read into things and miscalculate. Why settle for the pains of real world fun when dodgy avenue come with only what is on the tag as the price. After all, isn't this the epitome of what our societies, with all the credit and accumulation, has to offer the denizen of the earth- "Love on special-buy now-get one free-while offers last-for that special one". Affections are on the market.
I wonder if this is a kind of critical contemplation or spite. I think a distinction wouldn't be necessary, a critic can be deliver in the most spiteful form and still be a critic. It stand on all days and circumstances. The same is, then, true for the most pathetic of feelings. To not have a care in the world about Valentine's is not an expression of one's capacity for love. I think on the day when love is supposedly "in the air", you philistine manage to miss the point.
But then again the true of it would me not satisfying the fetish we've accumulated about love thus rendering to dust the celebration of this day. For some, it may happen that to really think about it would mean finding out that your significant other might not be the one- if you believe in that sort of thing…
Hope everyone enjoyed their Valentine's Day.

---
Accent Line Credit
---
DON'T FORGET TO UPVOTE, LEAVE A COMMENT, RESTEEM AND FOLLOW IF YOU ENJOYED THIS POST, OTHERWISE MY BOOZE STOCK WILL FALL CAUSING, PERHAPS, THE SINGLE GREATEST DISASTER IN THE HISTORY OF STUFF AND THINGS.
---
Music by A Perfect Circle
---


Animated Banner Created By @zord189