Shark Apex Uplight Vacuum Review With Lift-away Duoclean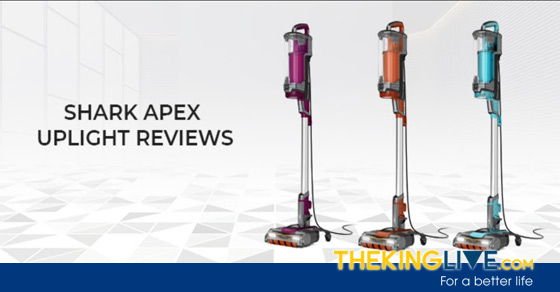 Vacuum cleaners are selling like hot cakes right now. People are more conscious about hygiene and health this year than ever.
Unfortunately, finding the best vacuum cleaner to buy isn't easy. There are so many brands and so many models online that most people wouldn't even know where to begin, let alone buying.
Useful Link: https://thekinglive.com/shark-apex-uplight-vacuum-cleaners-reviews.html
That's where we come in! TheKingLive can help you find the best products online quickly and efficiently.
Today's star is the Shark APEX UpLight. According to our market data, it is currently one of the best rated stick vacuums. This model has received a lot of praise from past users. When we conducted our independent test for the vacuum, our testers were happy with the vacuum, too (for the most parts).
If the Shark APEX UpLight sounds great to you and you would like to know in further details, click on the link below. However, if you don't have time, this post has all of the basic information about the Shark APEX UpLight for your consideration.
In our performance tests, the vacuum did excellently. It can completely clean hardwood floors. Aside from large debris, the vacuum also got an appetite for pet hair.
Its carpet performance is a mixed bag. It did very well on low-pile carpets and was able to remove even pet hair from the sparse carpet piling. When we put it on high-pile carpets, unfortunately, the vacuum started to struggle a fair bit. While it managed to suck up most of the test articles, we still spotted a few bits and scraps left behind.
So, you will get the most value out of this vacuum if you have mostly bare floors at home. If your floors are carpeted, the Shark APEX UpLight will still work, though don't expect too much from it.
Shark has designed the vacuum very well. It has a very nice aesthetic as well as a slim, compact profile. We had no problem guiding the vacuum's cleaning head into tight spaces and corners.
For a stick vacuum, the Shark APEX UpLight is relatively heavy. It weighs 11.2 pounds, which is heavier than most stick vacuums on the market. Fortunately, it is a convertible vacuum. You can turn it into a lighter, more maneuverable handheld vacuum by removing the front suction wand and cleaning head.
When broken down into a handheld, the vacuum weighs only about 5 pounds.
The cleaning range of the vacuum is acceptable with its 30 feet power cord. Its dust cup is relatively small at 0.68 dry quarts up to the fill line.
If you have allergy sufferers in your home, you will be glad to know that the Shark APEX UpLight has a very robust air filtering system. It consists of Shark's Anti-Allergen Complete Seal technology and HEPA air filtration. The vacuum can easily remove pollen and airborne bacteria.
The Shark APEX UpLight comes with a fairly affordable price tag. It's not too high for the vast majority of people. So, the price-to-value ratio of this vacuum is excellent.