Recently @camille1234 shared this video because of the events in the news regarding mandatory vaccination and hearings that were being held in the Senate.
Alberto Giubilini on the Ethics of Vaccinations
Practical Ethics Channel Published on Mar 5, 2019
Why do some people refuse to have their child vaccinated? Are there any good reasons not to vaccinate one's child? Why should one have one's child vaccinated if this doesn't make a difference to whether the community is protected? Why is vaccinating one's child an ethical issue? In this interview with Dr Katrien Devolder, Dr Alberto Giubilini (Philosophy, Oxford) discusses these and other questions, which he addresses in his new book 'The Ethics of Vaccination'
Below you will see the exchange of comments on this video
Comment: Mary 2 Day
I am curious if Dr Alberto Giubilini has children of his own. I question the ethics of the Pharmaceutical Industry and the fact that they are totally free from liability. It is not a fair playing field when "Big Pharma" does not suffer any consequences, but the over 900,000 people listed on https://vaers.hhs.gov/data/datasets.html do because of injuries or death to family members. I also question who funds his research because it is important to follow the money when researchers speak out on important topics.
Comment: The Practical Ethics Channel
Dr Giubilini's research is funded by the Wellcome Trust and the Oxford Martin School
Comment: Mary 2 Day
@PracticalEthicsChannel Thank you for your reply to my comment.
As a Women's Health Nurse Practitioner for 20+years I am well aware that Polysorbate 80 has a negative effect on fertility. https://www.learntherisk.org/news/polysorbate/ It is commonly found in many vaccines that are now being forced upon children. https://www.cdc.gov/vaccines/pubs/pinkbook/downloads/appendices/B/excipient-table-2.pdf
Therefore it comes as no surprise to me that the Wellcome Trust and the Sanger Institute have such close ties. https://www.sanger.ac.uk/news/view/2001-10-15-wellcome-trust-sanger-institute-moves-to-new-era
I believe that all people have the right to a full and complete life and that it is not up to anyone or organization to play "God." Hatred for our fellow humans has no place in our society. Unfortunately that is not the philosophy of Planned Parenthood who was founded by Margaret Sanger. As seen in this detailed and sourced documentary. https://www.youtube.com/watch?time_continue=3&v=QOmRk26jrNo
This is a screenshot of the comment exchange on that YouTube video, because believe it or not occasionally some comments and opinions are censored.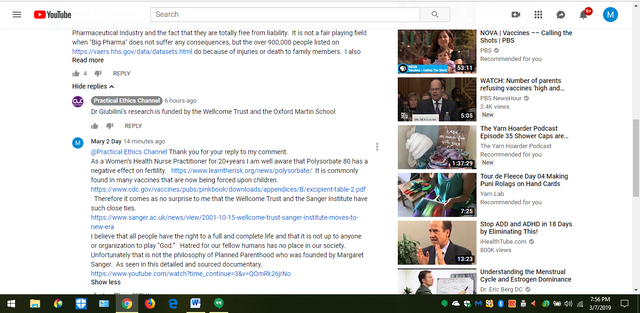 It would not be right to discuss the Ethics of Vaccinations without including the money from the Pharmaceutical Industry that greases the palms of the Legislators. Why they feel they have the right to decide what should be injected into another persons body is anyone's guess.
All Senators
Casey, Bob (D-PA) $532,859
Heitkamp, Heidi (D-ND) $309,997
Donnelly, Joe (D-IN) $259,395
Tester, Jon (D-MT) $244,073
Hatch, Orrin G (R-UT) $238,289
Heller, Dean (R-NV) $237,142
Barrasso, John A (R-WY) $214,000
McCaskill, Claire (D-MO) $204,989
Menendez, Robert (D-NJ) $188,763
Cassidy, Bill (R-LA) $156,600
Gillibrand, Kirsten (D-NY) $151,197
McConnell, Mitch (R-KY) $149,113
Carper, Tom (D-DE) $143,550
Kaine, Tim (D-VA) $133,874
Nelson, Bill (D-FL) $133,412
Crapo, Mike (R-ID) $131,800
Jones, Doug (D-AL) $130,835
Heinrich, Martin (D-NM) $126,233
Manchin, Joe (D-WV) $123,672
Murray, Patty (D-WA) $111,413
Baldwin, Tammy (D-WI) $110,443
Stabenow, Debbie (D-MI) $97,531
Brown, Sherrod (D-OH) $96,946
Portman, Rob (R-OH) $96,350
Young, Todd (R-IN) $95,150
Cruz, Ted (R-TX) $91,836
Tillis, Thom (R-NC) $81,200
Smith, Tina (D-MN) $77,067
Wyden, Ron (D-OR) $76,220
Feinstein, Dianne (D-CA) $72,373
Murphy, Christopher S (D-CT) $70,415
Blunt, Roy (R-MO) $69,350
Isakson, Johnny (R-GA) $68,000
Cardin, Ben (D-MD) $67,374
Klobuchar, Amy (D-MN) $65,491
Alexander, Lamar (R-TN) $62,700
Cornyn, John (R-TX) $62,600
Warren, Elizabeth (D-MA) $61,448
Warner, Mark (D-VA) $59,733
Scott, Tim (R-SC) $57,700
Whitehouse, Sheldon (D-RI) $54,696
Perdue, David (R-GA) $52,750
Toomey, Pat (R-PA) $50,776
Fischer, Deb (R-NE) $45,400
Gardner, Cory (R-CO) $45,250
Markey, Ed (D-MA) $44,790
Thune, John (R-SD) $40,600
Wicker, Roger (R-MS) $37,200
Strange, Luther (R-AL) $36,000
Cantwell, Maria (D-WA) $35,232
Graham, Lindsey (R-SC) $35,100
Collins, Susan M (R-ME) $34,750
Booker, Cory (D-NJ) 33,813
Bennet, Michael F (D-CO) $33,265
Hirono, Mazie K (D-HI) $31,869
King, Angus (I-ME) $28,732
Roberts, Pat (R-KS) $27,500
Enzi, Mike (R-WY) $25,000
Coons, Chris (D-DE) $24,000
Hoeven, John (R-ND) $23,770
Johnson, Ron (R-WI) $20,575
Hassan, Maggie (D-NH) $20,163
Paul, Rand (R-KY) $20,000
Shaheen, Jeanne (D-NH) $19,962
Peters, Gary (D-MI) $19,527
Duckworth, Tammy (D-IL) $19,467
Blumenthal, Richard (D-CT) $18,541
Burr, Richard (R-NC) $18,500
Durbin, Dick (D-IL) $17,260
Capito, Shelley Moore (R-WV) $17,000
Masto, Catherine Cortez (D-N)$16,334
Hyde-Smith, Cindy (R-MS) $16,050
Flake, Jeff (R-AZ) $14,700
Harris, Kamala D (D-CA) $14,361
Kennedy, John (R-LA) $14,100
Cotton, Tom (R-AR) $14,050
Daines, Steven (R-MT) $13,200
Murkowski, Lisa (R-AK) $12,500
Grassley, Chuck (R-IA) $12,000
Sasse, Ben (R-NE) $12,000
Sanders, Bernie (I-VT) $11,924
Van Hollen, Chris (D-MD) $11,151
Schatz, Brian (D-HI) $10,400
Schumer, Charles E (D-NY) $10,155
Corker, Bob (R-TN) $9,130
Lee, Mike (R-UT) $8,250
Merkley, Jeff (D-OR) $7,532
Inhofe, James M (R-OK) $7,050
Lankford, James (R-OK) $6,000
Moran, Jerry (R-KS) $6,000
Franken, Al (D-MN) $5,103
Ernst, Joni (R-IA) $3,000
Sullivan, Dan (R-AK) $3,000
Risch, James E (R-ID) $2,500
Udall, Tom (D-NM) $1,010
Leahy, Patrick (D-VT) $515
Reed, Jack (D-RI) $10
One piece of legislation the industry has lobbied heavily on recently is the 21st Century Cures Act. The bill, which passed the House, would encourage the Federal Drug Administration (FDA) to rely less on randomized controlled trials when deciding whether or not to put a new drug on the market. Critics argue that this would all but guarantee that more drugs will hit pharmacy shelves at a faster pace, though potentially at the expense of patient safety.
Source: Open Secrets.org Center for Responsive Politics
I guess it comes as no surprise that HB 1638 - 2019-20 Promoting immunity against vaccine preventable diseases
Passed the Senate. And I heard it said today that we are now living in the "United States of Pharma."