RFK Wins Milestone Lawsuit against US Gov't for not requiring vaccine safety studies
Really GOOD NEWS this morning folks.
A true American fighter and hero - Robert F. Kennedy Jr. (son of Bobby Kennedy) along with Del Bigtree, the founder of Informed Consent Action Network (ICAN) won a landmark case against the U.S. government by a filing law suit against the Department of Health and Human Services (DHHS) for vaccine safety violations.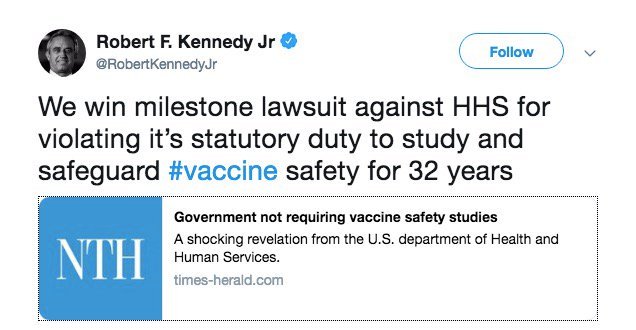 From the source link article stated above:
It turns out the federal agency has been neglecting their vaccine safety obligations for over 30 years. The lawsuit brought by RFK Jr. is evidence that "vaccine safety" as we know it is nothing more than a sham.
Government agencies charged with protecting the public are not doing their part to ensure and improve the safety of immunizations, but will they be held accountable?
Despite being charged with the responsibility of investigating and improving vaccine safety DHHS has apparently failed to meet even the most basic aspects of this duty by failing to file a single report for the past thirty years.
Imagine. For 30 freakin years they have been in breach of duty, most likely causing hundreds, if not thousands, of vaccine related deaths, not to mention the countless suffering from the ill-effects of vaccines on our most vulnerable members of society along with their devastated parents.
I mean, how immoral and corrupt do the people at this government agency have to be? And one would ask, why have they done so? How many bribes did they take from pharmaceutical giants for this cover-up?
Will anyone actually be held accountable and be punished or go to prison for these illegal and highly reprehensible acts? Or will they simply enjoy the same benefits of the two-tier legal system that the big Wall Street bankers enjoy.
Where is the rule of law?
Anyhow, at least this a milestone victory. And we should all be grateful to Mr. Kennedy and all those who worked with him to shine a light on this most dark and evil of instances in our chapter of humanity.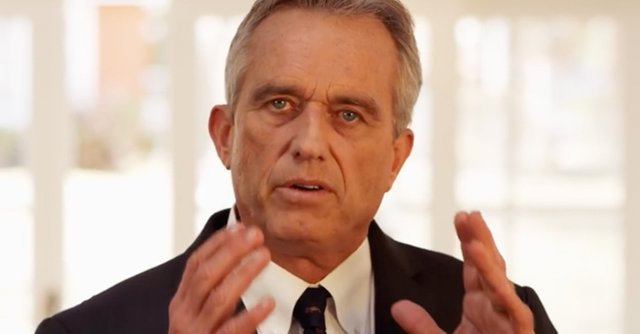 Robert Kennedy Jr. via the Children's Health Defence, formerly The World Mercury Project.
Additional References about this important news: